Attraction of the Week: Out of Africa Wildlife Park
Out of Africa Wildlife Park is a unique wildlife safari park in the middle of the desert. The main draw here is a safari ride which gives visitors the unique opportunity to get an up close look at all sorts of exotic wildlife that you would typically see on a real safari ride. Seeing zebras, giraffes, and antelopes free roaming in a nature inspired environment is a truly memorable experience. You will feel as if you are on an African safari despite the fact that you haven't even left the US – although on a super hot sunny degree summer day, it's not too far off weather-wise. If you can't afford an uber expensive safari vacation and you live in or are visiting Arizona, a trip to Out of Africa Wildlife Park is your next best bet.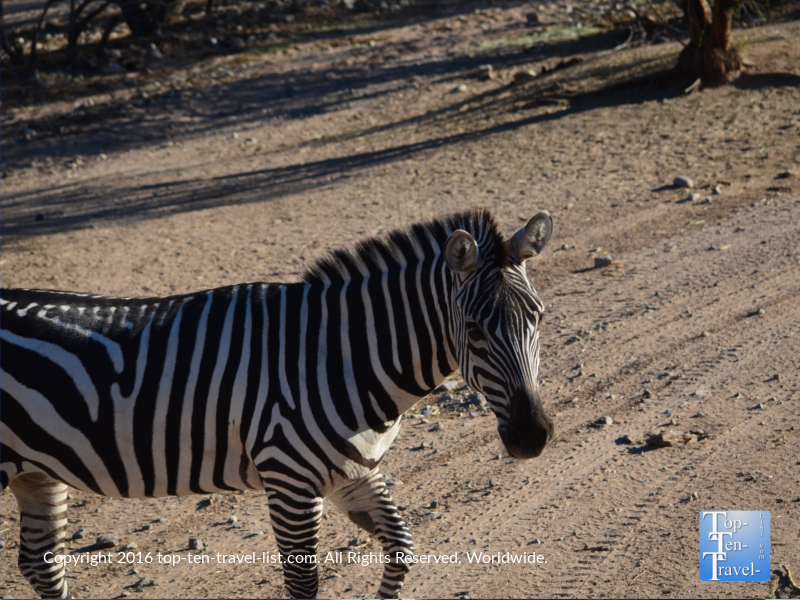 A sanctuary, not a zoo!
Out of Africa's slogan is "Call us wild. Call us crazy. Just don't call us a zoo." The staff stresses that Out of Africa is a sanctuary, not a zoo. Many of the animals taken into the park were rescued, some from former abusive situations, and others abandoned. Out of Africa receives no state or federal funding, thus the reason for the pricey admission fee. The high fee goes towards protecting these formerly abused, neglected, and abandoned animals, by providing a safer environment for them. To help offset the high cost, Out of Africa offers free admission the entire month of your birthday. You simply need to show your ID at the entrance. This is a great deal, especially in helping larger families to offset the cost.
Dean Harrison opened the park back in 1988. He is very enthusiastic about his job and the day to day operations of the company. You will see him out and about during your visit – he runs the Giant Snake show. You can tell that he is really dedicated to his job and loves animals.
Update: Unfortunately, Dean passed away in January of 2023.
The entire staff at Out of Africa really is very enthusiastic and knowledgeable, and you can tell that it is more than a simple job to all of them. This makes the entire experience more fun and educational for everyone. The entire staff is very passionate about providing guests with an amazing experience that is both fun and educational. You will not find the typical bored zookeepers here, but rather a dedicated team that loves animals. The trainers have a fantastic relationship with the tigers and you will be able to see this in action during the fantastic Tiger Splash show. It is crazy to think that these trainers are able to form a relationship with an animal considered so dangerous.
The walk through exhibit
There is not much of a typical walk through zoo section at this park. And the small portion that exists is honestly not that attractive and in need of some major renovations. To top if off, temps in this area of Arizona are very hot, often still hovering into the 90's well into the fall. There is no shade or landscaping either, so you will be literally walking around an empty desert. If you really want to see this section of the park, I recommend taking the free tram around. It's just too hot and hilly to walk around, plus you really won't see many animals due to the extreme weather. Therefore, I recommend sticking to the great shows and the safari ride and leaving the zoo walk around to the Phoenix Zoo, which offers a much more attractive landscaped setting and a wonderful atmosphere for strolling around.
The Safari Ride
The narrated half hour Safari tour runs from 10am-Noon and 2,3, and 4pm. I recommend deciding on a time in advance so you do not miss out! This is the highlight of the park and the main reason you are paying the hefty admission fee, so be sure to make the time! No reservations are required and the ride is included with admission. Tours run about 20 min.
One unique opportunity you will having during the safari ride is the opportunity to feed a giraffe a celery stick, and they will get up really close to the tram to take the celery, so it is a pretty exciting experience. Your tour guide will also demonstrate "kissing the giraffe," which is basically where you put a piece of celery in your mouth and let the giraffe take it from you. It is truly a unique experience and you will have a real laugh watching guests attempt to kiss the giraffe.