6 Fantastic US Zoos
There is no need to travel far and wide to see wildlife in their natural habitats. Sure it would be nice to venture out on a once-in-a-lifetime African safari ride, yet for those who want to keep it a bit cheaper & closer to home, here are 6 spectacular zoos to add to your bucket list.
The San Diego Zoo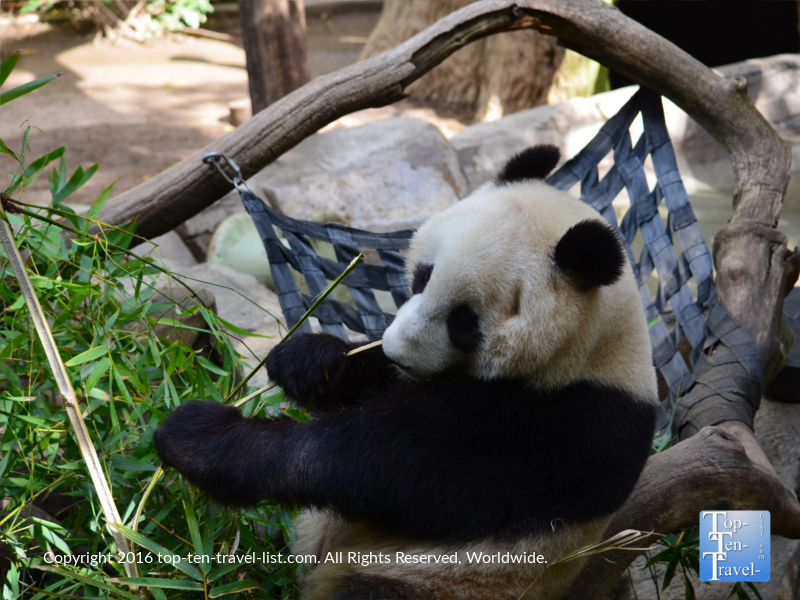 The San Diego Zoo, one of the most gorgeous zoos in the world, is home to a diverse variety of animals including The Great Panda. Over 3000 animals including 300 different species are found at San Diego's world class zoo. Being located on 100 acres in beautiful Balboa Park, the zoo is lush and natural, with a diverse variety of greenery everywhere you look. While it's most known for being home to the rare Panda (only 3 other US zoos house pandas), a diverse range of species including Koalas, Flamingos, and Grizzlies call this zoo home.
Unique exhibits to check out include an underwater hippo & polar bear viewing area.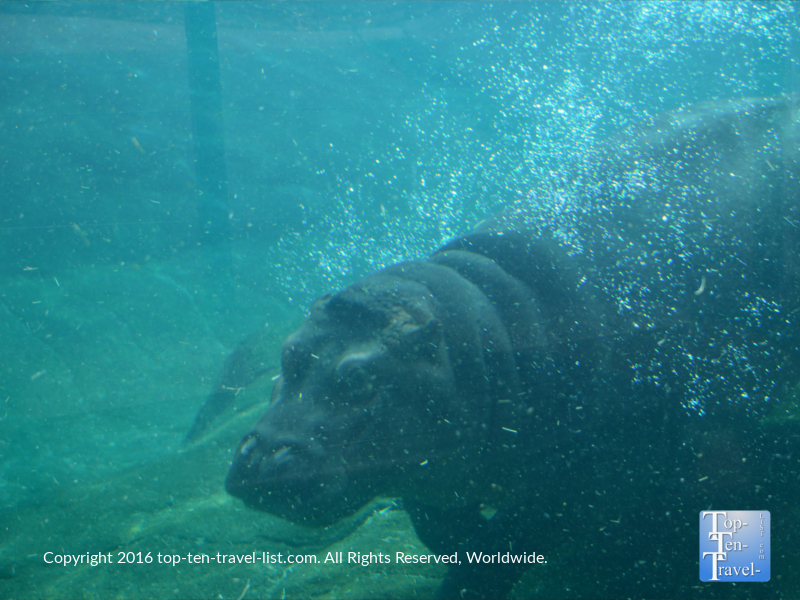 All of the animals at the San Diego Zoo appear to be well taken care of, the enclosures are large, clean, & nicely landscaped, and the surroundings resemble that which is naturally found in the wild.
The zoo is very large with hilly terrain, meaning you will get in an awesome workout for the day if you decide to walk the entire zoo (plan for 4-5 hours). If at any point your feet need a break, check out the Skyfari ride and the Guided Bus Tour, both included with your admission ticket.
The San Diego Zoo is one of the priciest around, however, it is also one of the cleanest, most diverse, and most beautifully landscaped zoos you will ever come across. And, for that, it is more than worthy of a visit.
Location: 2920 Zoo Dr, San Diego, CA 92101,
Admission: $67 per adult, $55 child (3-11), includes free parking & the bus/aerial ride. Save 2 bucks by booking online.
Tips: Arrive early & head straight to the pandas to avoid the hour+ wait. Wear gym shoes & workout attire due to the immense walking required. Check for coupons on the back of hotel brochures for as much as $5 off each ticket!
Brookfield Zoo
Brookfield Zoo, located in the Chicago suburbs, is one of the nicest zoos to stroll around. The grounds are very spacious, with over 2500 animals & 450 species spread out throughout 216 acres. The entire park is heavily treed, with lots of shade trees. Thus, Brookfield is the perfect place to enjoy a long summer day, complete with a picnic.
Brookfield has many top notch exhibits which set it apart from other zoos. These include: Tropic World, an amazing indoor primate habitat, and an entertaining indoor dolphin show and underwater viewing area. The underwater polar & grizzly bear exhibits are also must-sees during your visit.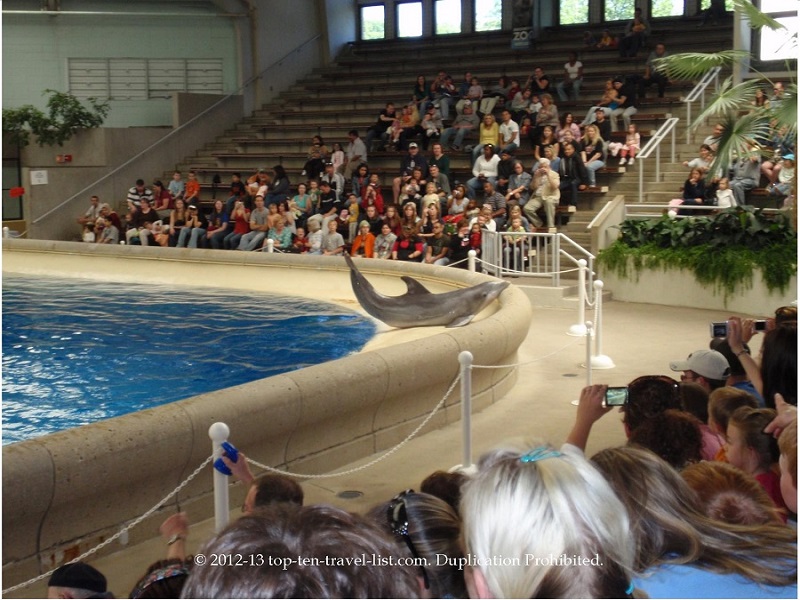 Overall, Brookfield is without a doubt one of the top zoos in the country. The grounds are beautiful, the exhibits are wonderful (especially the indoor ones), and the price isn't too bad considering the massive space.
Location: 8400 W 31st St, Brookfield, IL 60513
Admission: $25 adults, $18 (3-11) $20 senior, Dolphin show $6, Parking is $15
Tips: Check out "Holiday Magic," in December, featuring over 1 million lights & specialty holiday activities. This is easily one of Chicagoland's largest & most festive holiday celebrations.
Lowry Park Zoo (now Zoo Tampa)
Tampa's Lowry Park Zoo is another great choice, and a nice alternative when you tire of the beach scene. Featuring year-round warm weather, this is one of the best zoos to visit during the winter season. While other zoos are freezing cold and unbearable when December-February extreme weather hits, this happens to be the prime time to visit Lowry. A bit on the small size at just 63 acres, yet easily walkable. You can cover the entire zoo in about 2-3 hours.
Unique attractions at Lowry include a stingray petting exhibit, several rides (including a water ride which is a nice cool off during the hot, humid summer months), and fantastic elephant, zebra, & koala exhibits. Be sure to attend one of the keeper talks on the koala to learn more interesting facts about these adorable animals. The Primate station, manatee viewing area, and Aviary are other must-sees to add to your list.
The landscaping is very nice here with a beautiful mix of all different types of trees including some tropical palms. The zoo is nicely laid out, clean, and easy to follow.
Not the biggest diversity here compared to other zoos on the list, however, most of the exhibits feature nice unobstructed views of the animals.
One of the unique annual events held at Lowry is Zoo Run Run, a fun 5k running right through the zoo. As an added bonus, you get free admission for yourself and 1 guest. A fun event to check out if you happen to enjoy traveling for unique 5ks.
Location: 1101 W Sligh Ave, Tampa, FL 33604
Admission: $45 per adult, $35 (ages 3-11). Free parking.
Tips: Go early in the day to avoid the intense crowds & afternoon summer heat. Also, buy tickets online to save $3 per person. Additionally, check sites like Groupon/LivingSocial for special promotions.
The Phoenix Zoo
The Phoenix Zoo is the largest privately owned, non-profit zoo. The zoo is located on 125 acres in gorgeous Papago Park, and home to 1400 animals, including 30 endangered species. If coming from anywhere outside of Arizona, it's quite interesting to see all the unique desert plant life. The zoo is gorgeously landscaped with cacti, palm trees, and even a small lake.
The Arizona Trail houses animals and plants native to the Sonoran desert including the beautiful Saguaro cactus, the Mexican Gray Wolf, the cougar, and the javelina.
The walk through Squirrel Monkey exhibit is pretty spectacular. As you walk amongst the lush tropical grounds, you will be able to see monkeys climbing trees just inches from your face. Other must-sees on your visit are the African Savannah and Orangutang exhibits.
Overall, it's a unique zoo to visit, not only to see the many endangered species which call the zoo home, but also to enjoy the interesting geology that you will find nowhere else besides Arizona!
Location: 455 N Galvin Pkwy, Phoenix, AZ 85008
Admission: $30 per adult, $20 (ages 3-13)
Tips: The zoo opens an hour early during the summer season (opening at 6am from June 1-Aug. 31st), so use this time to escape both the crowds and heat. At this time, the zoo will be practically empty, enabling you to stroll the grounds in peace. Although misters and plenty of shade can be found throughout the grounds, arriving right in the morning will mean at least a 20 degree temperature difference, and trust me, it makes all the difference!
Denver Zoo
The Denver Zoo houses 4000 animals & 700 species on just 80 acres, and therefore, is not nearly as spread out as some others on this list. It has won numerous awards including "Greenest Zoo" for its' continued efforts to be environmentally friendly.
A few exhibits which really stand out are Bird World, an indoor aviary featuring over 200 diverse species, as well as flamingos, the 7 acre Primate Panorama, and the new Elephant Passage featuring 2 miles of trails on 10 acres.
Overall, it's a nice little zoo to check out if you happen to be visiting Denver. Great exhibits, lots of upclose encounters, and affordability make it a great choice while in the Mile High city. Unlike many bigger zoos, you can walk this zoo within a few hours, meaning you do not have to give up your entire day's itinerary.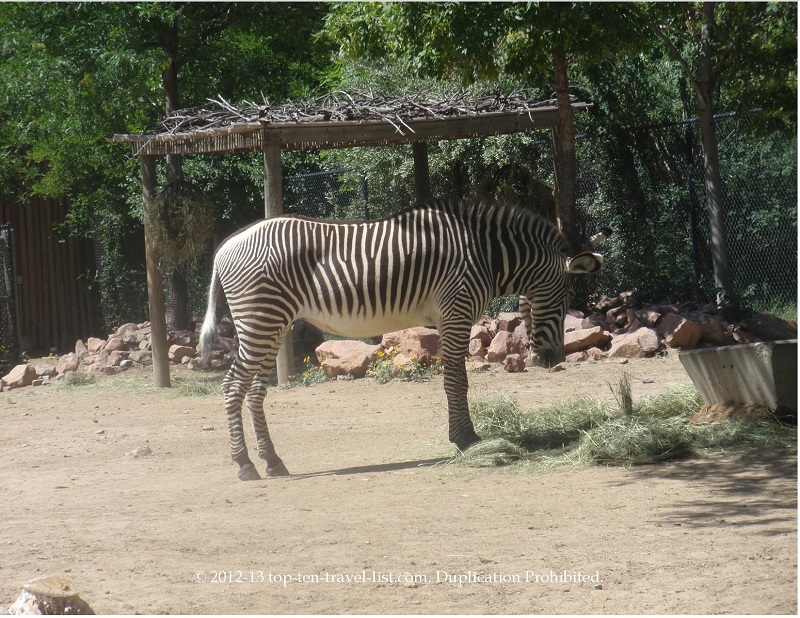 Location: 2300 Steele St, Denver, CO 80205
Admission: $20 per adult, $17 senior, $14 (ages 3-11)
Tips: Take it easy if coming from a low elevation area. The dry air combined with high altitude (5000 feet) means you need to take it a slower than normal and drink extra water to prevent dehydration! Also check out Zoo Lights if visiting in December!
Disney's Animal Kingdom
Although it is one of Disney's least visited parks (it comes in just above Hollywood Studios in terms of annual visitation), Animal Kingdom is worthy of a visit if you have the time, need a bit of a break from endless theme park rides, and in general, like zoos.
With 2000 animals and 300 species on 500 acres of land, it's one of the world's largest theme parks.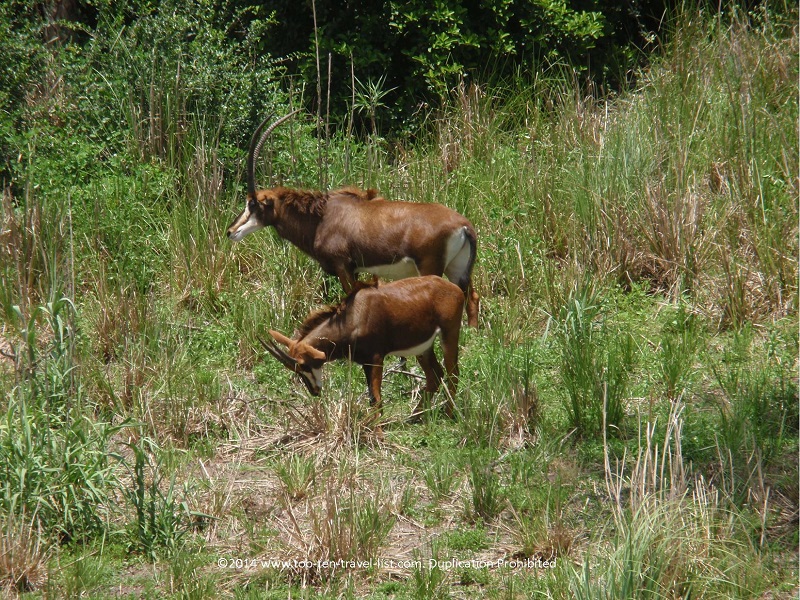 The prime reason to incorporate this park into your Disney itinerary is to take the fantastic open air ride on the Kilmanjaro Safari, where you will see giraffes, elephants, & lions seemingly roaming free in their lush, nature inspired surroundings.
Of course, like all Disney parks, you will find a few rides here, although not nearly as much as the other 3 parks. The main attraction, a themed Himalayan coaster called Expedition Everest, is one of the best roller coasters in all the Disney parks. It also happens to be the world's most expensive due to the elaborate design. The other major ride, Kail River Rapids, is a thrilling whitewater adventure: the ultimate cool down on a hot, sunny summer afternoon. So although there are only a few rides here, they are fantastic!
Location: 2901 Osceola Pkwy, Orlando, FL 32830
Admission: Starting at $109, depending on time of year/day.
Tips: Plan for about a half day at Animal Kingdom. Even with the rides, safari, and strolling around the animal exhibits, that's about all you need. This is where the park hopper pass comes in handy!
Have you visited any of these zoos? What are some of your personal favorites?