Attraction of the Week: Brookfield Zoo
Chicago's wonderful Brookfield Zoo is right up there with the top zoos in the country, including the San Diego, the Smithsonian National Zoo in DC, Zoo Miami, the Columbus Zoo, and the St. Louis Zoo, frequently rated the best in the US. Not only is Brookfield one of the country's best zoos, it is also one of the best attractions in Chicago. In 2021, the zoo was the first to be Humane Certified™ due to its' high standards for animal welfare. While you will have to make your way out to the suburbs to enjoy this zoo, with 235 acres to explore and over 2000 animals to view, there is much to do and see. This massive zoo will take at least 4-5 hours to explore in its' entirety, and thus, it is a great value.
History of Brookfield Zoo
Brookfield Zoo opened in the western suburb of Brookfield back in 1934. Today, the zoo is widely known for its' conservation efforts. The standout exhibit here is Tropic World, a gorgeous indoor rainforest. Brookfield was the first zoo to offer an indoor multispecies exhibit. Another highlight is a fabulous dolphin show and underwater viewing display. Brookfield was the first to build an indoor dolphin habitat. Interestingly, it was also the first zoo to house a Giant Panda. These 3 pandas lived at the zoo from 1937 to 1953. Today only 3 US zoos house pandas.
The zoo quickly became famous for using moats instead of cages. This leads to a more attractive aesthetic, and also allows visitors to view the animals in a setting which more closely resembles their natural habitat. The entire zoo is gorgeous, very shady with lots of trees everywhere. Because of the dense tree coverage, it's comfortable visiting even on the sunniest, hottest summer days. You will find many gorgeous areas to picnic – so pack your own lunch! The most impressive feature is the Roosevelt Fountain, located near the entrance and named after the 26th President.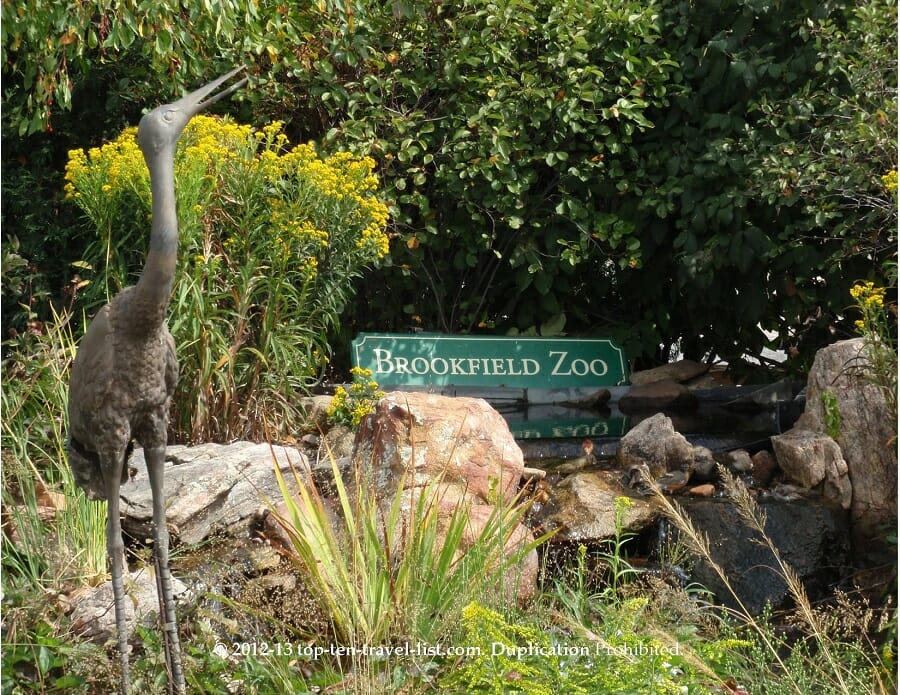 The animals
Brookfield is home to over 400 species and 2000+ animals. There is lots to see here and lots of walking around required. For anyone not up for a workout, there is a fantastic Motor tram ride available. This is a great option for new visitors as you will receive a narrated tour of most of the zoo. Tickets are just 6 bucks, so this is a great value. After your ride, you can go back to any exhibits you would like to explore further.
A few of the outstanding exhibits:
Tropic World – By far the zoo's standout exhibit, this gorgeous indoor exhibit features primates and other animals from the rainforests of South America, Asia, and Africa. When Tropic World opened in the 80's, it was the largest indoor zoo exhibit in the world.
Great Bear Wilderness -Home to grizzly bears, polar bears, American bison, and bald eagles.
If you are lucky, you may have the opportunity to see the bears swimming under water. In 2010, the zoo debuted a gorgeous underwater viewing area, an impressive project which cost almost 30 million! This is a pretty unique sight to see in person. Unfortunately, the bears do not get in the water that often, so consider yourself lucky if they decide to take a swim!
Habitat Africa – Home to many species including the endangered White-Bellied Pangolin and Okapi.
Seven Seas – Beautiful underwater dolphin viewing. The dolphin show typically has a long wait, however, it is very entertaining and educational. Well worth a few extra bucks.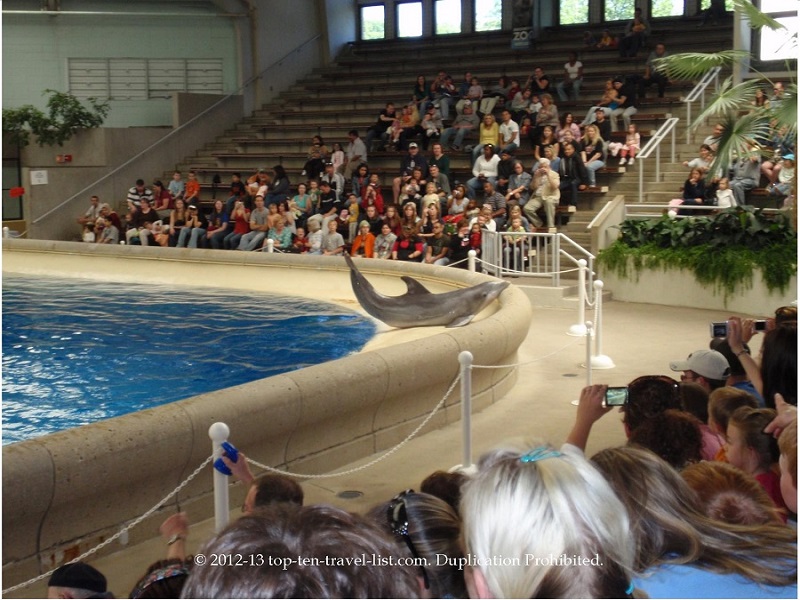 Big Cats -Nicely designed exhibit home to African lions, Amur Tigers, Amur Leopards, and Snow leopards.
Special Exhibits
There are many interesting exhibits which set this zoo apart from others. Most notably, the zoo is known for its' wonderful Dolphin show, annual Butterflies exhibit, and Hamill Family Wild Encounters where you will have the opportunity to interact with animals via a hands on experience. One other really cool feature is a historic carousel featuring over 70 endangered species instead of horses. This happens to be one of the oldest hand carved wooden carousels in the world.
Note that all of these activities require a special ticket ranging from $4-6 per person.
Enjoy this brief of tour of animals in action at Brookfield!
Annual events
Brookfield offers a big lineup of interesting festivals and seasonal events throughout the year. Highlights include a Zoo Run, Oktoberfest, Boo at the Zoo, and Holiday Magic featuring over 2 million lights. This annual holiday tradition has been going strong for over 40 years making it one of the city's longest running light festivals.
Additional Info
The zoo is located at: 8400 W 31st St, Brookfield, IL 60513. The zoo is open daily from 10am-5pm (6pm on weekends). Admission is $25 per adult, $20 for seniors, and $18 (kids 3-11). Parking is $15. Visit the Brookfield website for details on special events, building closures, maps, and a full list of rules. There are a number of treat stands and sit down restaurants throughout the park. However, I recommend bringing your own picnic and enjoying the beautiful natural surroundings.