A Beautiful Boardwalk with Terrific Views in Ocean City, Maryland
What comprises a great boardwalk? Plenty of waterfront dining options, excellent views, offbeat attractions, or great recreation? Ocean City, Maryland is home to a top tier boardwalk with all the aforementioned amenities and more! This highly regarded boardwalk frequently ranks right up there with the best in the country. In fact, Travel Channel ranked it amongst their list of Top 10 Boardwalks in the US.
Mike & I were impressed with the cleanliness and upkeep of the boardwalk. We both agreed that the views were outstanding. Visiting during the off season had its pluses and minuses. On the bright side, the weather was cooler and the crowds were virtually non existent. Unfortunately, fewer crowds also meant closed restaurants and rides. We were a bit dissapointed on missing out on the Ferris Wheel ride, nevertheless, we still enjoyed the great views and beautiful biking weather.
A few great things to do…
Walking/Biking path
The 2.25 mile path is the perfect opportunity to explore all the unique boardwalk restaurants, shops, and activities. There are numerous benches and snack shops along the way for those looking for a break. Take a few minutes to admire the magnificent views. Beach cruisers and surreys are available to rent by the hour. Note: During the hectic summer months, bikes are only allowed during certain hours. Be sure to check the signs.
Great views at the end!
Stroll the beach
The waters here are pretty cold for swimming (especially during the spring and early summer months!), but nice enough for taking a barefoot stroll. The sand is smooth with barely any shells. Nicely maintained, clean beach – absolutely beautiful!
Jolly Roger Amusement Park
Take in gorgeous views of the Atlantic while enjoying some of your favorite amusement park rides, such as a Ferris Wheel, roller coaster, and carousel. The Ferris Wheel is the best choice for panoramic views of the coast. Not interested in rides? You will also find Midway carnival games, popular local specialties such as Thrasher's French Fries, and attractions such as Ripley's Believe It or Not.
Waterfront dining
Seafood lovers will have their choice amongst dozens of restaurants, many of which have beautiful outdoor patios facing the coast. Most of the restaurants seem to offer unlimited lunch and/or dinner seafood buffet specials. I recommend venturing a block off the boardwalk to enjoy a healthy, delicious lunch at Malia's Cafe, a hidden local gem.
A delicious hummus-veggie wrap at Malia's
*Be aware that most restaurants and attractions are only open seasonally. Summer is definitely the best time to visit in order to take full advantage of all the amenities and beautiful weather.
Plan a side trip to Fenwick Island
Located just a few miles outside of Ocean City, Delaware's Fenwick Island is also home to a gorgeous beach. This relaxing getaway is the perfect escape from the summer crowds. Pull out your beach chair, some sunscreen, and a good book and enjoy the peaceful views!
Also be sure to check out the Fenwick Island Lighthouse, which was first lighted over 150 years ago. It's a beautiful sight at sunset!
Tip: Take the bus or ride your bike (if available) to Fenwick Island. It's only a few miles by bus or bike.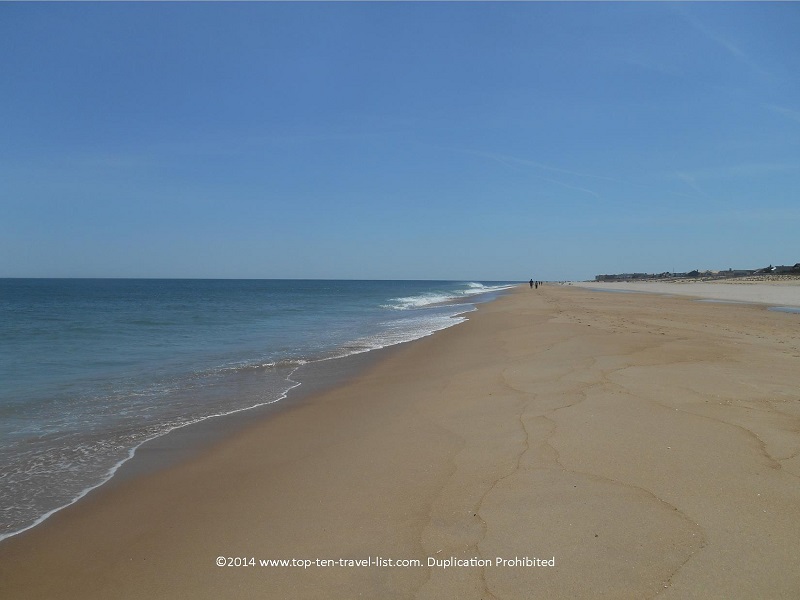 *In addition to the attractions listed above, you will find plenty of other attractions around town, including: dozens of miniature golf courses (I have never seen so many jam packed into a single area!), dozens of unique swimwear apparel stores, cruises, and more!
I enjoyed my time in Ocean City. Although, I was a bit dissapointed that most of the restaurants we were looking forward to visiting were closed, we did take advantage of a nearly empty boardwalk and beach. It felt as if we had the entire place to ourselves! Riding our bikes in the cool spring weather as opposed to the hot, humid summer also came as a great bonus.
Ocean City is a great tourist destination with a gorgeous location on the coast of Maryland. Everyone we came across was exceptionally friendly. And, the recreation opportunities were wonderful (there are bike lanes connecting Fenwick Island to Ocean City). I would definitely plan a return trip!
Tips
*Pick up coupon booklets to save on restaurants, attractions, and shops. These books are all free, and can be located in various vending machines found throughout town. You can also print the coupons online.  Killer Coupon Book is one of the best ones for finding a range of valuable coupons.
*Visit during the off season for cheaper hotel rates. Just be sure to keep in mind that many restaurants and attractions will be closed.
*Bring with your own bike if traveling by car. Bike rentals are pretty pricey. Biking on the boardwalk is allowed anytime during the months of October-April. However, hours are limited the rest of the year and on holidays. Plan your trip accordingly. Visit the Ocean City website for seasonal hours.
*Take the bus around town. The bus goes up and down Coastal Highway, making it the perfect, affordable way to get around town. An all day ride pass will only cost you $3. Visit the Ocean City website for the "Beach Bus" schedule.
Attraction Addresses & Pricing
The Boardwalk – Located at 1600 Atlantic Ave. Ocean City, MD
Jolly Roger Amusement Park – Located at 401 S Atlantic Ave. Ocean City, MD. Visit the Jolly Roger website for pricing info.
Malia's Cafe – Located at 1800 N Baltimore Ave, Ocean City, MD.
Fenwick Island lighthouse – 146th St. and Lighthouse Ave. Fenwick Island, DE
Have you ever visited Ocean City, MD? What are some of your favorite activities/attractions/restaurants in town?