10 Free Things to do in Southern California
Not surprisingly, due to the beautiful natural surroundings and many cultural attractions, there are endless free things to do in Southern California. Even if you are strapped for cash, you are bound to have enough free activities to entertain yourself on your trip. No need to concentrate on pricey theme parks, restaurants, and tours.
The attractive combination of gorgeous year-round weather, a diverse beach scene, plentiful outdoor recreation, and endless free tourist attractions, leaves you with numerous free options for fun in one of the country's most beautiful & entertaining areas. I have come up with a list of 10 of my favorite free things to do in Southern California.
1. Torrey Pines State Nature Reserve
Torrey Pines is the place for hiking and scenic views in Southern California. Located just a short drive from San Diego in La Jolla, this reserve makes for the perfect natural escape from the city congestion. Here you will find a handful of scenic & easy nature trails, all featuring fantastic views of the ocean. You'll get in a nice little workout for the day, be able to take in breathtaking views of the coast, & escape the city clutter, all at the same time. It doesn't really get much better than this – and the best part of all is that it will cost you nothing! (park on the side street near the beach for free parking and be sure to arrive early to beat the crowds!).
Location: 12600 N Torrey Pines Rd, La Jolla, CA 92037.
2. Manhattan Beach
Spend the day relaxing and enjoying the views at this beautiful South Bay beach. A walk along the scenic pier is a must. The sand is so soft and clean here with no litter and cigarette butts lying around like some other beaches; I could spend the whole day at this beach enjoying the mild California weather. Manhattan is my favorite L.A. area beach – It's clean, quiet, and scenic! Also, you have direct access to the gorgeous waterfront Strand bicycle path from here – another must-do while in town!
Location: 2 Manhattan Beach Blvd. Manhattan Beach, CA 90266
3. Crystal Cove State Park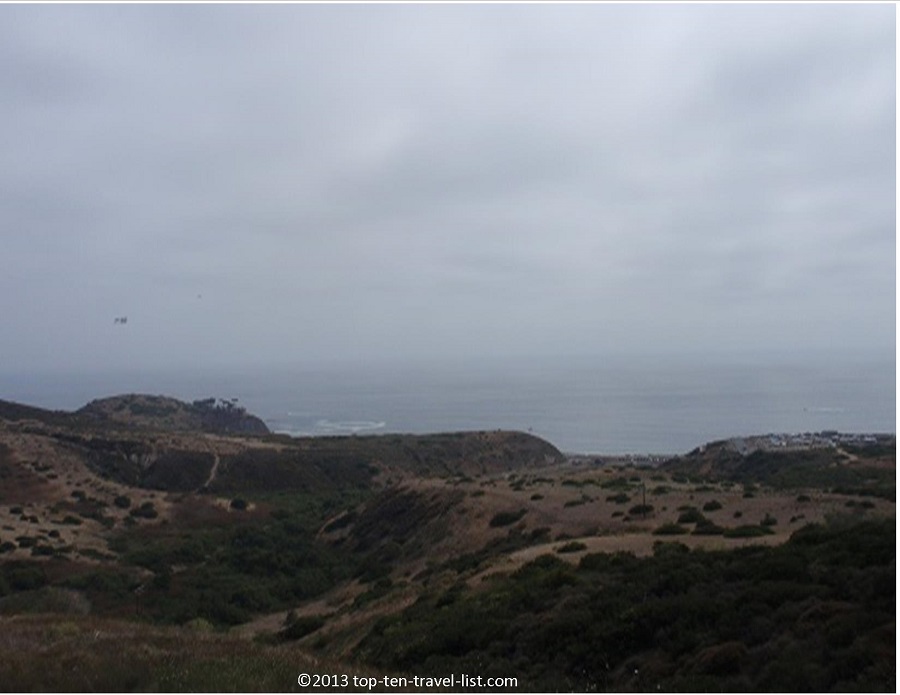 This scenic state park in Laguna Beach provides miles of hiking opportunities in a serene, desert setting. The views are fantastic; you can even see the ocean on a clear day! The trails here are very steep with several challenging hills; you will definitely get an excellent lower body workout!
Great views, peace and quiet, and a fabulous workout: what more could you ask for? I recommend a quality hiking stick for this one, both for better traction going up and downhill and for extra safety in case of a mountain lion encounter (yes, there have been several mountain lion attacks here in recent years, so take extra precaution!). Also, be sure to bring with plenty of water – this is hard hiking in the dry desert.
Location: 8471 N. Coast Highway Laguna Beach, CA 92651
4. South Bay Bike Path
22 miles of people watching, beaches, sun, and ocean views: how could you not fall in love with this beachside path? This gorgeous paved trail travels through several unique L.A. beach towns including Torrance, Redondo Beach, Hermosa Beach, Marina del Ray, Manhattan Beach, Venice Beach, and Santa Monica. You will find endless opportunities for entertainment, food, and attractions in each of these areas.
Make to plan a stop at the Santa Monica Pier, the Venice Boardwalk, and beautiful Will Rogers State Beach. Tip: If you plan on completing the entire path, I recommend using a Hydration backpack to ensure you have enough water without resorting to multiple pricey water bottle stops. I use mine for any type of longer outdoor recreation – biking, hiking, and sometimes even long distance running.
Location: Starts at Torrance Beach (387 Paseo de la Playa Torrance, CA 90510) & ends at Will Rogers State Beach (17000 E. PCH Los Angeles, CA 90272).
5. Laguna Beach
The artist and photographer's dream beach: beautiful coves, cliffs, and mansions along the coast provide a beautiful setting for art and landscape photography. Laguna is the most scenic of all the Orange County beaches, in my opinion. Famous for its' art scene, Laguna hosts a free art walk through the town galleries on the first Thursday of each month, so you might want to check it out if you find yourself in town during this time.
Location: Coast Highway & Broadway Laguna Beach, CA 92652
6. Huntington Beach Biking/Walking Path
This scenic 8.5 mile multi-use path along the beach offers you the chance to exercise, while taking in fantastic views of the Pacific Ocean. This paved path is wide enough to accommodate bikers, walkers, skaters, and joggers, although sometimes it can get a bit crowded. Nevertheless, it is always a fun time!
Take a break and walk down to the pier to watch the surfers. Huntington Beach is a lively town with plenty of year-round events, including surfing competitions, live music, festivals, and more! I just love the vibe of this place – it really is one of the most unique areas in all of Southern California!
Location: Pacific Coast Highway & Warner Ave. Huntington Beach, CA 92649
7. Live TV Show Tapings
Who can visit L.A. without some type of Hollywood experience? Attending a TV show taping, whether sitcom or reality, gives you an inside look into the production behind your favorite shows. For the big shows (talk shows) you will need to place your name on a waiting list, and be willing to visit on a random given date. Make sure to put your name on the list several months before your intended trip!
There are several websites for reserving sitcom and reality TV studio audience tickets. Audiences Unlimited and On Camera Audiences are both great options. I also recommend the live Extra! taping held each weekday at The Grove Shopping Center in Los Angeles. This is a fun experience and you do not have to worry about getting a ticket. Visit The Grove website for more information including a filming schedule and celebrity lineup.
8. Runyon Canyon
Head over to Runyon Canyon for beautiful hiking right in the city! There are places in L.A. where you can escape the noise and traffic…just don't plan your hike on a weekend! Weekends are crazy as you get regular hikers, as well as tourists trying to catch a peek of their favorite celeb (most likely due to TMZ spotlighting the canyon as a popular place for celeb sightings). Weekday mornings and afternoon are actually pretty quiet due to the lack of tourists.
This fantastic hike doubles as both a hardy workout and a scenic photography hotspot. On a clear day, you will take in pretty good views of the city. I loved running at Runyon as part of my half-marathon training as the hills really added an extra boost to my workout and the views helped motivate me to keep going. There are some pretty steep climbs here, however, the amazing views of the mountains and city are well worth the effort! For those of you who prefer a less intense activity, free yoga sessions are held multiple times a day.
Location: 2000 N. Fuller Ave. Los Angeles, CA 90046
9. Griffith Observatory
This free planetarium is the perfect place to stargaze and take in incredible night views of Los Angeles. However, the best time to visit is during the day for the stunning views of the Hollywood sign and surrounding hills. Several miles of hiking trails will take you so close to the Hollywood sign that you appear to be standing right beneath it. Not a very long or rough hike, but a fun place for taking great photos by the iconic sign! The Observatory itself is also fantastic. The architecture is stunning, exhibits are interesting, and looking through the telescopes at night is a unique experience.
Location: 2800 E. Observatory Road Los Angeles, CA 90027
10. Hollywood Walk of Fame
Search for your favorite celeb hand and footprints. Take pictures by your favorite star. Take your picture by the historic Grauman's Chinese Theater. Watch as your favorite celebrities walk the red carpet for a movie premiere. There is plenty of free touristy fun to be had on Hollywood Blvd.! Walk over to the Hollywood and Highland Shopping Center (now Ovation) for fantastic views of the Hollywood Sign. Other touristy attraction on the Blvd. include Hard Rock Cafe, the Hollywood Wax Museum, and Ripley's Believe or Not Museum.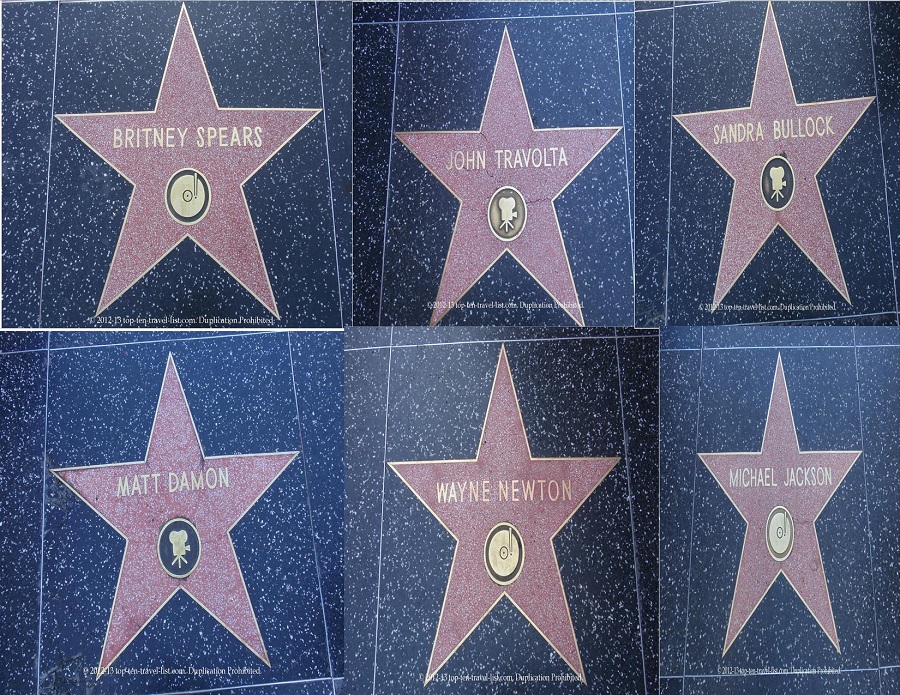 Browse more pics of your favorite stars at my Pinterest Holywood Blvd. page!
Location: Hollywood Blvd. (between Gower St. and La Brea Ave.) Los Angeles, CA 90028
More free fun!
Sea lion watching at La Jolla Cove
La Jolla Cove is one of San Diego's top beaches. It's really gorgeous, quiet, and lots of sea lions call the shores home. Arrive super early in the morning for the best photo opportunities & virtually no crowds. This gorgeous beach is perfect for photography, collecting sea glass (best beach in the area for doing so), and relaxing minus tourist crowds.
Location: Coast Blvd, San Diego, CA 92037
Rodeo Drive/Beverly Hills
No trip to Los Angeles is complete without seeing out the iconic Rodeo Drive and Beverly Hills signs. Window shop amongst world famous designer boutiques on one of the most famous streets in the world. This is also one of the best streets for people watching. Although you are likely to see more tourists here than actual celebrities, you will still have a blast taking your pictures by the famous signs and shops. This is a great free activity for those on a budget looking to fill in some spare time.
Location: 9480 Dayton Way Beverly Hills, CA 90210 (Two Rodeo Drive Shopping Complex). You can find the iconic Beverly Hills sign at: Sunset Blvd. and N. Sierra Drive Beverly Hills, CA 90210.
La Jolla Shores
Every San Diego beach offers a different vibe. La Jolla Shores is one of the most active beaches and you'll see all sorts of fitness buffs here including joggers, surfers, and volleyball players. The mile long coastline and soft sand make it a perfect place for a morning stroll. Dogs are allowed before 9am and after 6pm (4pm during the winter months).
Location: 8300 Camino Del Oro, La Jolla, CA 92037
The Mission/Pacific Beach Boardwalk
This 3+ mile long boardwalk links San Diego's 2 most popular & active beach towns: Mission and Pacific Beach. Get up early (it gets too crowded by mid afternoon) and grab your bike or gym shoes and take a walk or ride down this scenic path. You'll get to take in fabulous views of the coast as you get in your morning workout. Both free and paid parking is available, so check the signs carefully. A few large free lots are located nearby Belmont Amusement Park.
Location: 1710 W Mission Bay Dr, San Diego, CA 92109
What are some of your favorite free activities in Southern California?