5 Fun Things to do in Plymouth County, Massachusetts
Plymouth, Massachusetts is known as "America's Hometown." Founded in 1620, Plymouth is the oldest town in New England, and one of the oldest in the U.S. Leyden Street is the oldest continuously inhabited street in the country! Plymouth is most known as being the location of the first Thanksgiving Feast. However, there is much more to this historical area including a gorgeous waterfront area, plentiful outdoor recreation, year-round events, as well as fun seasonal activities.
Tourists flock to this area each year to visit the many historical sites and wonderful waterfront attractions. Pilgrim Memorial State Park, home to Plymouth Rock and the Mayflower replica, is one of the most visited parks in the country with over a million visitors per year. This beautiful coastal town is a must-see while visiting Massachusetts.
Take a look at 5 of my favorite things to do while visiting Plymouth!
1. Take a Whale Watching Tour
A Whale Watching tour is my number 1 must-do when visiting Plymouth. Massachusetts is one of the best places in the world to whale watch. My experience aboard the Captain John Boat Tour was both fun and educational. This really is a fantastic tour. The guides are fantastic and will point out whale sightings and attempt to get a closer look. Get your camera ready for up close sightings of humpback whales, as well as fabulous views of the ocean along the way! Sightings are guaranteed, so don't worry, you get to come back for free if there are no sightings. Frequently scan Groupon for special deals!
2. Take a self-guided tour of historical sites
Most of the major historical sites in town are located within walking distance of each other. Park for free in the Burial Hill Cemetery parking lot and start moving! Some of the biggest highlights in town which you must make room for include Plymouth Rock, the Mayflower replica, 1st Parish Church, Leyden St.(the first in America), Burial Hill, and the National Monument to the Forefathers (you may have to drive to this one). Also be sure to sign up for a ghost tour with Plymouth Night Tour – this tour will take you through the most haunted places in Plymouth. You will even get to walk through creepy Burial Hill cemetery at night! The tour is super fun – you will hear spooky stories about local hauntings and also get to test out EMF ghost hunting equipment!
Plymouth Rock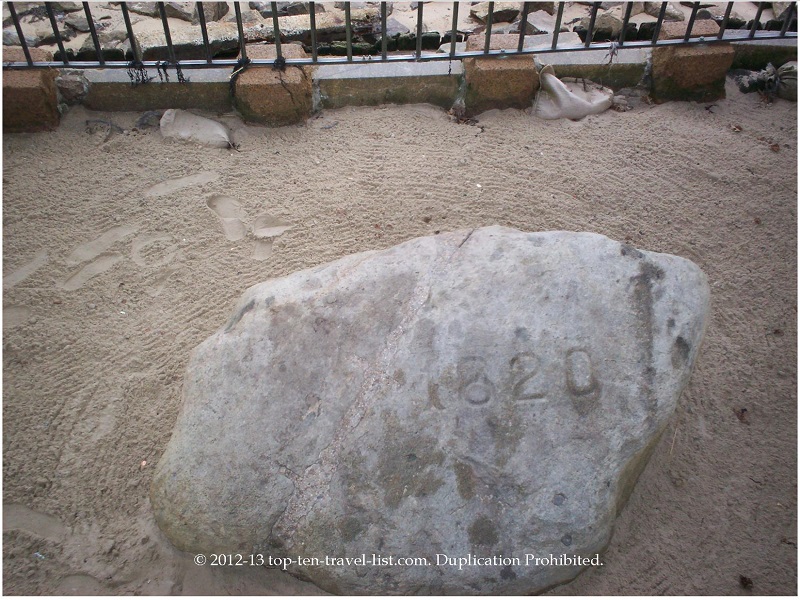 Mayflower II
First Parish Church
Burial Hill
National Monument to Our Forefathers
3. Take a stroll along the beautiful waterfront
Take a stroll along the waterfront for the most scenic views of Plymouth Harbor. I have taken many beautiful photographs here at various times of the year. Fall and spring are preferred over the summer due to the extreme drop in tourist traffic. Pilgrim Memorial State Park is also home to Plymouth Rock and the replica of the Mayflower II.
4. Enjoy a seafood lunch or dinner
Plymouth is home to an abundance of seafood restaurants. Wood's Seafood serves fresh, local seafood at an affordable price. As an added advantage, the dining room provides spectacular views of the harbor.
5. Visit Myles Standish State Forest
Myles Standish is my favorite place to hike & bike in Massachusetts. There are 13 miles of beautiful hiking trails – you will pass by ponds, cranberry bogs, and beautiful pine trees. Other recreational opportunities available seasonally include cross country skiing, swimming, canoeing, and picnicking. Myles Standish sees barely any traffic and it's massive – it's just such a peaceful place to enjoy nature in one of the country's most beautiful areas.
4 season fun! Myles Standish is gorgeous in every season!
Addresses & Parking Information
Captain John's Tours Whale Watching Tours – 10 Town Wharf Plymouth, MA 02362
Burial Hill & 1st Parish Church – Leyden St. Plymouth, MA 02360
Plymouth Rock & Mayflower II replica – Water St, Plymouth, MA 02362
National Monument to the Forefathers – Allerton St. Plymouth, MA 02360
Waterfront – Water St. Plymouth, MA 02362
Wood's Seafood -15 Town Wharf Plymouth, MA 02360
Myles Standish State Forest – 194 Cranberry Rd Carver, MA 02366
*There are parking meters all over town or you can park for free in the Burial Hill parking lot located at: Leyden St. This lot is only 2-3 blocks away from most waterfront attractions.
Have you ever visited Plymouth county? What are some of your favorite activities and attractions in the area?