7 Fun & Affordable Daytrips Less than 2 Hours from Orlando
As exciting and jam packed with over-the-top entertainment an Orlando vacation can be, it's also often an overwhelming, expensive, & tiresome experience. As a popular sign in Universal park states, "I'm going to need a vacation from this vacation!" Planning a few non-theme park days in between all those crazy theme park days can really help to balance out a stressful vacation. Whether it be a unique location attraction, or a daytrip to a beautiful Gulf Coast beach, there is plenty to do beyond the theme parks.
Whether relaxing at a beautiful preserve or a world-class beach, there's much to do beyond the Orlando theme parks!
Below are a few affordable daytrips that won't break the bank. In fact, even with the extra gas costs, a day spent at any of these destinations will be much cheaper than a pricey day spent mostly waiting in lines in the heat at the theme parks. Consider incorporating at least one of these daytrips into your Orlando itinerary. Save yourself some stress, money, along with the hassle of dealing with commotion and clutter, if only for a day!
Here are 7 great daytrips, all within a relatively easy 2 hour drive
Tampa
Distance from Orlando: 94 miles
How to get here: Drive 2 hours west of Orlando via I-4W
Best things to do: Florida Aquarium, Bayshore Blvd., Lettuce Lake Park, Columbia Restaurant
Tampa is definitely a worthwhile daytrip destination, especially for anyone who loves big city attractions. The city is most well-known for being home to the iconic theme park Busch Gardens, as well as the top rated Lowry Park Zoo (now Zoo Tampa. Additionally, you will find a number of interesting art museums, a gorgeous historic theater, and a number of beautiful nature preserves scattered around the city. Lots of great places to shop (check out Hyde Park Village) and no shortage of fantastic restaurants.
A few must-dos in Tampa
Lettuce Lake Park – Gorgeous preserve with quaint hiking trails. Great place for birdwatching and alligator sightings!
Florida Aquarium – Consistently ranked as one of the country's top aquariums. Colorful exhibits and a fantastic Wetlands trails.
Bayshore Blvd – The Longest continuous sidewalk in the country. Gorgeous views of the bay and the Tampa skyline. Lined with pretty palms, and featuring over a dozen fitness stations.
Tampa theater – Rated one of the most beautiful theaters in the world. Hosts special movie events throughout the year.
You can find just about any type of cuisine in Tampa. One of the best tourist choices is Columbia, Florida's oldest restaurant. This wonderful historic dining establishment is located in historic Y-bor City (one of the city's oldest sections). Enjoy live flamenco dancing while enjoying top notch Spanish & Cuban cuisine. Be sure to try the Cuban black beans!
Sarasota
Distance from Orlando: 131 miles
How to get here: Drive 2 hours southwest of Orlando via I-4W & I-75S
Best things to do: Siesta Key Beach, Lido Beach, Myakka River State Park, Jungle Gardens, St. Armands Circle
Sarasota is a must-visit for any beach lover. Beautiful Siesta Key Beach has ranked the best beach in America on more than one occasion. The beach is known for its' amazingly soft 99% pure quartz sand. The sand is fluffy like snow to the touch and always cool so no burning your feet to get to the water.
The beach is spacious with plenty of room to do whatever, whether you feel like taking in a game of beach volleyball, catching up on a good book, or sunbathing. Also, it's one of the best for swimming too due to the clear clean water. Siesta being one of the most gorgeous of the Gulf coast beaches alone makes this daytrip worth the trek.
A few more activities to add to your Sarasota bucket list
Myakka River State Park – The best park on Florida's Gulf side, is also one of the oldest and largest. Amazing airboat rides with guaranteed alligator sightings (winter is prime season). Beautiful shady nature trails, awesome birdwatching, and a unique canopy treetop walk.
Sarasota Jungle Gardens – See free roaming flamingos and all sorts of exotic birds at this beautiful botanical garden, a beloved tourist tradition since the 1930's.
Lido beach – Another gorgeous beach, this one perfect for beachcombing and taking in a gorgeous Gulf sunset.
St. Armand's Circle – Beautiful shopping and dining area with lots of great restaurants. Greek, Italian, French, Cuban… you can find just about anything here. A second location of Tampa's famous Columbia restaurant can be found here.
After a full day exploring the numerous attractions, you will probably be up for a good meal. Head over to St. Armands Circle or Siesta Key Village. Both are home to many local restaurants.
St. Petersburg/Clearwater
Distance from Orlando: 106 miles
How to get here: Drive 2 hours west of Orlando via I-4
Best things to do: Clearwater Beach, Pass-A-Grille beach, Captain Memo's Pirate cruise, Weedon Island Preserve, waterfront dining, Alligator watching, Sand Key Beach (amazing shelling)
The St. Pete/Clearwater area is jam packed with beaches, touristy attractions, nature preserves, and restaurants. It's easy to justify the drive here when there is so much to do and see, much of it free or extremely cheap. Most famous is beautiful Clearwater Beach, known for its' namesake water and sugar white sand. While it is a great Gulf beach for swimming and live entertainment, unfortunately it's also super crowded all the time.
More fun to add to your St. Pete/Clearwater to-do list
Sunken Gardens – 100 year old botanical garden home to lush tropical plants, waterfalls, and flamingos. One of America's oldest roadside attractions.
Madeira Island dolphin cruise – Guaranteed dolphin sightseeings, plus gorgeous waterfront views.
Pass-a-Grille beach – This beach is located on the quieter end of touristy St. Pete beach. While not as wide, it has that Old Florida charm and is located just steps aways from Pass-A-Grille village (home to lots of touristy shops and restaurants).
Boyd Hill Nature Preserve – Take a tram ride around this peaceful nature oasis and see all sorts of small wildlife including gopher tortoises and armadillos. Also a hotspot for gator sightings!
Tons of great restaurants can be found in both cities. Villa Bellini, a timeless Italian restaurant, is one of my favorites. Lots of great waterfront options as well if you prefer to stick to the beach (check out The Sandbar). And, if you prefer to go the tourist route, Rumfish Grill is a really fun place to dine. The restaurant features a massive 33,500 gallon aquarium designed by guys from the Tanked reality show. Update: Villa Bellini is now closed!
An elegant dinner at Villa Bellini
Brunch next to a massive aquarium at Rumfish
Winter Park
Distance from Orlando: 6 miles
How to get here: Drive 20 minutes east of Orlando via I-4E
Best things to do: Scenic Boat tour, Stroll around downtown, Kraft Azalea Garden, Morse Museum, Barnie's coffee
Winter Park is the easiest daytrip from Orlando, considering you do not have to drive more than a half hour. The city is known for its' tree-lined downtown, many parks and preserves, and famous boat tours around beautiful Lake Osceola and Virginia.
A few attractions to add to your Winter Park bucket list
Scenic boat tour – This has to be number one! Your tour guide will take you on a relaxing pontoon ride around Winter Park's gorgeous lakes, pointing out notable sights of interest including celeb houses (Mr Rogers house) and Rollins College. A relaxing alternative to the theme parks for sure!
Kraft Azalea Garden – Gorgeous place for a stroll through tall cypress trees. Beautiful lake side setting and tons of shade make this one accessible all year round.
Downtown Winter Park – Loaded with unique boutique shops, sidewalk cafes, and coffeehouses. A gorgeous pace to spend a day shopping and dining. Check out Central Park, the leafy centerpiece of this thriving downtown district.
Charles Hosmer Morse Museum of Art – Features the largest collection of works from renowned artist Louis Tiffany, most famous for his trademark Tiffany lamps.
Tons of fantastic restaurants in the area, from Polish, to Indian, to Italian. If you love grilled cheese, a great casual choice is Toasted. This cafe serves 10+ varieties of grilled cheese! As a unique twist, they offer gluten-free bread and vegan cheese substitutions! Delicious house cut French fries and tomato soup to go along with your sandwich make this the perfect comfort choice! Ethos Vegan Kitchen is super popular as well. Lots of healthy goodies here including plenty of GF options.
Dunedin
Distance from Orlando: 107 miles
How to get here: Drive 2 hours west of Orlando via I-4W
Best things to do: Honeymoon Island State Park, Pinellas Trail, Downtown Dunedin, Bon Appetit (waterfront dining), Dunedin Fine Arts Center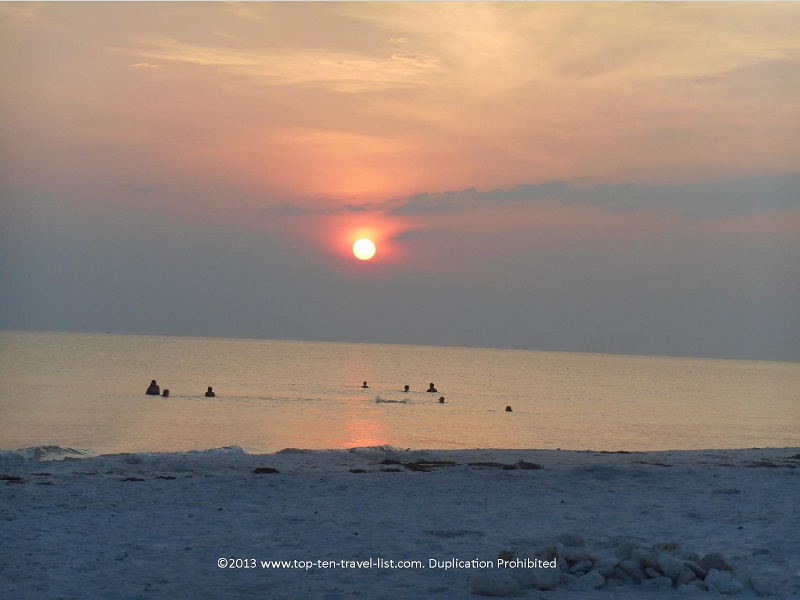 Dunedin is another gorgeous Gulf coast beach destination to add to your daytrip itinerary. The small community an hour north of Tampa is most well-known for being home to the incredible Honeymoon Island State Park. As one of the most popular beaches in the region, it can get crowded. However, the sugar sand beaches, beautiful nature trails through rare habitat, ample wildlife watching opportunities, and great shelling, make it worth the resulting traffic. Be sure to take the ferry over to Caladesi Island.
Must-dos in Dunedin
Honeymoon Island – Spend a few hours relaxing in the sun, collecting shells, exploring virgin Florida pine habitat, hiking and wildlife watching (armadillos and tortoises are commonly seen). Great place for swimming! Gorgeous sunset destination!
Downtown Dunedin – Charming place to take a stroll, dine at a sidewalk cafe, and check out interesting shops.
Pinellas Trail – Gorgeous 50 mile rail trail which runs right through Downtown Dunedin.
Living Room on Main – Delicious local restaurant located in the beautiful downtown district.
Silver Springs State Park
Distance from Orlando: 76 miles
How to get here: Drive 1 hour north of Orlando via the Florida turnpike
Florida's oldest tourist attraction is definitely worthy of a visit if you are seeking something offbeat and fun to do. At Silver Springs State Park, you will have the opportunity to take a narrated glass bottom boat ride on one of the state's largest springs. Really, this is a fun experience as you will see so many colorful fish via the boat's glass bottom. The tour guides are very knowledgeable, providing much history about the area. As an added bonus, you will likely see alligators out sunning, especially if you visit during the winter months.
A number of hiking trails are also on-site if you feel like working up a sweat. Be sure to stand inside the unique horseshoe palm tree (you will learn more about it during your tour) as legend goes you will have 5 years of good luck!
Anna Maria Island
Distance from Orlando: 126 miles
How to get here: Drive 2 hours southwest of Orlando via I-4W & I-75S
At just over 2 hours, Anna Maria Island is another easily accesible daytrip from Orlando. Known for its' attractive "Old Florida" vibe, Anna Maria Island is the perfect beach destination for those seeking relaxation and old school charm. Instead of noisy touristy crowds, you get peace and quiet. Instead of never ending resorts and gimmicky attractions, you get a quaint town devoid of major commercialization. And, instead of a tourist vibe, you will find an old-fashioned small town ambiance, complete with many local boutique shops.
Charming inns and pastel colored homes dot the area. The barrier island includes a 7 mile stretch of sandy beachfront. Whether it be a laid-back day of sunbathing, bird watching, or swimming, Anna Maria is the perfect place to bask in the Florida sunshine. For dinner, check out The Sandbar, a waterfront favorite which offers views just as delicious as the food.