Sundaes on Saturday Dessert Buffet at Four Season Boston
Last night, Mike and I tried out "Sundaes on Saturday," a dessert buffet held every Saturday at The Bristol Lounge inside Four Seasons hotel in Boston. Four Seasons is located in the Back Bay area of Boston, across the street from Boston Public Garden and just a block or so from beautiful Boston Common(the oldest park in the US and starting point of the historic Freedom Trail).
We saw this buffet featured on a Travel Channel "Buffet Paradise" episode and decided we had to check it out! What could be better than a dessert buffet, featuring unlimited ice cream and treats?!
Every Saturday night from 9:00pm-Midnight, The Bristol Lounge offers a dessert buffet featuring homemade desserts and ice cream. A full drink menu is also available. Here's an inside glance at the seating area. As you can see, it has a nice contemporary feel with elegant touches.
We sat in the casual section, which includes regular seating along with comfortable couches. This is the perfect area for a social meet-up, along with a few drinks and treats from the dessert buffet.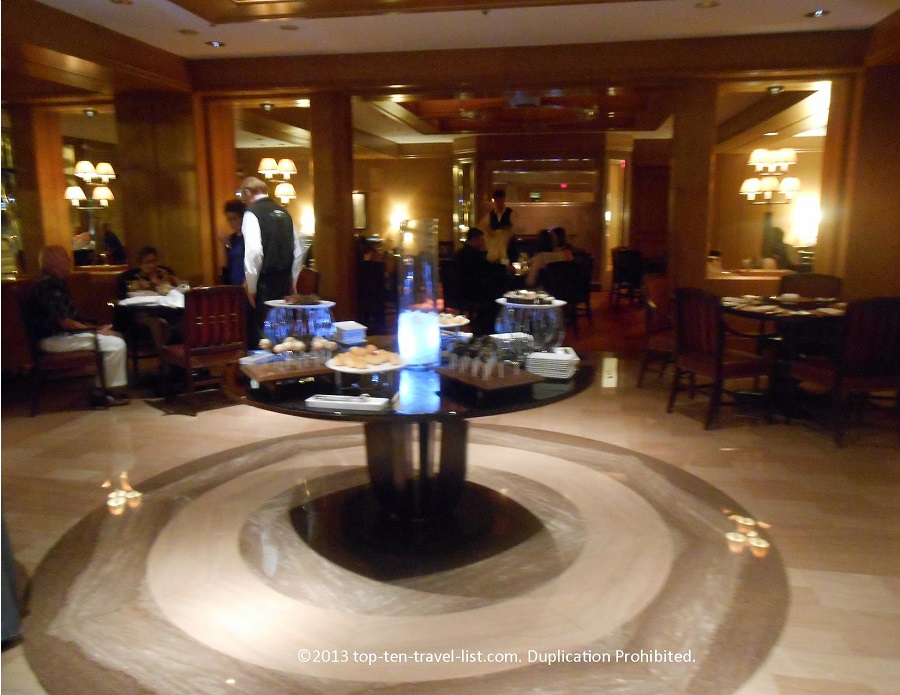 I I loved the look of the lounge, casual and relaxing, yet elegant with comfortable couches to relax on, classy design, and a stylish presentation of the desserts. I was hoping for some better views, unfortunately, this lounge is located on the 1st level of the hotel. There are floor to ceiling windows with views of  Boston Public Garden, however, this only benefits daytime visitors.
Fancy extra touches such as gold silverware, a unique table design & centerpiece, and dim lighting added to the ambiance. Take an up close look at the dessert spread offered…
Executive Chef Tim Fonseca treats guests to liquid nitrogen ice cream during this dessert buffet. I only tried out the vanilla. Three other varieties were available (chocolate, chocolate brownie, banana toffee), along with toppings such as whip cream, white chocolate pecans, and more! The ice cream was a creamy, delicious treat! I could definitely taste the texture difference versus ordinary ice cream.
Another great treat offered at this buffet included custom ordered crepes. There were several fillings to choose from including: chocolate, caramel, and Nutella. I tried the chocolate filled crepe, which was outstanding.
Other desserts offered at the buffet included: chocolate covered strawberries, mini mint cupcakes, mini chocolate cupcakes with S'mores frosting, Cake Pops(one with a cheesecake filling and one with a chocolate cake filling), and mini lemon cakes.
Although the desserts were excellent, I was looking forward to cheesecake or red velvet, which unfortunately did not turn up on the table. However, I still enjoyed the treats and atmosphere. It's not that common to find a dessert buffet, therefore, I am glad that I took advantage of this opportunity while in Boston.
Those looking to enjoy a fun night out in Boston, complete with a few delicious desserts, wonderful service, and elegant surroundings will have a great time at Sundaes on Saturday in The Bristol Lounge.
The Bristol Lounge (inside Four Seasons Boston)
The lounge is located right off the lobby
Address: 200 Boylston Street Boston, MA 02116
Price per person: $18
Dress code: Smart casual