Hiking the Grand Canyon: The Kalibab Trail to Skeleton Point
A hiking adventure through the Grand Canyon will be one of the most memorable experiences you will ever have on a national park vacation, if not any vacation. Many visitors are unaware that there are several maintained hiking trails which will take you on a quiet scenic journey through the inner canyon, most of which are short enough to incorporate into a day trip. When you are unable to plan an overnight hiking trip all the way down to the river, a day hike is your next best option.
Hiking options at the South Rim
Aside from the popular Rim Trail, a 13 mile maintained path which gives visitors a convenient means to stroll along (or shuttle along) to various points of interest & scenic overlooks, you will find 2 more adventurous hiking options: the South Kalibab and the Bright Angel Trail. Both of these wonderful hikes have varying stopping points, making them fantastic options for hikers of all abilities. Both hikes are much quieter and more scenic than the Rim Trail, with the added advantage of offering more incredible vistas that you would not see from a simple overlook. There really is no better way to explore America's natural wonder than embarking on a beautiful hike.
"Life is an adventure. Or nothing at all" ~Helen Keller
The gorgeous South Kalibab trail
With 3 stopping points (Ooh-Aah Point, Cedar Ridge, & Skeleton Point), the South Kalibab Trail is an attractive option for any nature & fitness enthusiast visiting the Grand Canyon. The trail basically goes downhill for the first 3 miles out to Skeleton. Remember what goes down, must come up! And boy is the way back up steep! Hiking downhill can almost seem too easy, and thus, you may be tempted to go further than your comfort level. Don't let the easy downhill portion fool you. If you are not in good shape, keep your hike simple and just go out to the 1st turnaround point. Ooh-Aah Point still offers some really stunning panoramas of the area.
From easy downhill hiking…
To an intense uphill climb with many stairs…
For fitness buffs who would consider themselves in great shape, I recommend completing the entire hike to Skeleton Point. Note that hiking is not recommended in summer due to the heat/monsoon threats. This 6 mile, half day adventure is tough (even for a half marathon runner and regular weekend hiker like myself), yet a very rewarding experience due to the peacefulness and breathtaking views.
After the 1st turn around point, traffic dies down and you basically have the entire canyon to yourself. In fact, we saw no more than 10 hikers total after Cedar Ridge! Cedar Ridge is the halfway mark and here you will find a bathroom. Additionally, you can soak up the nice scenery for a bit and refuel with some quick snacks.
The 3 mile journey to Skeleton Point is overall pretty fantastic. The trek to the river viewpoint at Skeleton is very scenic and not overly challenging. I recommend a hiking stick for better traction in some of the steeper, looser gravel sections. Take your time so you do not slip.
Crazy summer monsoon storms!
Luckily, we were able to finish our hike just before a freak monsoon, so we got to enjoy some incredible stormy scenery. The cooler temperatures & overcast skies made our summer hike a little more tolerable, especially when going uphill. Prepare for random weather events, especially during summer monsoon season! Most rangers recommend avoiding summer hiking due to random monsoons. Lighting strikes have killed numerous hikers.
Take a look at these gorgeous views right before an afternoon thunderstorm.
Gorgeous river views!
Upon reaching Skeleton Point, you will be treated to serene views of the river. Most times, there will not be a single person in sight so you can take some great photos and enjoy the views all to yourself!  Be proud that you are able to enjoy this stunning river view, thanks in part to your hard effort!
Take your time on the uphill return climb!
Relax for a bit – you will need it before embarking on the incredibly challenging 3 mile uphill climb. Seriously, there is not a single break going up – you will be walking uphill for the next 3 miles! Take lots of water breaks, replenish electrolytes with drinks or snacks, and take it easy, keeping in mind you are in a high altitude area where the air is thinner (meaning less oxygen is available). Even those in the best of shape need to take in easy in high elevation areas. If time permits, acclimate yourself to the altitude in the area for a few days beforehand.
Why you should hike the canyon
After your hike, you will surely agree that you got in a fantastic full body workout for the day. In fact, you will likely be too sore the next few days to do much of anything. Nevertheless, the trek is worth it for the outstanding views and once-in-a-lifetime opportunity to explore the canyon in such an isolated setting.
Too many visitors come and go without even knowing that these wonderful trails exist. Completing even a short section of one of these trails is really recommended for the tremendous photo opportunities and opportunity to explore one of nature's greatest creations in such a desolate setting. While taking pics from a few overlooks along the rim trail still makes for a worthwhile canyon trip, nothing compares to an adventurous hike inside the canyon. Out of the trails available at the Grand Canyon, the Kalibab Trail offers the nicest views in the shortest distance.
How long will it take to hike to Skeleton Point?
The park estimates that it will take the average hiker about 3-5 hours to complete the entire trail. For 2 regular hikers in good shape, with several rest & photography breaks, it took us about 2 hours. Plan more or less time depending on your current activity level & overall fitness ability. Plan twice as long going up due to steep staircases like the one shown below.
The history beyond the Skeleton Point name
On an interesting side note, Skeleton Point is named as so, not for the high number of human deaths along the trail, but rather for the number of mules that have died. One would think there would be at least a few falling casualties due to the steep drops offs, however, this is not the case. Interestingly, most deaths and injuries on the Kalibab trail (and elsewhere at the Canyon) result from dehydration, overexertion, mule collisions, and lightning strikes – all things which could be avoided with proper planning & preparation. For an interesting read, pick up a copy of Over the Edge: Death at the Grand Canyon, available in gift shops or Amazon.
What to do if you see a mule on the trail
When you see a mule on the trail (and you will likely see several tour groups as they share the same trail as hikers), be sure to get out of the way in advance by moving as far to the side as possible and staying put until they are out of sight.
Mule rides vs. hiking
A mule ride is another interesting way to explore the great scenery along the Kalibab trail, although much pricier. For a budget friendly and more rewarding experience, plan on completing some or all of the Kalibab trail. Even though mules are sure footed and no tourists have died, I would advise those scared of heights and very steep drop offs to pass on the mule ride. Hike or mule ride, exploring the gorgeous Kalibab trail is a must on any Grand Canyon vacation: by far one of the most breathtaking ways to explore one of America's great wonders!
Wildlife on the trails
Many mammals call the Grand Canyon home including bighorn sheep, mountain lions, deer, and elk. Sightings are rare. Keep a safe distance from all wildlife.
The extent of our wildlife sightings…The Albert Squirrel
Plant life at the canyon
The South and North Rim are both home to a diverse variety of plant life due to the drastic change in elevation from the river to the North Rim. You will find just about everything including desert scrub, riparian, pinyon pine and juniper woodland, ponderosa pine, and Montane meadows and subalpine grassland communities (only at the North Rim). Also, many wildflowers inhabit the canyon (over 600 species).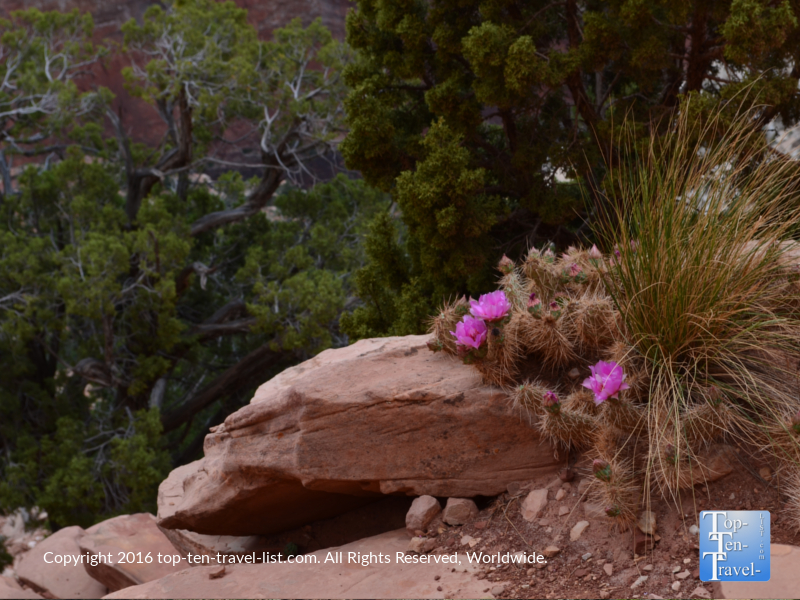 Tips for a great hike
Most hikers underestimate the intensity of high altitude hikes, especially when combined with extremely hot and dry summer conditions. Here are a few tips to keep in mind for a smooth visit.
*Start your hike as early in the morning as possible. The temps will be cooler, there will be less people on the trail, the line to get in will be shorter, and finding parking at the Canyon will be a much smoother, less time consuming experience (especially true during the busy summer months).
*In higher altitudes areas, you should be snacking more and drinking plenty of extra water. Wear a hydration backpack (fill up at a spring water station located at various points throughout the park including the start of the Kalibab trail) and load up your pack with lots of electrolytes and salty snacks to balance your water intake. Eat a full breakfast before your hike and eat lunch afterwards to refuel your body with lost minerals. Note: there is no water along the trail, so fill up before you begin!
*Wear appropriate hiking attire, including quality hiking shoes. Dress in layers.
*Carry a hiking stick for extra balance. This will help you with some of the steeper downhill portions as you go over loose slippery gravel.
*Apply plenty of sunscreen even on overcast days as the sun is much more intense at this elevation (7000 ft) and the possibility of getting burnt exists even on the cloudiest of days.
*Keep your backpack as light as possible. The extra weight will leave you with sore shoulders and an aching back the next day!
*Check the forecast during summer monsoon seasons (Northern Arizona has some of the highest lighting related deaths and injuries in the country). If the forecast calls for heavy rain, plan your trip for another day if possible. If you decide to head out, stuff a light rain jacket/poncho into your backpack to be on the safe side. Also, keep your hike short.
*Be aware that weather can change very quickly during the stormy summer season. Also be aware that sudden weather changes are much more likely in high elevation areas. We got caught in a massive storm, despite the fact that the forecast called for very little chance of precipitation.
*Remember that this trail offers virtually no shade, so a hat and/or sunglasses would be a smart idea.
*It is recommended not to go past Cedar Ridge during the summer months due to the intense heat, dry air, little shade, and increased risks of dehydration. Save the full hike for the cooler spring or fall season.
*Most importantly, do not venture out any further than your ability level permits. The hike appears easier when hiking downhill. The trek to Skeleton Point is well-maintained and easy to follow, yet very steep. This hike is only recommended for those in the best of cardio shape. Also be aware that hot sunny days with temps often into the high 90's+ make for one miserable hike. On a cloudy, 70 degree spring day, we were still overheated. The sun itself makes the hike feel much more difficult, especially when climbing uphill. If possible, plan your hike during the cooler spring or fall seasons and check the forecast for an overcast day.
Where to start the Kalibab Trail
You must take a shuttle bus to Yaki Point to start the trail. You can access the shuttle from various locations along the Rim Trail. I recommend parking at the visitor's center and taking the shuttle from here. The Grand Canyon Shuttle service is a free & convenient means to get around the park. Rides are included with admission.
General Admission
Fees are $35 per vehicle, good for both the North and South Rim for 7 days. I recommend an Annual Pass ($80), which easily pays for itself if you intend on visiting other national parks within a year time frame.
Lodging in the Grand Canyon
Staying at the Grand Canyon is the most convenient option, especially if you are hiking. This will enable you to get up earlier for your hike before the afternoon sun and crowds, not to mention avoid a lengthy morning drive before venturing out on a long, tiresome hike. There are 5 choices within the park, although they often sell out months in advance (especially during the summer season), so book your hotel as far in advance as possible.
Other nearby towns with lodging include Tusayan (just one mile from the canyon with free shuttle service), Williams (about an hour's drive and home to the Grand Canyon Railway), and Flagstaff (1.5 hour drive). Flagstaff is a popular tourist destination. There are many restaurants, beautiful hikes, and great attractions found within this charming mountain town, however, you must be prepared for a lengthy drive in the morning.