21 Ways to Save on your Grand Canyon Vacation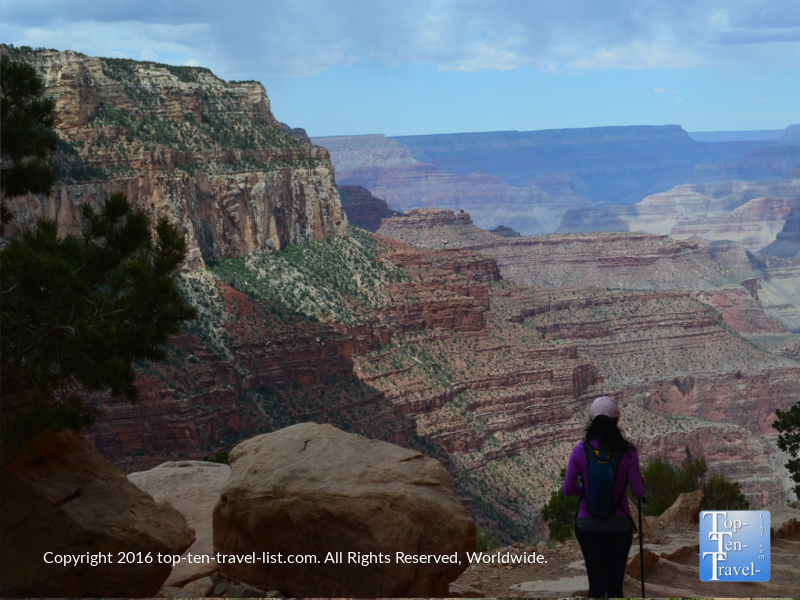 As one of the most spectacular wonders of the world, the magnificent Grand Canyon draws in millions of visitors per year. Tourists come from all over the world to marvel at the beauty of this stunning 277 mile long, 1 mile deep canyon, which was formed 6 million years ago from ongoing erosion from the Colorado River, which divides the park into the North and South Rim.
Due to the area's immense beauty and the constant flow of traffic, everything including hotels, restaurants, attractions, and activities are all pricey. Without plenty of advance planning, you may not even get a hotel room within the park or a spot on that whitewater rafting trip, as both hotels and activities tend to fill up months, sometimes even up to a year, in advance.  No need to fret though – there are plenty of budget friendly hotels nearby that will save you a lot of money. Also, free activities will typically see less crowds that the more popular and expensive activities.
Be smart – research activities in advance, avoid tourist traps, and most of all, focus on the naturally free views & activities surrounding you in every direction, as well as throughout the entire Northern Arizona region. To help you save a bit on your trip, incorporate a few of these budget friendly tips into your trip plans.
1. Book your trip as far in advance as possible
Pricing will be cheaper on almost everything, from hotels to transportation, the further in advance you book your trip. In an area with such heavy tourist traffic, you often have to book months in advance just to get your preferred hotel. Availability is severely limited and hotels are often completely sold out months in advance. This is especially the case if you want to stay in the very popular El Tovar Hotel.
If you prefer to go the budget friendly route, you will want to start researching hotels and flights way in advance, preferably outside of prime season. Off-season hotels & flights are much cheaper with greater availability. If you can visit in the fall or winter, you will have an easier time finding a budget room, and will also enjoy the benefits of reduced off-season rates.
2. Choose lodging outside of Grand Canyon Village
It may be a bit more convenient to wake up with the canyon right outside your front door, however, you'll pay the price. Hotels in nearby towns like Tusayan, located just a few minutes outside the entrance, offer cheaper rates and more amenities. You may find extras like a free breakfast, a relaxing pool or hot tub to soak in after all that walking around, amongst other freebies. Plus, you will have a variety of restaurants, including budget friendly chain and local options to choose amongst.
If you want to take it a bit further and save even more, Williams, a small town off of Route 66, is just an hour or so away and there are a number of budget friendly motels and hotel options available. Plus, there are lots of frugal dining choices such as Subway & McDonalds. Local dining choices oozing Route 66 charm are often affordably priced in comparison to dining at the Grand Canyon. Plus, you'll get to explore the historic downtown and check into other nice area attractions like Bearizona and hikes in the Kalibab National Forest.
Flagstaff is a bit further away, however, a popular choice due to the abundance of affordable lodging and dining options, as well as proximity to Sedona and other beautiful natural attractions, all of which happen to be free or budget friendly! Both areas offer a variety of budget motels under 100 bucks, even on most weekends.
3. Plan your vacation during the off-season
Late fall and winter are the least busy times at the South Rim. During this period, you will see reduced hotel rates, and even better, less traffic & crowds! During the summer season, you could be waiting forever just to get into the park, not to mention circling around in an attempt to find a parking spot. Another benefit of visiting during the fall/winter season is the cooler temperatures & end of monsoon season. This means a more comfortable visit, as well as better conditions for hiking, walking and any other outdoor activities.
4. Skip the tourist traps
No need to spend a lot of money on helicopter rides, jeep rides, mule rides, tours, and other unnecessary, overpriced attractions and activities. For a budget friendly alternative, take a self guided tour of the canyon via the Rim Trail, an easy flat path which stretches on for 13 miles and is accessible by shuttle from various points of interest. Views of the canyon are stunning all along the way, and there is no extra fee for these views as is the case in the pricey activities listed above!
Or, up the adventure a bit, by embarking on magnificent hike into the canyon via the South Kalibab or Bright Angel trails. On either of these trails, there are several stopping points, so you can go on to your comfort level. Be prepared to hike in a harsh high altitude desert climate which means hydrating with plenty of extra water, eating salty snacks to replace lost electrolytes, taking it much easier than you typically would, and hiking during the coolest portion of the day. No matter how far you go, you will be treated to some of the most breathtaking views of the canyon available, along with a more intimate setting sans the crowds!