5 Places to Get Breakfast in Flagstaff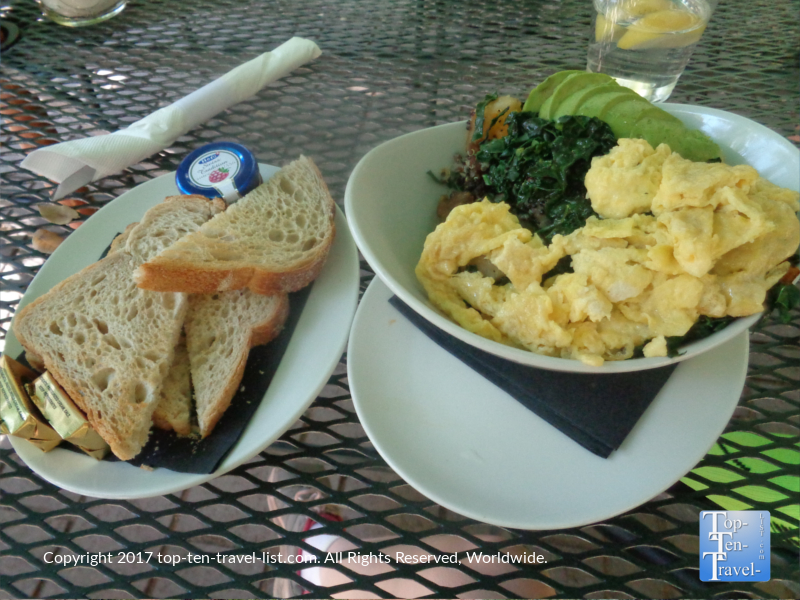 Filling up on a hearty breakfast in Flagstaff is a must before engaging in any intense calorie burning high altitude activities. It's also a great idea before making the hour and a half drive to the Grand Canyon or any other national attraction. These isolated areas are often limited in terms of available dining options. In a high altitude area like Flagstaff (elevation 7000 ft), breakfast really is the most important meal of the day! As mountain altitude sickness is pretty common with new visitors, making sure that you are eating adequate carbs and drinking more water than usual can help in preventing this debilitating illness from ruining your vacation!
If you are looking to try something new in favor of a standard chain like Ihop or Denny's, here are 5 local restaurants which serve up the best breakfast!
1. Horsemen's Lodge
Horsemen's Lodge offers an attractive rustic, laid-back cowboy ambiance not really found at many other restaurants in the area. If you prefer a country vibe vs. modern, Horsemen's Lodge will likely appeal to you. On the menu, you will find a nice hearty selection of breakfast entrees. All the standard breakfast fare such as omelets, benedicts and burritos, as well as a few house specialties will give you more than enough options. Two great choices include the Cinnamon Roll French toast and the Southwestern Benedict. Horsemen's is located on the way to the Grand Canyon & other natural attractions, thereby making it a good choice for anyone planning a daytrip.
Entrees range from $8-11 and include 2 sides and a drink – one of the better deals in town. The western ambiance, affordable pricing, and laid-back attitude make it one of my top picks for vacationers seeking a relaxed, affordable western dining experience.
What to try: Cinnamon Roll French Toast, Horsemen Burrito, Huevos Rancheros, The Garden Mixer
2. Downtown Diner
Unfortunately, Downtown Diner is one of the lower rated restaurants in town. Ignore the negative reviews and check this little gem out for yourself! Featuring all the regular breakfast fare, huge portions, affordable pricing, and a casual setting, it's the perfect choice prior to any area activity. The big portions make it a nice filling choice for those planning on hiking a long high altitude trail. Check out the breakfast special which includes 2 eggs with hash browns and toast for just 5 bucks – what a deal!
Downtown Diner is the perfect laid-back choice before hitting the trails or embarking on a day trip. While most of the restaurants downtown are pricey and trendy, Downtown Diner comes in as a nice old-school pick with a totally casual feel. Come in with your workout clothes ready to hit the trail. You will find no frills here – just decent breakfast food at affordable, non-touristy prices!
What to try: 2 egg breakfast, Hungry Man's Plate
3. Indian Gardens
Indian Gardens is a bit out of the way as it is located near the end of the scenic Oak Creek Canyon drive. However, the delicious food, wonderful patio, & amazing espresso drinks make the drive well worth it. Plus, the views on Oak Creek Canyon, a 14 mile picturesque drive between Flagstaff & Sedona, are absolutely stunning, making the drive worth of a top spot on your itinerary.
At Indian Gardens, you can relax on the shady garden patio while enjoying tasty local food (everything is made on-site including fresh pastries and sourdough bread!) and sipping on the best espresso drinks in town. Delicious fluffy organic pancakes, freshly made muffins and coffeecakes, and the best breakfast burrito in the area are just a few recommended selections. On a side note, those dining gluten-free or vegetarian will also be pleased to know that a number of choices are available.
What to try: Grains & Greens Bowl, Breakfast Burrito, Pumpkin Muffin, Americano
4. The Toasted Owl
The Toasted Owl has the most personality of any breakfast joint in Flagstaff. An old-fashioned diner atmosphere with unique owl decor everywhere really sets The Owl apart from the bland sea of options in town. Great food, a creative menu, friendly service, and lots of allergy friendly choices make it the perfect choice for just about any Flagstaff visitor. A few highlights include avocado toast, make-your-own breakfast tacos, gluten free almond cakes, and a delicious burrito. And thus, you really can't go wrong picking The Toasted Owl as there is something for every taste!
What to try: Breakfast Tacos, GF Almond or Buckwheat cakes, Breakfast burrito, House roast coffee
5. Brandy's
Brandy's, a small diner along Rt 66, is both a local and tourist's favorite, due to its' appearance on Food Network's popular series Diners, Drive Ins, and Dives. The homestyle offerings draw traditional diners. Breakfast is so popular that there is often a lengthy wait to get a seat, even on weekdays! Fortunately, the home-cooked food is pretty good, thereby making the wait tolerable. You'll find a bit of everything on Brandy's menu, from the savory to the sweet. Whether you are craving a protein rich omelet or a stack of homemade pancakes, you'll find it all and more on Brandy's large American style menu. Brandy's also offers a pretty decent menu of espresso drinks (brewing coffee from local roaster Firecreek), which is pretty rare for a diner.
Everything at Brandy's is fresh and homemade and it shows in the superior quality. The pancakes, soups, quiche, pastries, and bagels are all made on site. Brandy's also works with many local companies, ensuring more local produce and higher quality ingredients. Despite an increase in tourism, Brandy's is still one of your best bets for an affordable & filling breakfast.
What to try: Spud's Medley, Swedish Oat Pancakes, Quiche
For those limited on time…
For those looking for a real quick breakfast, I recommend checking out Late for the Train, a wonderful local coffee shop with 2 convenient locations. One cafe is located along Hwy 180 on the way to the Grand Canyon/Snowbowl and one in the historic downtown. Asides from offering the best espresso drinks in town (Try the Dark Skies Mocha!), Late for the Train offers a daily selection of fresh made burritos. These amazing burritos tend to get snatched up fast so get here early!