10 Incredible Waterfall Hikes Under 2 Miles
Spring is the perfect time to embark on a gorgeous waterfall hike. The weather is finally warming up, and thus, this is the best time of the year to enjoy the great outdoors. After being cooped up all winter, now is your opportunity to get back in shape, establish a regular exercise routine, soak in some much needed vitamin D, and most of all, to enjoy some quality time in nature.
Waterfalls are typically at their grandest during the rainy spring months, especially following heavy winter snow melt. Below are 10 wonderful waterfalls, all of which are accessible via a hike of no more than 2 miles.
Treasure Falls
Location: Pagosa Springs, Colorado
Waterfall Height: 105 feet
Hike Distance: 1/2 mile out-and-back
This gorgeous Southwestern Colorado waterfall has a unique backstory involving a legend of treasure being hidden in the mountain. Legend goes that back in the 1700's, a group of Frenchmen buried gold while being pursued by Spaniards or Native Americans. No gold was ever found, however, the true gem really is this spectacular waterfall. Being nestled within the gorgeous San Juan Forest, the woodsy scenery is very peaceful, even more so during the colorful autumn months.
The falls tumble 105 feet into Falls Creek which flows into the San Juan River. Yes, the falls truly are the most breathtaking in Southern Colorado, and reportedly one of the most scenic in the entire state. The serene isolated setting and beautiful wilderness really sets this one apart. This trail is located about 15 miles outside of Pagosa Springs along Hwy 160 in an uninterrupted natural area. The hike is quite short at just over a half mile, although the trek is fairly steep. Note: The falls are also viewable via the parking lot.
Laurel Falls
Location: Gatlinburg, Tennessee
Waterfall height: 80 feet
Hike distance: 1.3 miles out-and-back
One of the most popular trails in Tennessee's very busy Smoky Mountains National Park is the short hike to an amazing waterfall named Laurel Falls. This 80 foot tall waterfall is amongst the most impressive in the park. Mountain laurel, an evergreen shrub that blooms in the area every May, is how the trail gets its' name. Thus, springtime is the best time to absorb all the natural beauty. The 1.3 mile trek to the falls is moderately difficult due to a steep incline, however, the surface is paved.
While you may not get to enjoy much peace and quiet on this trail, you may catch a glimpse of a bear along the way. In fact, Black Bear sightings are quite common. It's also more fun (and a bit less scary) to see a bear amongst a big crowd of people vs alone by yourself in the woods. Did you know that the Smokies are home to the highest concentration of black bears in the country? According to the NPS, 1500 bears currently reside within the park. Keep your eyes peeled, but also keep your distance!
Longcreek Falls
Location: Blue Ridge, Georgia
Waterfall height: 50 feet
Hike distance: 1 mile out-and-back
This beautiful short hike is a wonderful introduction to the Appalachian trail. While it would be nice to accomplish the prestigious thru hiker status, most of us do not have the time nor money. It takes about 5-7 months to hike the 2190 mile trail in its' entirety from Georgia to Maine! However, it's worth checking out small pockets of America's best hike. If you are seeking a truly spectacular hike which gives you a lot of bang for your buck, this peaceful 30 minute trek through gorgeous wooded land should be tops on your Appalachian must-see list.
This trail starts in beautiful Blue Ridge, a small community in the Northern Georgia mountains. The hike to Longcreek Falls is just 2 miles RT and includes a gradual increase in elevation. It's so peaceful and pretty – really a place where you can get lost in nature. The falls plunge in a double drop totaling 50 feet. The drive to get to the falls is equally impressive as the rustic forest service road follows Noontootla Creek. The drive features numerous small waterfalls and lovely creek views and is almost as scenic as the hike itself!
Bridal Veil Falls
Location: Bridal Veil, Oregon
Waterfall height: 120 feet
Hike distance: 1/2 mile out-and-back
Bridal Veil is one of the most impressive waterfalls in the Columbia River Gorge – no small feat in an area loaded with magnificent waterfalls. This gorgeous canyon along the Oregon/Washington border is home to the highest concentration of waterfalls in the US – there are over 70 on the Oregon side alone! A number of breathtaking falls are located with a half hour of Portland, Bridal Veil being the most impressive.
The hike is just over a half mile each way with barely any elevation gain. A short easy stroll along a paved path affords gorgeous vistas of the Columbia River and various rock formations. You will arrive at an observation deck with a grand view of this stunning two tier 120 foot waterfall wonder. The peaceful stroll through nature plus incredible waterfall vista makes for a refreshing day out in the Oregon wilderness.
Yellow Branch Falls
Location: Mountain Rest, South Carolina
Waterfall height: 50 feet
Hike distance: 1.3 miles out-and-back
The Upstate South Carolina region is loaded with dozens of enchanting waterfalls. It's really easy to plan every weekend exploring a new waterfall wonder. With endless parks and waterfalls to explore, a trip to Upstate South Carolina is highly recommended by any nature lover. Greenville is a great base destination as the city offers a number of its' own amenities including one of the country's most charming main streets.
Of all the waterfalls of the Upstate, Yellow Branch is right up there with the best-of-the-best. This hidden gem is located off-the-beaten path, and thus, not easily accessible by most tourists. At a mere 50 feet tall, 70 feet wide, this is far from the tallest waterfall in the state. However, the unique multi level design makes this one of the most visually spectacular falls in the state. The hike through lush quiet forest without a tourist in sight makes the entire experience all the more appealing.
Linville Falls
Location: Blue Ridge Parkway Milepost 316
Waterfall height: 150 feet
Hike distance: 1.5 mile loop
The Blue Ridge Parkway is often regarded as America's most scenic drive. With continuous lush greenery for 469 miles and easy access to incredible parks and waterfalls, it's no wonder it has been nicknamed "America's favorite drive." The drive connects Shenandoah National Park in Virginia with the Great Smoky Mountains, with many beautiful sights in-between.
If you are staying in Asheville, you are in luck as you will have easy access to one of the more scenic portions of the drive. Linville falls, an incredible 150 foot multi tiered waterfall, is a sight not to be missed. The total distance of this hike is about 1.5 miles RT with numerous breathtaking overlooks along the way. The hike is a bit steep, although not overly taxing. The natural splendor of the Linville Gorge, nicknamed "the Grand Canyon of the East," is hard to top.
Upper Whitewater Falls
Location: Cashiers, North Carolina
Waterfall height: 411 feet
Hike distance: 1/2 mile out-and-back, plus optional 308 step stair climb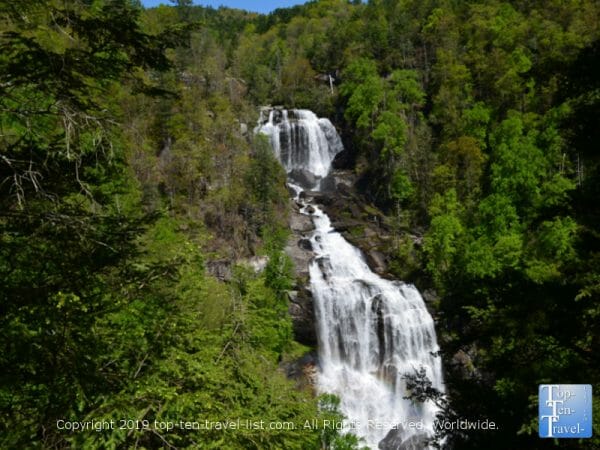 Upper Whitewater falls is an incredibly powerful 400 foot waterfall near the North Carolina/South Carolina border. This waterfall is super easy to access via a simple 1/2 mile paved trail. For a closer view, challenge your legs to a 154 foot step climb – it's worth the extra effort! Visit during the spring to enjoy the blooming mountain laurel.
Although quite busy most weekends, the setting truly is spectacular enough to put up with any crowd levels. Whitewater is nestled within the beautiful Nantahala Forest, and the area has remained attractively desolate over the years. Lower Whitewater Falls can be accessed via a 2 mile trail in South Carolina. Together, the combined 800 foot Upper/Lower falls come in as one of the highest east of the Mississippi.
Kaaterskill Falls
Location: Haines, New York
Waterfall Height: 260 feet
Hike distance: 1/2 mile out-and-back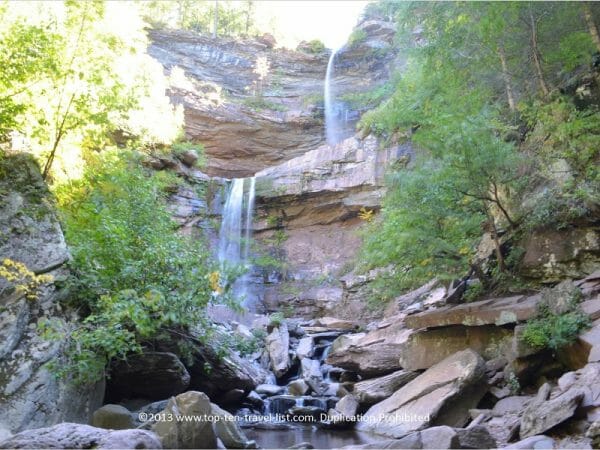 This two tiered beauty in the Catskill Mountains region comes in tall at 260 feet. Of the more than 2000 waterfalls in the state, this one is really worth putting on your bucket list. The hike is just a half mile long, although portions of it are a bit rocky and steep. Nevertheless, it shouldn't be too difficult for anyone in decent shape.
The scenery is beautiful and the ambiance very serene despite the oftentimes heavy foot traffic. It's a lovely walk through the wilderness with pretty creekside views throughout. Nature lovers will be pleased with this one. Keep your eyes peeled for black bears. The Catskills is home to the largest bear population in New York. Although attacks are very rare, you should always be bear aware.
Tom's Creek Falls
Location: Marion, North Carolina
Waterfall height: 60 feet
Hike distance: 1/2 mile out-and-back
One of the hidden gems of Western North Carolina's incredible waterfall scene is Toms Creek, a beauty that remains isolated due to its' off-the-beaten path location. The 60 foot 2 tiered beauty looks much bigger and more powerful in person. You really cannot beat the serene uninterrupted setting. Home to an old mica mine, the mica embedded in the rocks adds an extra tough of beauty as it glistens in the sun.
Catawba Falls
Location: Old Fort, North Carolina
Hike distance: 1 mile out-and-back
Waterfall height: 100 feet
This gorgeous waterfall is a popular daytrip destination for tourists staying in nearby Asheville. As the closest waterfall to the city, this one sees a steady stream of traffic year round. Fall is definitely the best time to plan your visit as the forest is ablaze in colorful hues this time of year.
In exchange for moderate effort (the hike is just 1 mile with little elevation gain), you will be treated to a prime view of a gorgeous multi tiered waterfall. During the autumn months, this is by far the most picturesque waterfall in the Western North Carolina region. This is no small feat as this area is home to more than 200 stunning waterfalls!