Kitzhof Inn – West Dover, Vermont
Kitzhof Inn is a Bed and Breakfast located in Southern Vermont. West Dover, a very small town (population 1400), is home to Mt. Snow Ski Resort. I am not a huge fan of inns (a bit too quiet for my taste), however, Mike and I were looking for a quiet escape from the city for a few days. This inn is located within easy roadtrip distance from Boston, Providence, New York, and many other small cities and towns throughout New England. Kitzhof Inn is a great place to stay if you are either looking to relax for a few days or go skiing. If you are a skier it's the perfect option as there is a free shuttle to Mt. Snow Ski Resort (2 blocks away).
The staff at this inn were a bit less friendly than other inns we have visited in the New England area. The owners were away in England during our trip, so I am not sure whether or not this made a difference. The staff on hand were not in the picture much. In a way it was nice to have the place to ourselves without anyone hovering over us. However, if you are looking for more sociable inviting inn staff, you will likely be disappointed.
Rustic Appeal
We really enjoyed the rustic atmosphere of the inn. Everything has a wood theme. There is a BYOB bar and comfortable common room with a wood burning fireplace. We enjoyed simply relaxing for a few days. We had the whole inn to ourselves the first night as we were the only guests!!. There is also an indoor hot tub (big plus as other inns feature outdoor tubs). There are plenty of books, magazines, and board games for those looking to stay out of the snow and relax.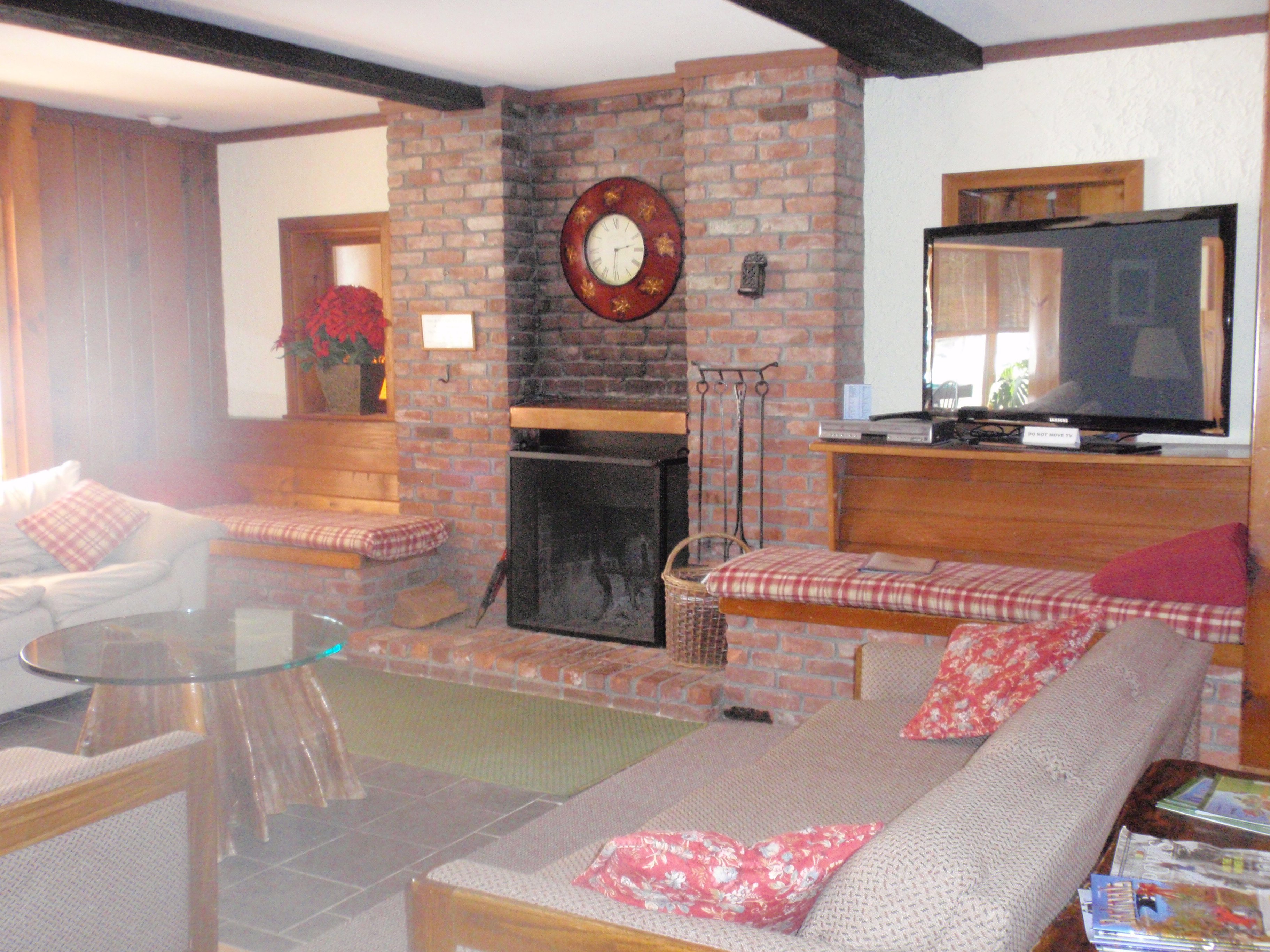 Breakfast
The home cooked breakfast each morning was okay – there was a choice between a few entrees including blueberry pancakes, French toast, or scrambled eggs. I was expecting a heftier breakfast, but I still enjoyed the food. The views from the dining room and the rustic feel were the highlight of the meal. In addition, coffee, tea, and hot chocolate are available all day long.
Nearby Dining Options
The inn is located within close proximity to a few different restaurants (several which are walkable). Most of the restaurants in the area were honestly subpar at best! In a touristy town, this is oftentimes the case. In terms of all the restaurants we tried out, I recommend Pizzeria LA Toscanella – a great local casual Italian restaurant serving great pizza and wraps! Nothing else in town particularly stood out.
Winter Recreation
We took this trip more for relaxation and didn't participate in any winter sports this time around. We were going to go snowshoeing, unfortunately the weather did not cooperate! There was barely any snow on the ground and the conditions were just not right for the activity. Unfortunately, as we were leaving a huge snowstorm hit the town! One day earlier would have been nice….
The Nature Spa at Mt. Snow offers a guided hour and a half snowshoe hike which would have been fantastic if the conditions were right. There are several winter activities available in the area including: snowshoeing, cross country skiing, sleigh rides, downhill skiing, tubing and more.
Timbers Creek is recommended for cross country skiing and snowshoeing and Mt. Snow is recommended for downhill skiing and tubing. If you are looking for nice views of the mountains and a few good pictures stop at Skyline Overlook, a nice observation deck on Hogback mountain. You will see it as you drive into town.
Overall, I would probably not venture back to West Dover anytime soon. Outside of the winter snow/summer hiking season, there was not enough to do in town with a lack of quality restaurant and entertainment options. Also, keep in mind that with a town this small, the weather really determines your choice of activities. However, if you are a downhill skier you should have a great time at Mt. Snow. If you are just looking to relax, Kitzhof Inn provides a nice laid-back, rustic atmosphere in a very quiet setting.
Pros/Cons of staying at Kitzhof
Pros of Kitzhof Inn: Rustic atmosphere, free area shuttle, nice indoor hot tub, relaxing atmosphere, very close to area activities, restaurant located next door
Cons of Kitzhof Inn: No hair dryer in the bathroom, very small bathroom with low shower head, tiny room, average breakfast, views could have been better (located close to the highway, partial parking lot views), staff was not as engaged as other inns I have visited (could be a plus or minus depending on what you are looking for)