A Relaxing Weekend Getaway at Omni Hilton Head Oceanfront Resort
Hilton Head Island offers no shortage of beautiful resorts, including a handful of luxury 4 star options to choose amongst. Omni Hilton Head Oceanfront Resort is the perfect choice for guests seeking a relaxing getaway with the convenience of many wonderful on-site amenities.
Hilton Head Island, located on the southern tip of South Carolina, is famous for its beautiful beaches, world famous golf courses, and mild year-round climate. Omni Hilton Head provides opportunities for guests to take part in a wide range of outdoor activities, including: golf, tennis, sand volleyball, and biking.
On-site Recreation at the Omni Hilton Head
Golf – Palmetto Dunes Golf club features 3 award-winning courses which have been recognized by popular publications such as Golf Digest and Golf Magazine.
Tennis – Because the resort is located within the Palmetto Dunes Resort community, you have access to the Palmetto Dunes Tennis Center, featuring 25 courts (8 of which are lit up at night). The center has been ranked 9th in the world by Tennis Resorts Online. Lessons are available.
Biking – Hilton Head Island is home to more than 80 miles of scenic biking trails, 5 of which are located on the resort's property. Bike rentals are available. Whether you feel like taking a scenic cruise along the beach or taking a long ride along the Hilton Head Island trails, you are sure to experience a great workout, a nice breeze, and breathtaking views!
Sand volleyball and basketball courts are also available.
Palmetto Dunes beach
Although all these amenities are great, the highlight at Omni is the convenient access to the beautiful Palmetto Dunes beach! You can literally walk down to the beach in under 5 minutes. The beach is wide, sandy, and clean – perfect for walking, jogging, bike riding, or relaxing with a book. Umbrella and chair rentals are available at the resort.
Be sure to take a stroll around sunrise – such a gorgeous & quiet time for a beach walk!
Pool and Spa Amenities
If you are looking more for relaxation, look no further than the resort's 3 outdoor pools. The adult's only pool will please couples seeking a quiet, relaxing escape. Poolside service is available too, so you never have to get up! Soaking in a hot tub (2 on-site) after a day of sports, especially on those cooler fall and winter nights, is so relaxing.
The relaxing outdoor fire pits will warm you up quickly on those chilly fall and winter nights. Grab a freshly brewed cup of Starbucks coffee or Tazo tea, conveniently located on site, and enjoy the resort's peaceful setting.
If you craving even more relaxation, be sure to book an appointment at Ocean Tides Spa. Here you will find a great assortment of luxury treatments including: facials, massages, and body treatments. Couple's treatments add the perfect touch to a romantic getaway. They also offer a number of seasonal specials.
In addition, the resort offers many places to hang out and relax. Scattered around the beautifully manicured and landscaped grounds, you will find comfortable rocking and relaxation chairs, perfect for enjoying the cool fall nights in South Carolina. Live music is played each night at the resort's HH Prime restaurant, so grab a drink, relax by the fire, and enjoy some fun oldies.
Other amenities at the resort include: a life size chess/checkers board, bean bag games, a ping pong table, and a fitness center (although who needs it when you can take a gorgeous stroll at the beach!?).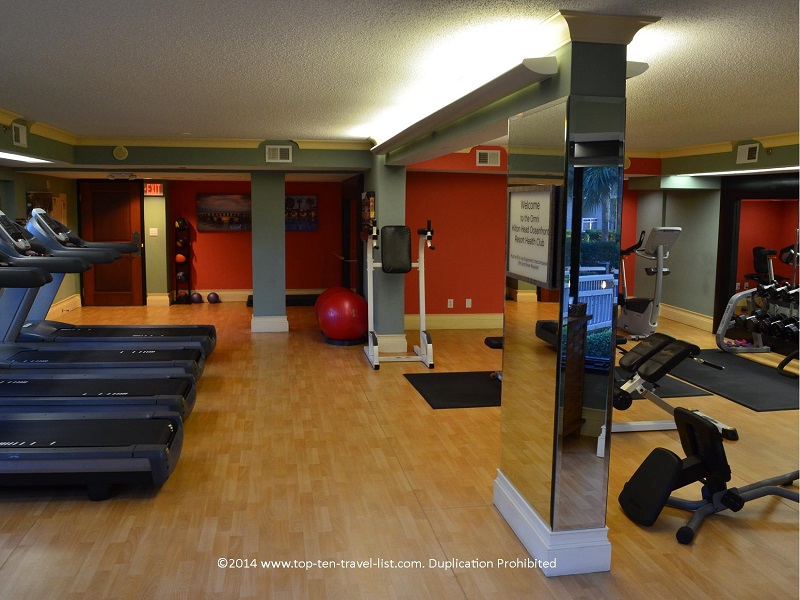 Omni Hilton Head features amazing landscaping. Everywhere you look you will see all sorts of trees. Everything is well maintained and clean. The lush surroundings really add to the relaxing, escape atmosphere. The entire courtyard is covered with trees, as are the pool areas.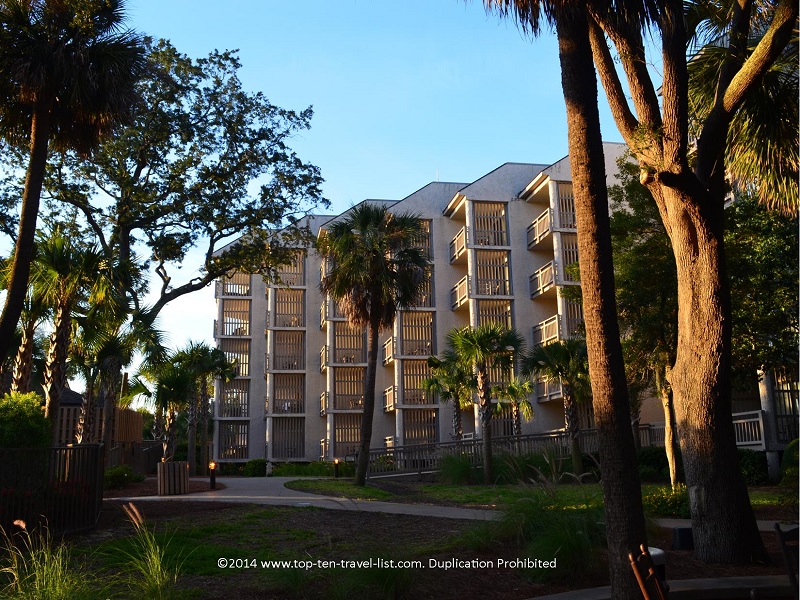 Rooms at the Omni
The rooms at Omni Hilton Head were much nicer than expected. After reading many negative reviews, I have to say I was more than pleased with the nice size and tropical inspired decor. The bed was very comfortable – I have no complaints here. Amenities include: free Wi-Fi, a 42 inch flat screen TV, and a small kitchenette.
Each room features a private balcony, with an ocean, courtyard, or parking lot view. We were more than satisfied with the courtyard view, which includes views of the gorgeous landscaping. We also had a perfect spot for listening to the live music each night. Note: All rooms were renovated in Spring of 2015.
The housekeepers are very friendly. Check out this nice birthday note our housekeeper left for us!
Resort Dining
One restaurant and a coffee shop/cafe are conveniently located on site. HH Prime is a steakhouse which features a beautiful outdoor patio and live music during the dinner hours. The setting beautiful. The fireplaces and great courtyard views added to the romantic ambiance. The chef was able to cook us a specialty gluten-free and vegan meal.
It's nice to know that as a steakhouse they will still cater to guests with specific food requests. We had a slight problem with the breakfast staff not being able to accommodate allergy requests, however, for the most part the restaurants were more than willing to help. Be sure to speak to a manager if you have specific requests.
The Palmetto Cafe is the place to pick up a steaming cup of coffee (the exclusive coffee of Omni hotels) in the morning or a light lunch. They open early so you can grab a coffee and head to the beach to watch the sunrise. Convenience foods and drinks are also available. A nice variety of sandwiches can be enjoyed for lunch. The lounge areas includes TVs and computers, although I prefer relaxing outside in the beautiful courtyard.
There are 2 bars on site: XO Lounge and Buoy Bar, your poolside option. XO is open seasonally and features live music. Omni's Buoy Bar is the place to relax with a few tropical drinks and your favorite comfort bar foods. Great views of the ocean and a lively tropical flair add to the resort's fantastic pool area. You can even get poolside service!
Why stay at the Omni
Service is, for the most part, professional, prompt, and willing to accommodating. We had a slight issue at check in where they checked us into the wrong room, however, the manager was apologetic.
Overall, our stay with Omni was fantastic. There were a few small issues, but for the most part it was a terrific weekend. This Hilton Head location is absolutely perfect, a tropical paradise in a quiet setting. Convenient access to the beach, a beautiful pool area, gorgeous landscaping, and a great on site restaurant – what more could you ask for in a beach vacation?
Although you could easily spend an entire weekend at Omni Hilton Head Oceanfront Resort thanks in part to the resort's fantastic amenities, relaxing setting, and convenient access to the beach, there are many other great activities to enjoy in the Hilton Head area. Listed below are a few recommended area attractions and restaurants.
Recommended Hilton Head Restaurants
Live Oak – Located inside the Sea Pines Resort, this fine dining establishment features a picturesque golf course setting, excellent low country inspired dishes, and impeccable service. Read my full review of Live Oak. Update: This restaurant unfortunately closed. Check out more great restaurants in Hilton Head.
A Low Country Backyard Restaurant – A great casual restaurant with a cozy, comfortable outdoor patio. The menu features a selection of country favorites that are sure to please everyone (lot of gluten-free choices is a big plus!). Read my full review of A Low Country Backyard Restaurant.
Recommended Hilton Head Activities
Kayak Hilton Head – Take a fantastic 2 hour guided tour with an expertly trained guide. As you explore the salt water estuary, you will have the opportunity to observe various forms of wildlife in their natural habitat, including: dolphins, manatees, minks, and plenty of birds. Read more about our experience with Kayak Hilton Head.
A day trip to Savannah – Savannah is only an hour drive from Hilton Head. Here you will find beautiful historical architecture, great tours, and dozens of top rated restaurants. Be sure to take a trolley tour through the historic streets of downtown and enjoy a dinner at one of the city's many great restaurants. Read my full Savannah guide.
Have you ever visited Hilton Head and/or stayed with Omni? Share your experiences below!