Salvation Cafe: A healthy, hip restaurant in Newport Rhode Island
This weekend we came across an interesting restaurant in Newport, RI called Salvation Cafe. Finding a restaurant with an eclectic menu amongst the sea of lobster bars/seafood restaurants in town was a welcome change. Being a vegetarian in New England is no easy feat. Luckily, I have found a few decent options with Salvation Cafe jumping to the top of the list.
The first bonus came with the convenient location on Broadway Street (much easier to find parking than along the more touristy Thames St.). While the restaurant looks really small from the outside, however, inside the layout is pretty spacious. When you first walk in you will pass the bar area, a hip and colorful place to hang out with a few drinks. We were seated in the main dining area, which reminded me of a ski lodge. Rustic features included wood beams, a fireplace – the vibe was cozy and comfortable.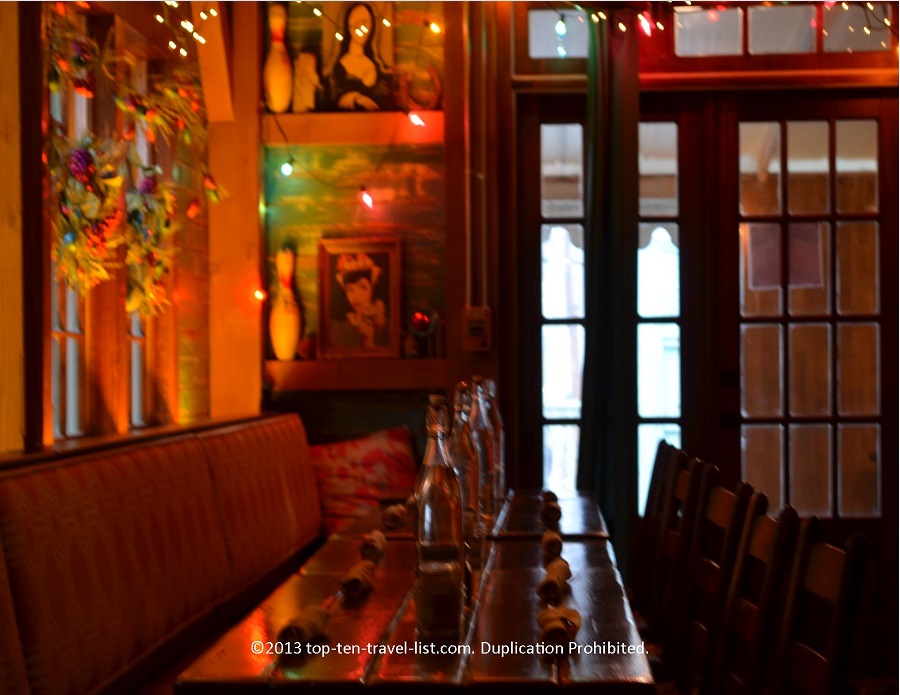 For brunch, we ordered a breakfast burrito (made vegetarian). Several of the menu items can be made vegetarian or vegan. This is great as even those with special diets are able to dine out like everyone else (with the added bonus of not feeling signaled out for requesting substitutions).
Other brunch options include: omelets, vegetable Benedict, soups and salads, and sandwiches. Dinner includes a selection of appetizers, salads, meats, and even a vegan risotto entree. You can take a look at the entire Salvation Cafe menu to plan your visit ahead of time.
Salvation Cafe is a wise choice for anyone visiting Newport. The diverse menu offers options for everyone. The beautiful setting, great service, and excellent food make Salvation Cafe one of the top choices for Sunday brunch in the area.
Directions