Somerset Creamery: The Best Homemade Ice Cream in Massachusetts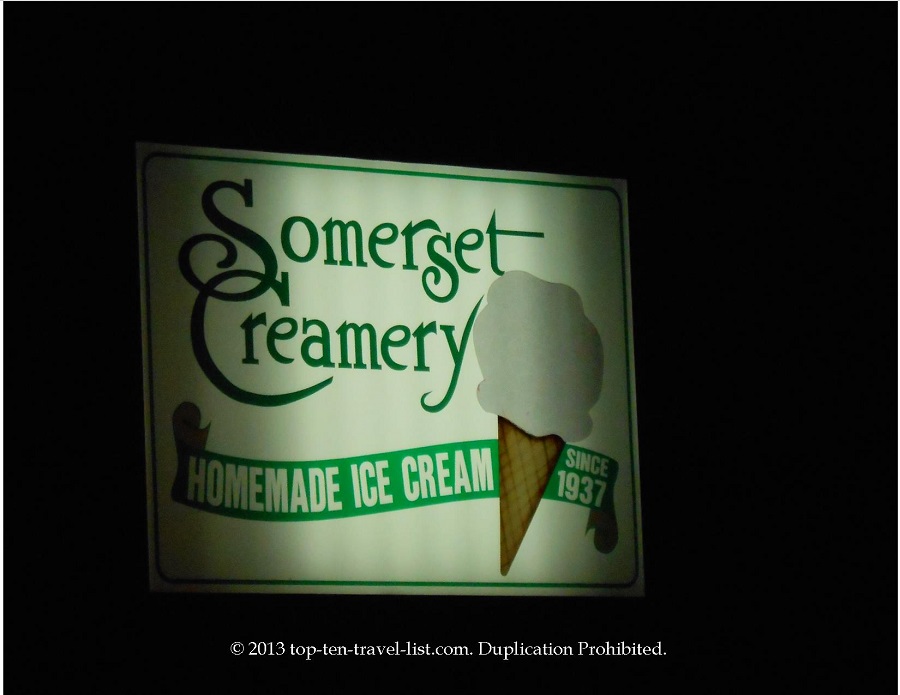 Somerset Creamery is a homemade ice cream shop with locations in Somerset and Cataumet (Cape Cod). Our favorite location is the Somerset cafe. This place can get really busy and more often than not there is a huge line just to get in. The setting is very rustic and country-ish – it's a great place to enjoy a treat on a hot summer night.
I like that they provide fresh, homemade ice cream daily and do not use dairy treated with rBGH. Even the waffle cones are baked fresh everyday! The smell of the fresh waffle cones being prepared as you walk through the door is enticing!
Over 20 different varieties of homemade ice cream are available. Both traditional and unique creations can be found. At the Cape Cod location, a special Cranberry Bog flavored creation consisting of craisins, walnuts and dark chocolate is very popular. In addition, a few flavors of frozen yogurt, floats, and banana splits are also available. You can also buy a pint or quart to take home. A few sugar free and sherbet options are also available for anyone with special dietary preferences. Unfortunately, no dairy-free selections are on the menu.
My favorite flavors are the Chocolate Chip Vanilla, Cookie Dough, and the Peanut Butter Oreo. Everything here is delicious – you sure can taste the difference in homemade ice cream! Much creamier, flavorful, and richer than store bought ice cream. Cones cost about $4, with $1 extra for a waffle cone. On my next visit, I would love to try the Strawberry Shortcake or Peanut Butter cup sundae. Probably loaded with sugar and calories, but worthy of a splurge!
Location/Hours
Somerset Creamery
1931 GAR Hwy., Somerset, MA
146 County St., Somerset, MA
1268 Rte. 28A, Cataumet, MA
Hours: Sun-Thurs: Noon-9:30pm (9:00 at Cataumet), Friday & Saturday: Noon-10:00pm