Blue Hills Reservation: A Beautiful Hiking Oasis Just Outside of Boston!
Blue Hills Reservation is a 7000 acre park located just a short drive away from Boston. During the summer months, hiking, swimming, and mountain biking are the predominant activities. Mike and I saw the sign for this reservation on a trip home from Boston and decided to check it out. Although we didn't have much time, we still were able to complete a short, yet scenic hike. Blue Hills is a fantastic place to escape the hectic vibe of the city, if only for an hour or 2!
Take a look at some of the beautiful views on our hike!
Beautiful views of the surrounding hills…
Can you spot the frog in this picture?
We are planning a return trip to embark on a longer hiking adventure! We also plan on taking photographs at Great Blue Hill, the highest hill in the reservation. This 635 feet tall hill reportedly provides great views of the city. You can hike up to the Blue Hills Observatory, the oldest weather station in the US! Another attraction is the Trailside Museum, an interpretative center which allows you to learn about the wildlife and plant species found within the reservation.
Update: We continued to visit this park on multiple occasions during our time living in the Boston metro area. Check out pics from our fall hike at the reservation and our experience hiking the Skyline Trail.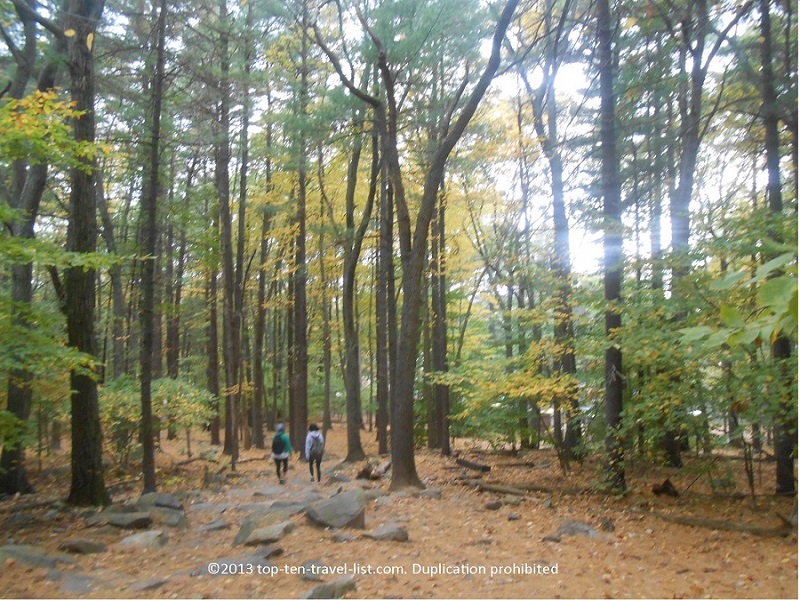 Why is it named Blue Hills?
Interesting fact: The Blue Hills were named by early explorers, who while sailing noticed the bluish tint on the hills. Native Americans had made their home in the hills more than 10,000 years before the Europeans arrived. The Native Americans called themselves "Massachusett" or "people of the hills." The land, which now stands as the Blue Hills Reservation, was purchased in 1893 by the Metropolitan Parks Commission as a public recreation area.
Activity Guide
Summer Activities include: Hiking trails, swimming at Houghton's pond, biking, picnicking, rock climbing, fishing, camping, and golf.
Winter Activities include: Cross country skiing, downhill skiing, and ice skating.
Check out the Blue Hills Trail Map. There are over 125 miles of trails to enjoy!
Check out the Houhgton's Pond information brochure for a map and further details.
Parking Information: 695 Hillside Street Milton, Massachusetts (free to park)