Attraction of the Week: Rock City
Rock City is one of 3 popular attractions located on Lookout Mountain, a ridge which stretches 84 miles across Alabama, Georgia, and Tennessee. If you only have time for one attraction during your Chattanooga vacation, Rock City is by far the most impressive of the bunch. Featuring beautiful gardens, ancient rock formations, 7 art installations, a 100+ foot waterfall, and a special section dedicated to fairy tales, it's an enchanting experience for the nature lover. It's no wonder National Geographic rated it as "one of the top 101 places to visit in the US."
The history of Rock City
The history of Lookout Mountain begins with the Cherokees. The Last Battle of the Cherokees took place in the 18th Century. Another notable historic event, The Battle of Lookout Mountain during The Civil War, took place on November 24, 1863. In the late 1800's, Rock City was mostly known to hikers and geologists.
In 1924, an entrepreneur named Garnet Carter had the idea of developing a community atop Lookout Mountain. This residential community was called Fairyland to honor his German wife Frieda's love of folklore. It also included a mini golf course (Tom's Thumb spawned an American love of mini golf). Frieda wanted to develop the property into a rock garden and set out to construct a plant lined trail amongst the rock formations. German gnome and fairytale statues were also incorporated along the trail. Carter realized that the public would also like the gardens, and thus, the idea to open a tourist attraction.
On May 21st, 1932, Rock City officially opened to the public. As the location is a bit hidden, it was not initially a success. Eventually Carter made a deal with a painter to paint "See Rock City" on farmer's barns. These could be seen on highways throughout the country. Check out this See Rock City map to see the remaining barns. This advertising led to Rock City becoming the popular tourist attraction that it remains today. More than a half million visitors come to stroll the lovely gardens every year. Since opening, the beautiful Fairyland Caverns, as well as various shops and restaurants, have been added to enhance the tourist experience.
Read more about the history of Rock City
The Enchanted Trail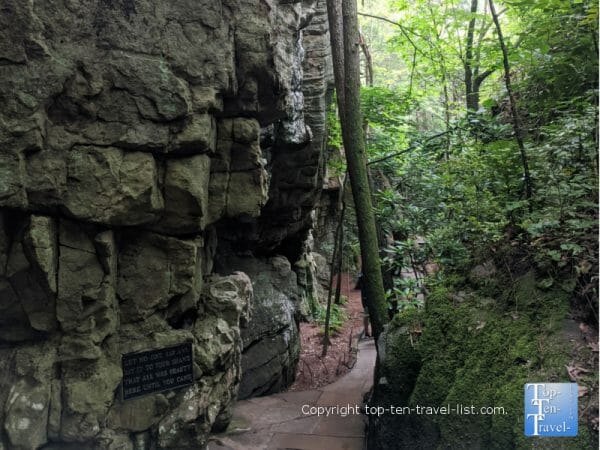 This 4100 foot long trail (just under a mile) is a gorgeous trek through shady gardens and caves. There are many interesting attractions along the way including overlooks, Fat Man's Squeeze (so narrow you may have to walk sideways!), a swinging and stone bridge, and much more. More than 400 gorgeous plants and flowers can be enjoyed along the way. Also keep an eye out for gnomes – more than 70 are hidden throughout the trail.
A few pics from the trail
Seven States View
The most popular draw at Rock City is a magnificent overlook where you can enjoy a bird's eye view of 7 states. On a clear day, you can see North Carolina, South Carolina, Alabama, Georgia, Tennessee, Kentucky, and Virginia.
The Swinging Bridge
This 180 foot long suspension bridge is a prime spot for photography. That is, assuming you have no fear of heights! A bit scary, but worth it for the tremendous views! Also a perfect free photo souvenir opportunity if you have someone snap your pic from the other side.
Sky Bridge
One of the most photo worthy spots along the trail! Anyone scared of heights can opt to walk across this lovely stone bridge instead of the suspension. You will end up in the same destination – the lovely seven states overlook!
Lover's Leap
This beautiful rock which juts out from the mountain in an interesting picture-perfect formation has an interesting legend behind it. The name Lover's Leap is rooted in a Cherokee legend. The story revolves around 2 lovers from warring tribes. The story goes that Sautee was thrown over the ledge and his lover, Nacoochee, was so upset that she jumped off the rock. The views from this point are absolutely breathtaking. In addition to majestic vistas of the surrounding mountains, you will also enjoy a prime view of High Falls. This 100 foot waterfall is man-made, although beautiful nonetheless.
Fairyland Caverns
This dark walk through a cave features gnomes and scenes from fairytales. Carter hired an Atlanta sculptor named Jessie Sanders to create the colorful scenes. The use of blacklight creates a visually stunning experience.
Mother Goose Village
This whimsical village was created by artist Jessie Sanders in 1964. In this room, you will get to explore a number of fairytales via blacklight dioramas and displays. Some of the classics you will encounter include Humpty Dumpty, Mary Mary Quite Contrary, Little Bo Peep, Peter Peter Pumpkin Eater, and Three Blind Mice.
Pricing, Location, & Hours
Rock City is located at 1400 Patten Rd, Lookout Mountain, GA 30750. Pricing is $22 per adults and $13 for kids ages 3-12. Parking is free. Hours vary by season. Check the Rock City calendar for details. Book tickets in advance online to ensure availability especially during the busy summer and holiday season.
Dining and Shops
There is a convenient Starbucks located right next to the entrance. Hours are 6:30am-8pm. This is the perfect place to enjoy a cup of coffee and snack if you arrive a bit too early. They have a nice shady outdoor seating area where you can linger for a bit before your scheduled time. There is a quick service dining area near the entrance as well as a full service cafe near Lover's Leap. Although the menu is small, the outdoor seating area overlooking the mountains is nice.
A variety of gift shops are located near the entrance and along the trail. There is a great little shop right at the end of the trail selling mini gnomes. Priced at just 6 bucks, these are a perfect memento of your trip. Also do not miss out on the free wine tasting.
What to do nearby
Ruby Falls – Take a guided cave tour to the tallest & deepest underground waterfall open to the public. After a short stroll exploring cave formations, you will arrive at the 145 foot tall wonder.
Incline Railway – Take a mile long incline ride up Lookout Mountain. It's the steepest in the world at a grade of 72.7%.