Vacation Spotlight: Lake Tahoe
One of my favorite vacation destinations, gorgeous Lake Tahoe on the California/Nevada border, offers a multitude of recreational activities no matter the season. Lake Tahoe is the largest alpine lake in North America and the second deepest in the US. From beaches, scenic aerial rides, and boat rides in the summer months, to skiing, ice skating, and snowy carriage rides in the winter months, there are more ways than one to take in the picturesque views year-round at Tahoe!
One of the most scenic areas in the US, Lake Tahoe is the perfect vacation destination for outdoor recreation! Add in casinos, great dining, and live entertainment, and you have endless options for a fun, nature packed vacation. Because the lake lies on the border of the California and Nevada state line, you have your choice of staying in either state. Both states offer plenty of attractions, with the casinos lying in Stateline, Nevada, and most of the outdoor recreation falling on the California side.
I have organized a handy guide of my favorite attractions, restaurants, and hotels in the area.
Top 5 Lake Tahoe Attractions
Emerald Bay State Park – Emerald Bay State Park is one of the standouts in Tahoe. This beautiful park is an incredible place to hike as you will find dramatic views of the lake and surrounding forests from every angle. Emerald Bay is also home to Vikingsholm, a Scandinavian styled mansion, which offers daily tours.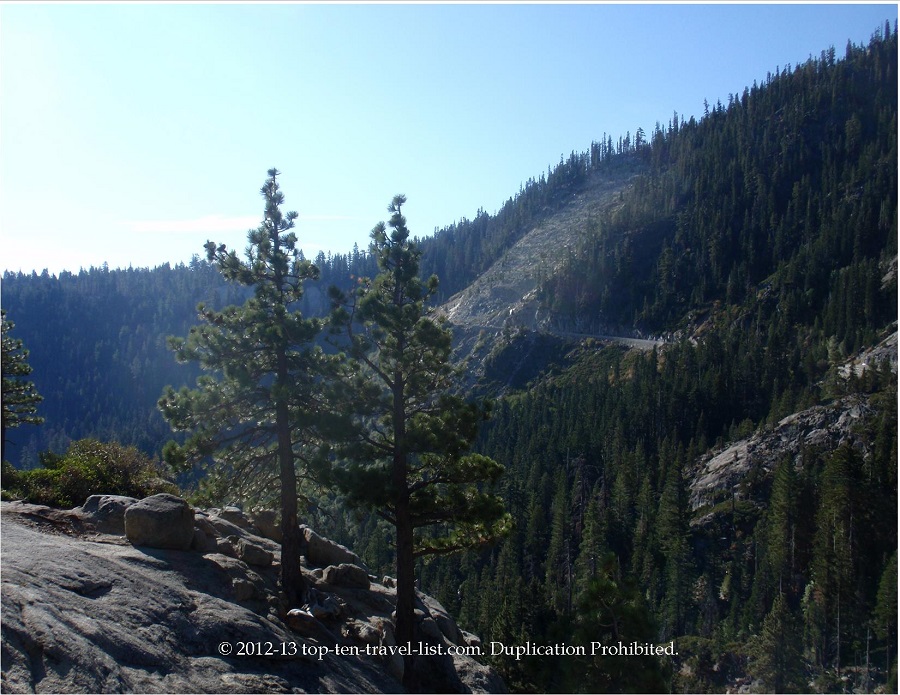 Heavenly Village Gondola ride – During the summer months, the ski lift at Heavenly village is transformed into a scenic tram ride. The entire 2.4 mile trip up to the top is breathtaking with views of both the lake and surrounding forests. The observation deck provides more beautiful panoramic views of the area – don't forget your camera! At the top you will have access to hiking trails, restaurants, and more.

Aerial tram ride at Squaw Valley – This scenic ride is not as breathtaking as the Heavenly Village ride, nevertheless, the views as you ride over 8000 feet up to the High Camp are nothing short of spectacular! The difference here is more mountain views as opposed to the lake, which can be really gorgeous during the late spring season when there is still a dusting of snow. At the top, you will be able to roller skate, dine, hike, bike, and more.
I recommend visiting during the winter months as the pavilion transforms into an ice rink! Ice skating and snowy mountain views – what more could you ask for during a winter vacation? Squaw Valley features an Olympic Exhibit which commemorates the 1960 Winter Olympics games that took place in the area.
More activities and dining choices on the next page …