Scenic & Sandy East Lyme Connecticut Beaches
This past weekend, Mike and I visited 2 different beaches in East Lyme, Connecticut. Both Hole in the Wall and Rocky Neck State Park Beach are located in Niantic, a village in East Lyme that is well known for its' beaches, boardwalk, and summer tourists.
Hole in the Wall beach
Hole in the Wall Beach, a scenic local beach, is part of McCook Point Park. From this beach, you can access the Niantic Beach Boardwalk, a 1.1 mile pathway that was unfortunately closed during our visit. The odd part is that you enter this beach through a tunnel, on top of which lies train tracks!
The views of the Long Island Sound from this beach are gorgeous as are the views of McCook Point Park. The best part of this beach is the peacefulness; this beach was not as crowded as others and thus provided a great vibe for relaxing. The sand is pretty clean with no major rocks/shells, which is nice for a New England beach.
Rocky Neck State Park Beach
Rocky Neck State Park is another beautiful beach. Bigger and more crowded than Hole in the Wall, but still just as scenic. The sand is much softer here and less rocky, which makes it an ideal swimming beach.
I also liked the wooden walkway. There are plenty of benches to sit and enjoy the water for those who prefer to avoid getting their feet sandy.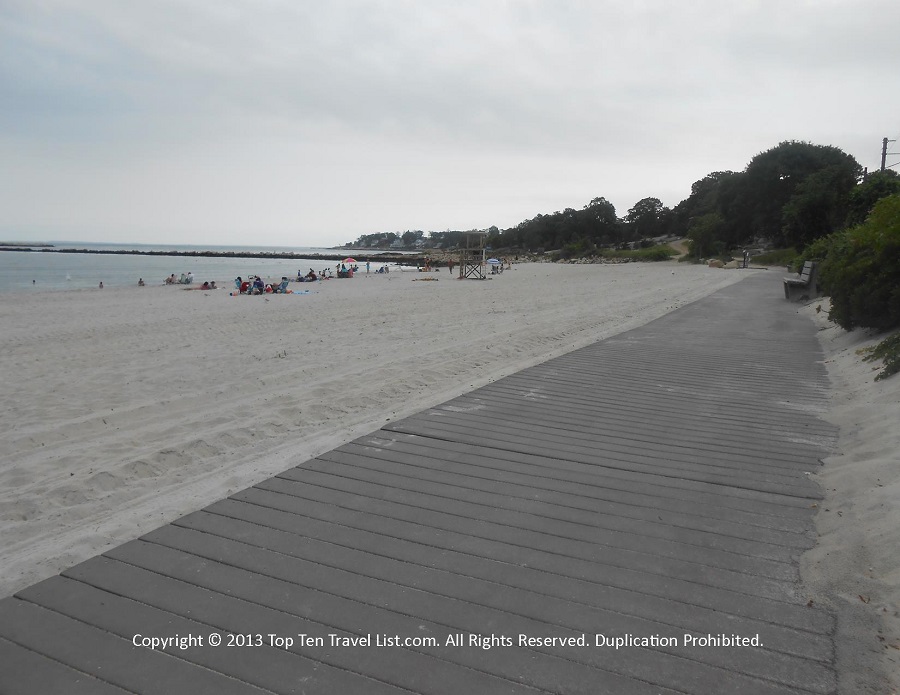 Both Hole in the Wall and Rocky Neck are beautiful beaches to visit when visiting Southeastern Connecticut. Get out to East Lyme before the summer is over to enjoy fabulous views of the Long Island Sound!
Directions/Parking Info
Hole in the Wall is located at: 4 Baptist Lane Niantic, CT 06357. Non resident beach pass required during the summer months ($30) – a bit cheaper if you park on the street. No dogs from Memorial Day-Labor day weekend.
Rocky Neck is located at: 244 W. Main St. (Rte. 156). East Lyme, CT. Parking is $15 on weekdays and $22 on weekends. Discounted rate of $7 after 4pm. Parking is free for residents. No pets on beach or boardwalk, although they can be taken via leash on trails and in picnicking areas north of the train tracks.