Holiday Gift Ideas for Travelers
Can you believe it's already that time of year again?! Now that Halloween has come and gone, the countdown begins, and there are just 56 days left. It's never too early to start looking into holiday gift ideas. Oftentimes, by the time December rolls around, we haven't thought of a single gift idea for anyone on our list! To top it off, we are so busy with work, family, and holiday festivities, that there is barely any time left for shopping. Therefore, holiday shopping becomes a dreaded chore, with many of us counting down the days until the holiday shopping season is over.
Starting your holiday shopping earlier, before all the craziness arrives, actually turns finding special gits for loved ones into a fun and enjoyable experience – like it should be! To avoid last minute, impersonal gifts at the mall, begin your holiday shopping a bit earlier this year so you have plenty of time to come up with unique gifts personalized for everyone on your list.
For all the travelers, fitness buffs, and outdoor enthusiasts on your holiday shopping list, here are just a few must have travel products and accessories this holiday season.
Holiday Gift Ideas for Hikers, Fitness Buffs, & Outdoor Enthusiasts
CEP compression socks
I bought my first pair of compression socks at an EXPO for the Las Vegas Half Marathon. Several years later, they are still in great condition after using them weekly for all sorts of fitness activities including running, hiking, and biking. Compression socks help stimulate blood blow during physical activity, and also help repair muscles post-workout. Besides stimulating circulation, they also help prevent joint injuries, keep your feet dry, and prevent blisters. I haven't got one blister since wearing these socks and I used to get at least one after every run! They are comfortable and do not move around at all. They keep you cool on warmer days and also add a bit of warmth on cold winter days.
Asides from fitness use, these socks are really good at keeping your blood flowing during long car drives and flights when you are stuck in the same position for hours at a time. They come in different sizes based on the widest part of the calf, thereby ensuring the perfect fit for everyone. And they come in a variety of colors so you can choose based on your personal style.
Where to purchase: CEP compression socks – women & CEP compression socks – men
Camelbak hyrdation backpack
A hydration backpack is a great option when you simply need lots of room for extra water on a trail or bike ride, but have no need for all the extra pockets and weight of a full backpack. I use the camelbak over a hiking back pack on long distance bike rides, especially in moderate climate areas like Southern California and Florida where I do not need extra clothing, etc. Due to the light weight, it is also a nice choice for any endurance sports like long distance running where you may need more than 1 simple water bottle. The camelbak also comes in handy anytime you will be doing lots of walking and would rather not keep stopping for water – for example at a long day on your feet at Disneyland.
Where to purchase: Camelbak Hydration Backpack
Osprey Hiking Backpack
The Osprey hiking backpack is the perfect gift idea for regular hikers and outdoor explorers. What makes this backpack so great is that there are so many different pockets for storing any essentials you may need along the trail, along with a dedicated pocket for a hydration backpack and a clip for your helmet if biking. There are few small zippered pockets in the front for easy access of the most important items that you want to keep handy.
I love it for hiking because I can store all my essentials – sunblock, an extra long sleeve shirt/sweater, rainjacket, sunglasses, lip balm, and anything else I could possibly need along the way. I throw my hydration water pack in the dedicated space and I have plenty of water for longer trails. Asides from fitness activities, this backpack also comes in handy for all day travel activities like walking around DisneyWorld or exploring a new downtown. And finally, it makes for a perfect size carry on bag for air travel.
Where to purchase: Women's Osprey Tempest 20
North Face Jacket
North Face jackets are ideal for any fitness activities as they are both stylish and functional. I use my North Face Agave jacket for both spring and fall recreation, and sometimes even for hard winter recreation like cross country skiing where I need to be able to move freely and keep warm at the same time. It's pretty lightweight and makes for a great layering jacket in brisk weather.
If you get too hot, you can easily stuff it in a backpack as it does not take up too much space. And, if it is freezing cold out, it can be layered under a heavier coat. The 2 zippered hand pockets are great for storing small items (phone, camera, small snacks) or warming up your hands. The jacket is so soft and comfortable, although still great for any type of recreation as it is form fitting and not too bulky.
Where to purchase: North Face TKA Glacier Full Zip & North Face Men's TKA
Garmin Forerunner 310XT Waterproof Running GSP watch
Garmin makes the best fitness watches. I love the Forerunner model. This fantastic watch is ideal for runners, bikers, swimmers, and hikers. This newer version is waterproof, so you can use it for swimming laps. Additionally, you do not need to worry if you go out hiking or running on a drizzly day.
This handy watch tracks your pace, distance, elevation, and total time. They have a cool function where you can choose a speed and try to compete against the watch in a virtual race. The best part of all is that you can hook it up to the computer and track your data over time – it's a great motivational tool for any athlete! It has a long battery life and finds the satellite easily even in remote areas. The watch is comfortable and fits small wrists much better than the older models – I use it for every hike, bike ride, and marathon!
Where to purchase: Garmin Forerunner 310XT Waterproof Running GSP watch
GoPro
The Go Pro is a fun gift idea for any adrenaline junkies on your list. The mountable design (a head strap is available for a cool first person point of view) allows you to capture photos and videos during high adventure sports like whitewater rafting, zipling, skydiving, surfing etc. where you would not ordinarily be able to capture any videos. It's waterproof too, so it can be used when snorkeling and scuba diving! For any traveler who loves to document all their exciting activities, the GoPro is a must! There are lots of unique accessories available now, with just about everything available, including a GoPro Dog Mount!
Where to purchase: GoPro Hero 7
Polarized Sports Sunglasses
A good pair of sunglasses is a must during any type of physical activity, more so in really sunny climates like Arizona. The RIVBOS unisex sunglasses are perfect for fitness buffs. There are 5 different colored lenses to use in a variety of situations. All offer 100% UV protection. The glasses are both functional and stylish, as well as quite affordable. The lightweight design and scratch proof polycarbonate lens make them perfect for just about any fitness activity. Sunglasses are always a safe gift idea for any sports enthusiast as they make any type of exercise more comfortable and enjoyable.
Where to purchase: RIVBOS Unisex Polarized Sports Sunglasses
Mtn Snowshoes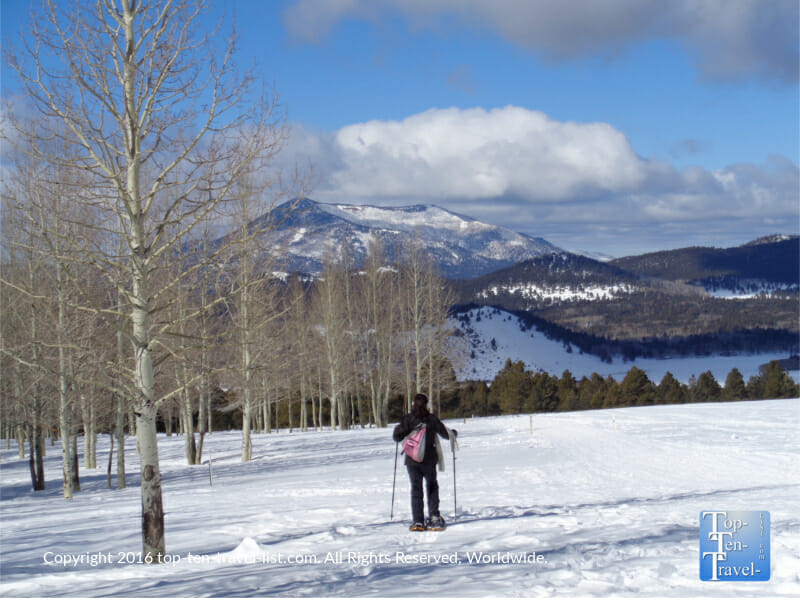 Snowshoeing is such a fun winter activity and anyone whom receives a pair as a gift will absolutely love them. It is an unexpected, unusual gift that any traveler/outdoor adventure buff will love. It is always more fun to travel during the winter season when you have a great pair of snowshoes to use on the otherwise off limit hiking trails. No need to stay cooped up in the house all winter with these! The best part of this set is that it includes the poles and a bag to carry your equipment, making it perfect for winter travel. The trekking poles are multipurpose, coming in handy for any hiking trail. Let's just say that mine have been put to good use on various trails each winter season.
Where to purchase: Winterial Shasta Snowshoes
Columbia Trail shoes
Columbia is my favorite brand when it comes to quality hiking shoes. The lightweight trail shoes are great because they keep your feet reasonably warm in cold weather, while still being quite attractive. There's lots of traction on the bottom, making them great for any type of hiking trail, yet still lightweight enough to use for other fitness activities such as trail running. Asides from being functional, these shoes are very attractive looking – I have received many compliments! These sturdy shoes are going on several years strong! In terms of men's hiking shoes, the Columbia Men's Trailstorm are a great waterproof, breathable, and lightweight option that is still stylish.
Where to purchase: Columbia Women's Ivo Trail Breeze & Columbia Men's Trailstorm Waterproof
Life Straw
Life Straw is a handy tool for adventurous hikers to have on hand just in case of an unforeseen emergency situation. This survival tool allows you to drink water from any source due to the built in filtration system which removes 99.9999% of waterborne bacteria and 99.9% protozoan parasites. It filters up to 1000 liters, and therefore, can be used many times. Although unnecessary unless you run into the rare circumstance of running out of water or getting lost on the trail, it's still smart to have on hand. Anyone doing any super long, adventurous trail like the Appalachian would be wise to have it on hand as an extra safety precaution. It's also great to have on hand as a safe source of drinking water in case of a natural disaster or any other emergency type situation where water is limited.
Where to purchase: Life Straw Personal Water Filter
Large 2 room camping tent
For anyone who loves rustic outdoor camping as opposed to 5 star luxury resort hotels, a camping tent makes for a perfect gift. This 10 person tent by Ozark is fantastic as there is room for 2 queen sized airbeds with a room divider. For the ultimate in convenience, it is waterproof, has plenty of windows for ventilation, and is easy to set up.
Where to purchase: Ozark 10 person, 2 room waterproof tent
Pocket Knife
A pocket knife is always handy to keep with you as a safety precaution while hiking or doing any other outdoor activity. The sharpness of the knife make it perfect in the rare case you need a good self defense weapon. The foldable pocket size makes it an easy item to stuff in your pocket or in your hiking backpack.
Where to purchase: Blizetek 5 in 1 Pocket Knife

Holiday Gift Ideas for Photographers
Nikon D5100
The Nikon D5100 camera is the perfect choice for beginning DSLR photographers. The D5100 works well for both landscape and portrait photography. For the photographer looking to take high quality vacation photos opposed to quick snaps with the phone, a high quality camera like the Nikon D5100 is highly recommended.
Where to purchase: Nikon D5100
Camera backpack
The Tamrac camera backpack is a great choice as it offers both a secure place to store your camera, as well as a bunch of extra pockets for storing essentials. It fits a DSLR camera with up to a 10.5″ lens. This backpack comes in handy in a variety of travel situations including hiking, strolling around a downtown area, and basically any other activity where you will be doing lots of walking and taking photos. Extra bonuses on this fantastic camera backpack include a clip for carrying a tripod, a mesh side pocket for a water bottle, memory card storage, a separate pocket for a tablet, and a removable rain cover.
Where to purchase: Tamrac Tradewind Camera Bag
Travel Tripod
This lightweight compact travel tripod weighs just 3.5 pounds, making it perfect for travel. The Dolica GX600B200 folds to just 23 inches, so you can easily put it in a backpack or clip it to one without a lot of added weight. At just 45 bucks, it really is a steal. It's stable enough to hold a DSLR camera, which is surprising considering the light weight. We always take ours with us whenever hiking or doing any other type of outdoor activity where we need high quality photos.
Where to purchase: Lammcou Travel Tripod
External Hard Drive
Cameras only hold so many pictures, so if you are going to be taking tons of photos, you will want to backup and store photos in order to free up space on your camera's memory card. You can easily connect your camera and hard drive to the computer and transfer them over so you have plenty of space to take new pictures the next day. This prevents last minute photo deletion! I recommend the WD brand as I've never had a problem with the company since using it.
Where to purchase: WD 2TB Black My Passport Ultra Portable External Hard Drive
Memory Cards
A high quality memory card like ScanDisk has a fast read/write speed (95 MB), which means it can take a burst of photos really quickly. This is great for anyone trying to capture photos of wildlife in nature, taking pictures at sporting events, and basically any type of adventure activity where things are moving fast and you want to be able to capture a great picture. 64 GB of memory are available, so you will have plenty of space for endless photos.
Where to purchase: SanDisk Extreme PRO 64GB SDXC Flash Memory Card
Camera themed travel mug
A cute personalized travel mug never goes out of style. This adorable camera themed travel mug is perfect for the coffee drinking, traveling photographer. It's BPA free and holds 12 oz. It's a creative gift idea sure to please any photographer! Not the best quality when it comes to keeping drinks hot for a long period of time, however, this one is more for the stylish, unique design – it really looks like a real camera lens!
Where to purchase: Camera Lens Travel Coffee Mug