The Most Scenic Blue Ridge Parkway Overlooks near Asheville
Asheville is an exciting base to plan your Blue Ridge Parkway adventures. First off, there are several Parkway entrances located throughout the city. Second, there is an abundance of scenic hikes, waterfalls, and states parks within an easy drive of the city. Some of the most incredible Parkway attractions (Linville Falls, Mt. Mitchell) lie in the Western North Carolina region. And, most importantly, there are plenty of restaurants, coffee shops, galleries, and attractions to enjoy in the city following a long day exploring the beautiful Blue Ridge region.
The Parkway, which spans 469 miles in total from Shenandoah National Park in Virginia to the Great Smokies, is separated into several distinct sections. The gorgeous Pisgah (MP 339-469) region is located within close proximity to Asheville. While there are great hikes and waterfalls along this route, there are also plenty of scenic overlooks for anyone looking to enjoy a laid-back, leisurely cruise. For those looking to explore uninterrupted nature in a beautiful area of the country, here are 10 scenic overlooks, all located within an hour drive of Asheville.
1. Craggy Gardens
Milepost 364.4 – 367.7
Distance from Asheville: 40min
While this is one of the more heavily trafficked overlooks near Asheville, it also happens to be one of the most mesmerizing viewpoints along the Parkway. The beautiful "Craggies," as they are known for their jagged terrain, create quite a statement. The highest point, Craggy Dome, soars 6105 feet. This overlook features breathtaking views of the mountains, plus a visitors center, easy access to hiking trails, and a large picnicking area. Tourists come from all over in June to marvel at the colorful rhododendrons. Fall leaf peeping season, while the busiest, is also the most stunning.
What to do in the vicinity: Enjoy a scenic picnic (MP 367), Hike to the breathtaking summit of Craggy Pinnacle (MP 367).
2. View Glassmine Falls
Milepost 361.2
Distance from Asheville: 50 min
This hidden gem lies just a few miles north of Craggy Gardens. Thus, you can conveniently combine the 2 for a great little daytrip. This overlook is particularly memorable as you can see a beautiful 800 foot waterfall in the distance. While the falls appear quite small at such a far distance, it's still a mesmerizing sight (bring binoculars for a better view). The stunning mountain backdrop and lush greenery simply adds to the appeal.
Note: The water flow will be strongest during the spring-summer season, although you can see the falls better when the leaves are off the trees (late fall).
What to do in the vicinity: Visit beautiful Mt. Mitchell State Park, home to the highest peak (6684 ft) east of the Mississippi. Mt. Mitchell is located 2.5 miles north of the Parkway via MP 355.
3. Sleepy Gap
Milepost 397.3
Distance from Asheville: 25 min
While technically a parking lot for a hiking trail, rather than an overlook, the views are nevertheless incredible. On most days, there is no one around so you can enjoy the enchanting mountain view all to yourself. Also, a 1.8 mile long section of the Mountains-to-Sea trail begins here, so you can get in a decent hike. Overall, this overlook is a nice quick stop prior to hiking, or just one of many scenic stops on a Blue Ridge sightseeing adventure.
What to do in the vicinity: Hike the Mountains to Sea trail. Or, continue on your cruise. Some of the best mountain views are located along this section of the Parkway.
4. View Walnut Cove
Milepost 396. 4
Distance from Asheville: 20 min
This overlook easily offers one of the most scenic vistas near Asheville. A super relaxing place to enjoy the incredible mountain scenery, Walnut Cove is also known to be one of the better sunset destinations in the region. This portion of the Parkway is not as heavily trafficked, so it's a nice relaxing drive. As a bonus, a pretty section of the Mountains-to-Sea trail is located here if you wish to get lost in nature.
What to do in the vicinity: Take a look at the impressive bonsai collection at the North Carolina Arboretum. Entrance is adjacent to the Parkway at Milepost 393.
5. View Chestnut Cove
Milepost 398.3
Distance from Asheville: 25 min
The name for this stunning overlook comes from the chestnut trees which once made up a quarter of the Blue Ridge landscape. Unfortunately, a fungus destroyed most of these trees by the late 1930's. Today, you can enjoy a lovely mix of pines and mixed hardwoods, along with awe inspiring mountain scenery. From this overlook, you can see Ball Mountain, Little Pisgah, and Bearwallow. It is also a popular birdwatching destination during the summer season. Chestnut Cove is a quiet place with spectacular scenery – it's not unusual to see visitors reading or taking in a sunset.
What to do nearby: Hike a portion of the Shut In trail, a lengthy trail with nice woodsy views. Simply go out to your comfort level.
6. View Doubletop Muntain
Milepost 435.3
Distance from Asheville: 55 min
The view of Doubletop Mountain were once obscured by the trees. Thankfully, "Parkway vista restoration" efforts in recent years have made this overlook one of the top sights near Asheville. The view is particularly gorgeous during the fall season, so plan a visit around peak foliage if you are able. Nevertheless, the views are still breathtaking anytime of the year. From here, you can see Deep River Creek which was once a Cherokee village. The elevation is 5365 feet, thus making this a great cool oasis during the hot summer months.
What to do in the vicinity: Take a 20 min drive over to downtown Waynesville. There are a number of restaurants, galleries, and shops to enjoy.
7. Tanbark Ridge
Milepost 376.7
Distance from Asheville: 20 min
This picturesque overlook is one of the closest to Asheville, being that it is located just 20 min out of the city. Because this overlook faces East, it is a popular sunrise destination. The scenery is incredible no matter what time you visit with Lake Pinnacle and High Swan in the distance. On an interesting side note, this overlook gets its' name from a tannery which once resided here.
What to do in the vicinity: Continue on 5 miles to the impressive Folk Art Center (MP 382) featuring a craft gallery and museum exhibits. There is also a nice shady portion of the Mountains-to-Sea trail which begins here.
8. View Steestachee Bald
Milepost 438.9
Distance from Asheville: 50 min
This mesmerizing overlook features a gorgeous view of the mountains and is even more spectacular during the colorful fall season. While there are no trails or picnicking facilities near this overlook, it's located within close proximity to many great trails including the Richard Balsam and Bear Pen Gap trails. Additionally, there are a number of fabulous overlooks within a few miles.
What to do in the vicinity: Enjoy more great views at View Village of Saunook (MP 440), View Doubletop Mountain (MP 435.3), and Grassy Ridge Mine overlook (MP 436.8)
9. Haywood Jackson overlook
Milepost 431
Distance from Asheville: 1 hour
This overlook features an amazing vista of the mountains, a scenic picnicking area, as well as an incredible hike. From here, you can hike a 1.5 mile moderate trail to the summit of Richard Balsam. At an altitude of 6410 ft, this is the highest summit on the Parkway, as well as the 10th highest east of the Mississippi. The hike consists of a nice quiet walk through fresh smelling high altitude spruce and fir forest. There is a great little photo at the top with the summit elevation marked. A great experience for the nature lover and a cool (15-20 degrees) break from the heat!
What do in the vicinity: Enjoy a lovely lunch amongst the breathtaking high altitude surroundings. Note: only one picnic table available.
10. Richard Balsam overlook
Milepost 431.4
Distance from Asheville: 1 hour
One of the most memorable overlooks on the Parkway is the Richard Balsam overlook. This site marks the highest point on the Parkway, at 6053 feet. Take a picture to commemorate your journey, gaze at the gorgeous pines, and enjoy the 15-20 degrees temperature difference. This is a great stop on a hot Carolina summer day! Next, take a quick drive down the road and park at the Haywood Jackson overlook to enjoy the pine studded stroll up to the Richard Balsam summit.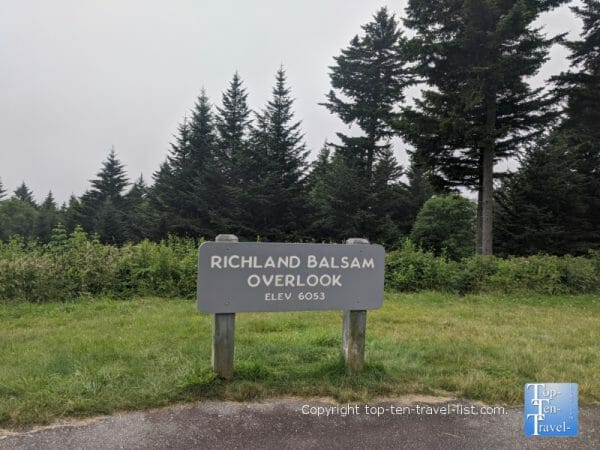 What to do in the vicinity: Hike the gorgeous Richard Balsam summit trail