The best water rides in Orlando
You have decided to book a summer trip to Orlando, even though it's a busy, hot, and expensive time of the year to visit. After one day at a park, you are probably totally overheated, exhausted and just ready to go home. Temps can easily soar into the upper 90's with high humidity to boot. Due to heat exhaustion and dehydration concerns, this is not the best time to spend a long week walking around multiple parks! You will quickly find this out after just one day out in the extreme heat. Add in lots of crowds and waiting in long lines (often) in the direct sunshine, and this could be a pretty miserable experience. Regardless, a summer visit is better than no visit!
Fortunately, there are a few water rides to help you cool down, if only for an hour or so. Be sure to take advantage of these water rides, particularly during the hottest part of the day. Also take other safety measures into consideration. Drink plenty of water, plan off days in between park days to relax in the pool, visit air conditioned inside attractions, and take a lunch break at an air conditioned restaurant (Mythos at Universal is fabulous). Also be sure to check out my list of things to do in Orlando when it's too hot.
Below are 5 great water rides to put on your summer bucket list.
Dudley Do Right's Ripsaw Falls
Park: Universal's Islands of Adventure
This cute ride is themed after the cartoon (and later movie) of the same name. The ride is colorful and fun, not to mention super refreshing on a hot summer day. The log flume ride is similar to Splash Mountain, but features several drops, twists, and turns in a rollercoaster like layout. Don't let the kiddie theme fool you – this is one fun ride and the one I always find myself going on again and again, especially if the line is short enough. Prepare to get absolutely drenched while screaming on the dramatic ending 75 foot drop. So much fun and so refreshing on a hot Orlando summer afternoon!
Kail River Rapids
Park: Disney's Animal Kingdom
Taking a safari ride is a must at Disney's Animal Kingdom no matter when you visit. Unfortunately, summer days can get pretty hot. After walking around and enjoying the safari ride, you will likely be hot. Just like a summer day at the zoo – it can get pretty miserable. This is where Kail River Rapids comes in. This fun circular raft ride features numerous twists, turns, and curves through a jungle like setting in a large 12 person circular raft. It's like a whitewater rafting adventure, only you can just kick back and enjoy the ride- no work required on your part. The best part about this ride is your whole party can enjoy together!
Popeye and Bluto's Bilge Rat Barges
Park: Universal's Islands of Adventure
This ride is Universal's the equivalent of Kail River Rapids. This one is basically the same as Kail with only the theme being different. Expect crazy turns, drops, and waterfalls at any moment. You will either get a little wet or totally soaked – one person usually gets the worst of it and it's a surprise every time. On a hot summer day, you will be hoping that you are the one to get totally soaked. There are lots of splashes, waterfalls, and big drops of water on this one so definitely store your valuables in a locker. On a unique note, this ride was one of the originals when Islands first opened (May 28,1999).
Jurassic Park River Adventure
Park: Universal's Islands of Adventure
As the name implies, this ride is based on the popular Spielberg series of the 90's. The theme is pretty cool as you travel on a boat through Isla Nublar. You will pass lots of animatronic dinosaurs along the way. The really cool part comes at the end as you embark on a steep 85 foot drop. I have to admit this drop is pretty scary and exhilarating. Best of all, you will get totally soaked. A nice refreshing cool down on a hot day, as well as a nostalgic time for any fans of the movie. This ride also features a really cool entrance where you walk beneath the famous Jurassic Park sign. For the ride itself and the nostalgia, this is easily one of my favorites.
Splash Mountain
Park: Disney's Magic Kingdom
As Magic Kingdom's only water ride, you will definitely want to make a beeline for Splash Mountain on any hot summer afternoon. Before arriving at the iconic 5 story drop, you will travel through a Southern Bayou complete with animatronic alligators and animals. Sit back and relax as you listen to Disney favorites like "Zip-a-Dee-Doo-Dah" and "Ev'rybody's Has a Laughing Place." Sit in the front if you want to get really soaked! Do secure any valuables in a locker! If you are scared of big drops but still want to get wet, watch all the action via the viewing platform. More often than not, you will enjoy a much needed cool down.
Cool Queues
Indoor queues: In addition to the water rides listed above, numerous rides feature cool (and air conditioned in some cases) indoor waiting queues. Waiting outside for hours on a hot summer day can be miserable. Do download the Wait Times app to plan your day accordingly. You will want to get on rides featuring uncovered waiting areas early in the morning or later on in the evening.
The Mummy (Universal)- Probably the darkest ride at any Orlando park. The entire queue is set inside a spooky very dim cave like interior. On a hot summer afternoon, it's a real treat to wait in here. The indoor rollercoaster is also set completely in the dark with various creative special effects along the way.
Hogwarts Express (Universal) – Beautiful indoor queue modeled after Kings Cross Station. The line is often long, which makes it a great afternoon ride. Buy a chocolate frog before boarding the train via Platform 9 3/4 (unique special effects make it appear as if you are disappearing through the wall). And when you get to Hogsmeade, treat yourself to a cooling butteerbeer!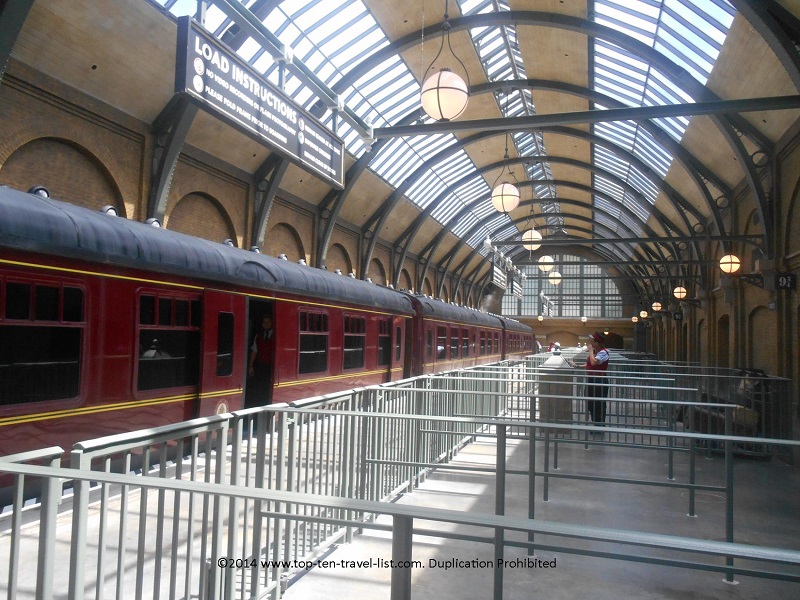 Harry Potter and the Forbidden Journey – Beautiful dark wait through the Hogwarts Castle. A nice escape from the heat as well as a real treat for Harry Potter fanatics. The talking portraits, appearances of the cast via holograms, and the newspaper with moving pictures are all pretty spectacular. The ride, although dizzying, is one of Universal's best!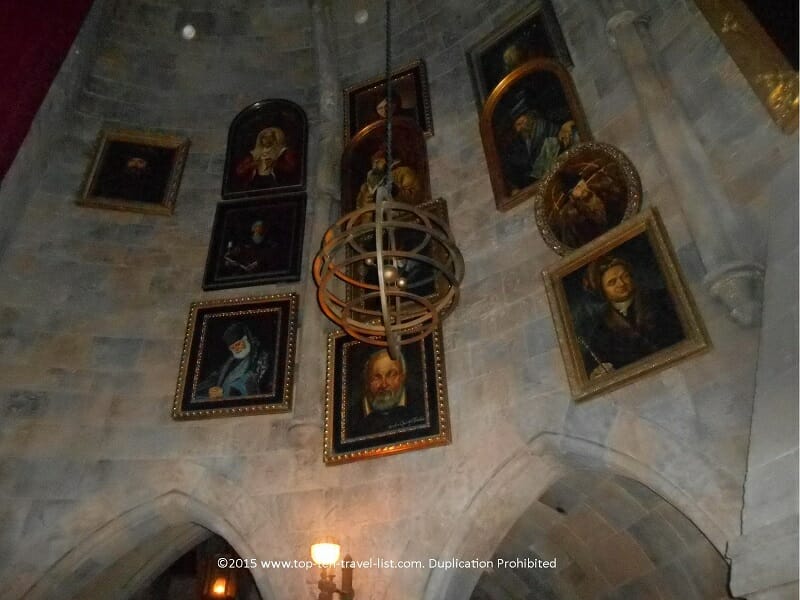 Any 3D show – Seeing one of these movies will get you out of the heat a bit longer than a quick ride. Check out Race through New York with Jimmy Fallon (Universal), Skull Island (Universal), and Mickey's Philar Magic (Magic Kingdom).
Under the Sea – Charming ride based off The Little Mermaid features a refreshing ocean themed queue.
Hall of Presidents – Great half hour show in an air conditioned space. This entertaining show features 45 lifelike animatronics, from George Washington to Joe Biden.
Peter Pan – Nice indoor waiting area through the Darling house leads to a fun dark themed ride based on the movie.
Monsters Inc Laugh Floor – Fun indoor comedy show featuring Mike Wazowski from Monsters Inc. Lots of laughs and fun audience interaction.
Space Mountain – Cool futuristic space themed queue cool travels through the dark. This super fast indoor space coaster is one of the best and most iconic rides at Disney!
The worst queues for the summer season: Hagrid's Motorbike Adventure (Universal), The Simpsons (Universal), The Hulk