The Best Vegan Dishes to try in the Tampa area
It can be difficult to find quality vegetarian/vegan cuisine in the Tampa Bay area. As the area is most well-known for its' world-famous Cuban and seafood based offerings, most restaurants barely offer a vegetarian option, let alone anything vegan. However, if you look hard enough, you will find a number of fantastic options throughout the metro area. Here are a few great plant-based entrees to keep in mind so you do not have to spend the entirety of your trip attempting to find a vegetarian friendly restaurant!
Black Bean soup at Columbia Restaurant
Columbia is one of Tampa Bay's most popular restaurants. This historic Florida gem claims the title of world's largest Spanish restaurant. While the ambiance is beautiful and the overall dining experience (featuring live flamenco dancing) is an experience in and of itself, the menu is a bit limited for those following a plant-based diet.
Fortunately, the few menu items which are plant-based, are wonderful. The Cuban Black Bean soup is one of the best dishes you will ever try. This entree is simple and delicious – white rice topped with delicious simmered black beans and topped with diced onions. The Black Bean cakes also work as a wonderful vegan starter dish. Note: Additional vegan choices available on request.
Location: 2117 E 7th Ave, Tampa, FL 33605
What to do nearby: Explore historic Ybor City, home to museums, bars, galleries, and vintage shops.
Veggie Hash at Chill
Chill is a wonderful New American restaurant conveniently located near St. Pete Beach. There's a number of great vegetarian options here (Bananas Foster Waffles, Mixed Berry & Brie crepes, and French Toast), as well as a wonderful vegan Veggie Hash entree.
This savory dish includes root roasted vegetables served over potatoes – a hearty dish which will easily hold you over until lunch! On a side note, they also serve wonderful coffee and espresso based drinks.
Location: 357 Corey Ave, St Pete Beach, FL 33706
What to do nearby: Relax at quaint Pass-a-Grille beach
The Big Italy bowl at Ciccio Cali
Ciccio Cali is a wonderful lunch option for anyone following a restricted diet. They offer loads of healthy options including a number of veggie based bowls and wraps. Everything on the menu is conveniently marked as dairy or gluten-free, so you do not need to go through the hassle of requesting substitutions. This restaurant is especially known for their lentil bites, a wonderful vegan protein source developed by a Miami chef.
All bowls include your choice of rice (the coconut avocado is a great choice) and the option to add a protein (the lentil bites are a must!). The Big Italy bowl, featuring charred grape tomatoes, roasted broccoli, cremini mushrooms, almond ricotta, and herb garlic aioli, is definitely the winner of the bunch. It's filling, healthy, vegan, and most importantly, absolutely delicious!
There are 4 locations throughout Tampa, although the New Tampa location is the best choice during the milder seasons – the shady patio here can't be beat!
Location: 17004 Palm Pointe Dr, Tampa, FL 33647
What to do nearby: Walk the boardwalk trail at Lettuce Lake (lots of gator sightings!).
Big Lucy Breakfast at Ohana Cafe
If you are craving something sweet for breakfast, you must plan for a stop at Ohana Cafe in the charming coastal town of Dunedin. This adorable Hawaiian style cafe offers so many unique plant-based options, even on their breakfast menu (a rare find!). Not only is it super hard to come across dairy or gluten-free pancakes anywhere in Tampa, but the ones here just happen to be amazingly delicious.
Start with one of their wonderfully healthy fruit packed smoothies. Then treat yourself to the Big Lucy Breakfast which includes 3 plant based pancakes, fresh tropical fruit, and potatoes. To date, this is the best breakfast I've had in the Tampa area. Also, the house coffee is delicious (and unlimited) so skip the Starbucks!
Location: 1452 Main St, Dunedin, FL 34698
What to do nearby: Explore downtown Dunedin, home to numerous galleries, coffeehouses, boutique shops, and even a Beatles memorabilia museum. If you up for a workout, the 50 mile Pinellas trail runs right through downtown.
Build your own GF/Vegan pizza at Ozona Pizza
If you are craving excellent vegan/GF pizza, there is no better choice than Ozona Pizza in Palm Harbor. This place offers the most massive selection of gf & vegan fare that I've ever come across at a pizza place. From garlic knots, to calzones and pasta dishes, and even an apple pie dessert pizza, this is the place to go for tasty comfort style vegan fare. What a Friday night treat!
They offer a number of specialty pies or you can customize your own pizza.
Award winning violife vegan mozzarella cheese is used (VegNews ranked it product of the year!). Gluten-free crust is also available for those avoiding wheat. Do not leave without trying the garlic knots – these definitely win the award for best vegan appetizer anywhere in the Bay!
Location: 610 S Armenia Ave, Tampa, FL 33609
What to do nearby: Check out the shops of Hyde Park Village. Also, there's a fantastic local coffeeshop (Buddy Brew) at the Village.
Love Acai Bowl at Raining Berries
Raining Berries is a trendy modern chain which specializes in ethically sourced coffee, acai bowls, tea, and smoothies. This cafe is a wonderful treat choice for anyone following a plant-based diet as most of their smoothies and acai bowls are dairy-free. Acai bowls are the perfect vegan alternative to ice cream and frozen yogurt. Plus, they are healthier and more delicious!
If you are new to acai, the Love Acai bowl is a great place to begin. This humongous bowl (definitely large enough for 2 to split), includes granola, pureed acai fruit, strawberries, blueberries, banana, coconut flakes, nutella, and chocolate nibs. On a hot day in Tampa this sweet indulgence sure is a refreshing treat!
Location: 25595 Sierra Center Blvd, Lutz, FL 33559
What to do nearby: Check out The Shops of Wiregrass, an outdoor shopping complex featuring numerous shops and restaurants.
Tofu Poke Bowl at Island Fin Poke Co.
Island Fin is a Hawaiian style poke bowl restaurant with several Florida locations, including the Tampa suburb of Wesley Chapel. A poke bowl is a native Hawaiian dish which includes raw diced fish (and tofu in the case here), along with a range of colorful toppings. The bowl looks just as pretty as it tastes! Not only do they offer tofu as a protein choice, but most of the toppings and sauces are also vegan. The way it works is you will choose a protein and base (white or brown rice, spring mix) and customize your own toppings/sauces.
Veggies are super fresh and include choices such as cucumber, mango, seaweed, pineapple salsa, pickled veggies, corn, and edamame. Try the delicious avocado cream as your finishing sauce. You will also get to choose between 5 different soy based marinating sauces. When you are finished with your meal, treat yourself to a scoop of Dole whip, a naturally dairy-free dessert available in a popular tropical pineapple inspired flavor.
Location: 6417 E County Line Rd #101, Tampa, FL 33647
What to do nearby: Take a leisurely bike ride at Flatwoods Park, home to a 7 mile loop which travels amongst beautiful native pine flatwoods.
Hummus & veg sandwich at Cafe Hey
Cafe Hey is a laid-back coffeehouse/cafe offering delicious simple American fare like sandwiches, soups, and salads. The hummus and fresh vegetable sandwich is simple, yet delicious. Try the soup of the day alongside your sandwich. If you are craving something sweet, cap off your meal with a slice of vegan chocolate cake! Be sure to try a delicious cup of local coffee alongside your meal – they serve Buddy Brew, a wonderful local artisan roaster.
Location: 1540 N Franklin St, Tampa, FL 33602
What to do nearby: Take a stroll along the Tampa Riverwalk, a 2.5 mile long waterfront trail which connects numerous city attractions including The Tampa Museum of Art, the Florida Aquarium, and the Florida Museum of Photographic Arts
Poptart and cup of joe at Buttermilk Provisions
Your best option for local coffee in the North Tampa region is Wesley Chapel's Buttermilk Provisions. This local cafe serves specialty coffee, as well as an enticing assortment of homemade pastries. The GF/vegan poptart, which varies based on the day, is always a treat. Other vegan selections include chia bowls, donuts, and banana bread. They use local ingredients too which is always a nice bonus.
Vegetable Lo Mein at Yummy House
Chinese food is usually a safe choice for anyone following a plant-based diet. Veggie spring rolls, miso soup, and fried rice, as well as numerous other entrees and apps are naturally dairy-free. Yummy House is one of the better Chinese restaurants in the Tampa area. The ambiance is beautiful, service is always great, and the prices are quite affordable.
Consider visiting this restaurant at lunch to take advantage of the special weekday deal which includes rice and tea. The Veggie Lo Mein dish is a filling and healthy choice, not to mention priced at just 8 bucks. Their tea is so delicious, and fortunately unlimited so you can relax for a bit.
Location: 2620 E Hillsborough Ave Tampa, FL. 33610
What to do nearby: See a movie at Cinebistro, a luxury dine in theater
Veggie Rice bowl at Latin Bowl
Latin Bowl is a wonderful modern Latin restaurant specializing in street style Latin foods. It's a nice quick stop post-beach or after exploring area nature attractions like Boca Ciega Millennium Park. The menu is pretty simple – wraps, bowls, and salads.
The Veggie rice bowl is so delicious. Pick your choice of rice, add black beans, and top with your choice of veggies (corn, tomatoes, lettuce, olives, carrots, peppers, spinach, jalapenos). Try the delicious lime cilantro sauce. Each bowl is served with chips and salsa. Really this is a perfect light, yet filling meal after a full morning out in the sun!
Cheeseless Pizza at Gourmet Pizza Company
Gourmet PIzza Company is an eclectic local pizza cafe located near the trendy Hyde Park Village. Before checking out the shops here, stop for a bite to eat at Gourmet. This allergy friendly favorite offers a number of unique pizzas, both meat based and vegetarian. They offer several Beyond Meat options, as well as a bunch of creative vegan pies like Hummus, BBQ, Pesto, Southwestern, Mediterranean, and more.
The Cheeseless pizza is actually an excellent choice for the veggie lover. As shown above, this pizza is loaded with spinach, sun dried tomatoes, red onions, portobello mushrooms, fresh garlic, and red cabbage. Although it's good as is, you have the option of adding Daiya cheese. Start with an order of vegan breadsticks whatever you do – they are totally worth the cost! Also, if you have any room leftover, indulge your sweet tooth with a vegan peanut butter brownie for dessert.
Location: 610 S Armenia Ave, Tampa, FL 33609
What to do nearby: Treat yourself to an expertly made caffeinated drink at Jet City Espresso, a cozy local coffeehouse with a beautiful patio.
Blue wave bowl at Grain and Berry
Grain and Berry has won numerous awards for their healthy antioxidant loaded menu which includes colorful acai and spirulina bowls, smoothies, and yogurt bowls. This place is unique compared to other acai bowl cafes as they offer a delicious healthy spirulina based bowl. The colorful blue base is made using a mixture of spirulina, mango, banana, pineapple, and almond milk. Spirulina is an excellent choice for vegetarians as it is loaded with minerals including b vitamins, magnesium, potassium, and calcium.
The Blue Wave bowl is an excellent place to begin your spirulina journey. This bowl includes a mixture of granola, banana, strawberries, nutella, and peanut butter. It's healthy, delicious, and filling. A bit pricey at 10 bucks a bowl, but worth the splurge!
Location: 8638 Hunters Village Rd. Tampa, FL
What to do nearby: Get back to nature at Morris Bridge Park.
Chef's Grain Bowl at Guppy's on the Beach
You will quickly notice that there are not a whole lot of vegetarian dining choices near the Tampa Bay beaches. If you find yourself checking out Indian Rocks Beach (the best in the bay) or nearby Madeira, there is one great choice in the vicinity. Guppy's on the Beach, a popular seafood favorite, offers a completely plant-based grain bowl. This is the best entree choice you will find in this area.
This bowl is comprised of lots of healthy goodies like red quinoa, pearled barley, tofu, corn, tomato, cucumber dill, piquillo peppers, and scallions, topped with lemon vinaigrette. Complimentary bread and olive oil makes for a complete meal. Additionally, there are numerous vegan veggie sides.
Location: 1701 Gulf Blvd, Indian Rocks Beach, FL 33785
What to do nearby: Enjoy laid-back Indian Rocks Beach, one of the least touristy beaches in the Tampa Bay area. Also treat yourself to a coffee at Indian Shores Coffee Co.!
Cashew Mac at Farmacy Vegan Kitchen
Farmacy in downtown Tampa is one of the hottest vegan restaurants in the city. It has won numerous awards for its' creative 100% plant-based menu. The menu includes much more than your basic salads and sandwiches. It's one of the few places in town where you can enjoy creative plant-based fare.
A few highlights here include a cashew based mac and cheese, almond berry waffles, 3 versions of Philly cheesesteaks using Impossible meat, and a vegeanized California Cuban sandwich. The must-try here is definitely the creamy mac and cheese, made using in-house cashew cheese and a smoky seasoning. Delicious, filling, and affordable!
Location: 803 N Tampa St, Tampa, FL 33602
What to do nearby: Check out the collection at the Tampa Museum of Art
Vegan Pho King bowl at The Stone Soup Company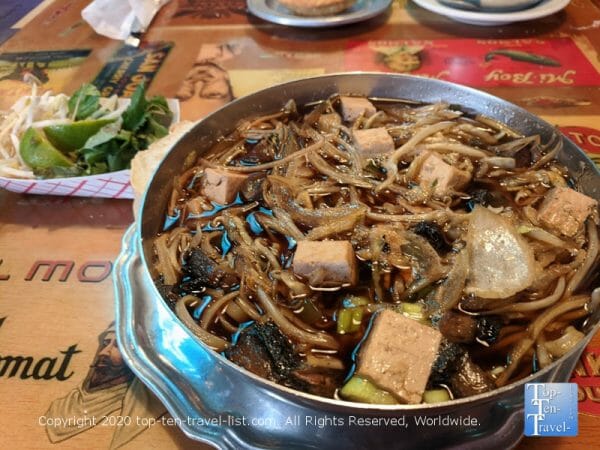 The Stone Soup Company is an eclectic bar and grill located in the historic Ybor City section of Tampa. Despite the name, this place offers much more than just soup. The menu is huge and includes several soups, plus salads, sandwiches, salads, bar style appetizers, and various entrees. The restaurant is very allergy friendly with choices for those avoiding meat, dairy, and gluten.
Everything is conveniently marked on the menu so there's no need to guess. The black bean soup is pretty delicious choice for vegans. Veggie empanadas, hummus, and fried tempura are all tasty plant based apps. If you are seeking a filling satisfying dish, try the Vegan Pho King bowl which includes tofu, mushroom, veggies, and pho chay in a delicious veggie broth. Bean sprouts, rice noodles, mushroom, lime, cilantro, sprouts, and siracha served on the side.
Location:1919 E 7th Ave, Tampa, FL 33605
What to do nearby: Grab a cup of coffee at The Blind Tiger, located just down the street.
Acai bowl at Ohana Fresh
Tampa seemingly offers a never ending supply of cafes that specialize in cool treats like smoothies and acai bowls. Ohana Fresh in Palm Harbor is just another one to add to the bucket list. The people that run this place are so nice and the overall vibe of this cafe is really charming. The patio is lush and shady, so you can sit outside even during the warm summer months.
Freshness overload on the menu here includes fruit filled smoothies, acai bowls, freshly made juice drinks, & Hawaiian shaved ice. Organic and fresh ingredients are used, and thus, this is definitely a prime choice for health conscious diners. The Hula Berry Banana smoothie (dates, banana, and blueberries) is a refreshing summer treat. However,the standout here is the acai bowl made with vegan granola, berries and banana, shaved coconut, and optional honey. On a side note, the organic coffee here is wonderful – don't go anywhere else!
Location: 1090 Michigan Ave, Palm Harbor, FL 34683
What to do nearby: Take a stroll around John Chesnut Park