Reno, Nevada & the Grand Sierra Resort: A Perfect Thanksgiving Getaway!
For Thanksgiving this year, Mike and I decided to make the 9 hour trip from Idaho Falls, Idaho to Reno, Nevada. Several years ago, when we lived in Nevada, our favorite weekend destination was the Grand Sierra Resort and Casino in Reno. This resort has a classy, laidback ambiance which sets it apart from the noisy, crowded casinos in the downtown area. Since we had the whole week off for the Thanksgiving holiday, we figured this would be the perfect time to visit again! The drive was very long, but well worth the trip.
Brunch at the Atlantis
Our first stop upon arrival was a breakfast buffet at the Atlantis Casino and Resort. Luckily, we made it just in time! Monday-Thursday from 8:30am-10:00am there is a 2 for 1 breakfast deal at Toucan Charlie's buffet. The Atlantis Casino was decorated nicely for the holidays with plenty of trees and lights.
At only $13 for the two of us, the buffet was an amazing deal! This was the best breakfast buffet I have ever experienced! I loved the omelet station and salad bar. A terrific selection of every breakfast food you could imagine was available. The tropical décor in the seating area was colorful and unique and the vibe was super relaxing, basically just what we wanted out of a vacation. Check out my extensive review of Toucan Charlie's Buffet. Update: The buffet is now offered for lunch, dinner, and a Saturday & Sunday Champagne brunch. Expect to pay $20-30 per person and more over holiday periods.
The beautiful Grand Sierra Resort
We arrived a bit early, however, The Grand Sierra was kindly able to check us in early. As many hotels nowadays charge a hefty fee for early check ins, we appreciated the nice gesture. We have stayed at several Reno area hotels, yet we always come back to the Grand Sierra. The hotel is away from the main strip of casinos in town, making it ideal for a quieter getaway.
The Grand Sierra Resort and Casino is the best hotel in Reno, no question. The hotel is more elegant and classy in nature than the other casino hotels in town. Great décor throughout the lobby and casino. There are plenty of restaurants, bars, and entertainment options, including a bowling alley, arcade, and discount movie theater. They also offer the best promotions. This trip we received 2 free nights and 2 free breakfast buffets simply for being part of the email list. Our total cost for 5 nights including the resort fee was only $200! The daily resort fee includes: valet parking, 2 water bottles each day, and access to the gym and spa area.
The hotel room is very basic with not much in terms of fancy amenities, however, there is so much to do at the resort and around Reno. With these incredible rates, you can't complain! We barely had time to sit in the room with all the options for fun! For an additional $25/night, you can stay in the updated more modern & luxurious Summit rooms. Check out my full review of the Grand Sierra Resort and Casino.
The Spa
The spa here is pretty great, with facilities including a hot tub, steam room, and sauna. My Swedish massage was fabulous: I would definitely head back again for one of their seasonal fall treatments. The workout room is really nice for a hotel. There is a huge selection of weight machines, free weights, and cardio equipment. There is even a small rock climbing wall. Also available is tea, coffee, and lemon water, which came in handy as there is no coffeepot in the room. The Starbucks downstairs is convenient, although we usually avoided it as it was extremely overcrowded the entire trip.
Downtown Reno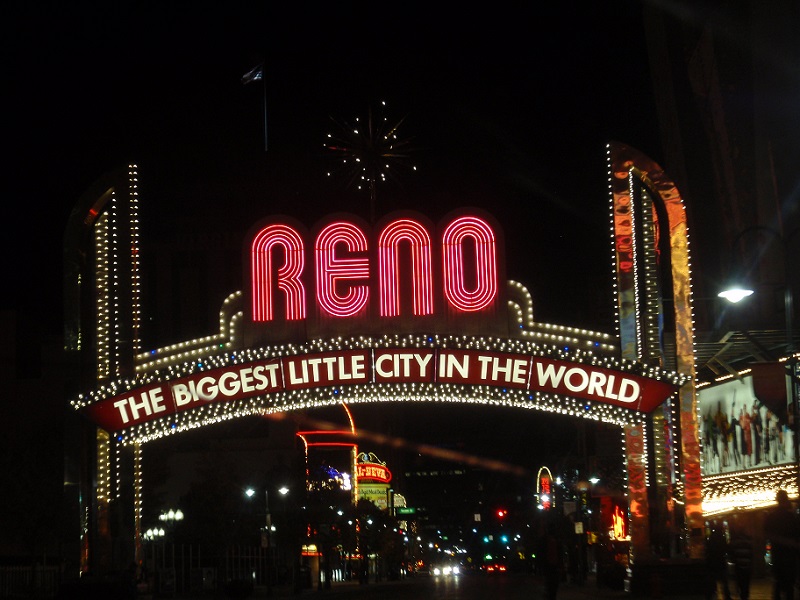 The first night of our trip, we decided to visit the downtown Reno casinos. Many are located within walking distance of each other. We signed up for Player's cards at Circus, Circus, Silver Legacy, Eldorado, and Sands. Circus, Circus gave us both $5 free in slot play and the other casinos gave us coupons. We had fun playing a few carnival games at Circus, Circus. Then, we stopped for $2 happy hour specials at a sports bar in the casino. I really liked the Eldorado. There are lots of restaurants and bars, a nice poker room, and an overall appealing design. The Silver Legacy, connected to the Eldorado, features a really cool dome which was decorated for the holidays.
Retro style dining at Johnny Rockets
By the time we got back to the Grand Sierra, we were really hungry and decided to stop at Johnny Rockets as it was one of the few restaurants still open.  Johnny Rockets is a fun 50's style diner where the waiters dress in theme and old time music plays in the background. They serve typical diner food like burgers, fries, and shakes, not the healthiest food, but hey we were on vacation! Their dark chocolate Godiva are out of this world! A fun experience, although it was a bit pricey and the menu is limited. Click here for a more detailed review of Johnny Rockets.
Shopping at The Summit
The next morning we got up early and used the fantastic workout room again. Next, we headed over to The Summit, an outdoor shopping mall in the Reno area. We saw Twilight Breaking Dawn Part 1 then walked around a few of the shops. On a side note, this movie was fantastic; can't wait to see part 2! If you are staying at the Grand Sierra, there is a brochure in the lobby for this mall. On the back of the brochure, there is a coupon for a free gift! If you bring this to the mall office, they will give you a bunch of coupons and a reusable shopping bag. We did not have time to stroll around all the shops. I would like to go back some other time and check it out more.
Lunch at El Dorado
Next was a lunch buffet at the Eldorado Casino. They have a Monday-Thursday "Buffet Blowout" special which includes breakfast at $6.99, lunch at $7.99, and dinner at $10.99. The buffet had a very large selection considering cheap price including an extensive selection of vegetarian options. What a great deal! I will definitely be back. For a more detailed review of The Buffet at Eldorado click here. Update: Please check for current buffet pricing and special deals.
Happy Hour Deals at the Grand Sierra
We got back to the Grand Sierra just in time for the 5:00-7:00pm happy hours at 2500 East. We had a few glasses of $1 wine and beer: what a great deal!  I like this bar because it is non-smoking and clean, unlike the majority of casinos. There are nice fancy lounge chairs and waterfalls which overlook the whole casino. A huge chandelier adds to the ambiance. There was live music on the stage. Check out the weekday happy hours next time you are in town. Update: 2500 East is now closed, although there are a number of great bars and night clubs on-site to choose amongst.
While sitting at the bar, we noticed a free craps lesson. Neither of us had ever played and thought it might be fun to learn. The lesson was fun although a bit confusing. We each received a $5 promotional chip that we could use anywhere in the casino. As we still didn't completely get how to play craps so we took our free chip over to the blackjack table. We turned $5 into $65. Not too bad!
Later that night, we went to Mustang's , a fun country themed bar which offers free line dancing lessons. It was fun watching everyone line dance and listen to the live country music. The band was not that good, but it was still entertaining. Update: Now closed. Fortunately, there are many other bars to enjoy.
Comfort dining at Sierra Cafe
We got a quick snack at Café Sierra, a basic, family-style café in the casino. I was not too impressed with the variety on the menu or the quality of the food for the prices. Really loud too because there is a bar that has live music right next door. This is basically one of those casual 24/7 type places which you only go to when nothing else is open. Click here for a more detailed review of Cafe Sierra.
The next morning, we did another workout and played a Texas Hold 'Em tournament (there is a tournament every morning at 10:00am). The poker room is small, but friendly, comfortable and not overly crowded.
Next, we ate at The Lodge buffet, located inside the Grand Sierra. They were having a special Thanksgiving buffet. I thought it was definitely worth it! Great menu selection available with an abundance of sides and an excellent pumpkin soup!
Thanksgiving at The Lodge Buffet (now the Grand Buffet)
They had every dessert you could possibly imagine including an outstanding pumpkin cheesecake. It was not overly crowded and we did not have to wait in line for anything. The seating area has a rustic look to it complete with fireplaces. Visit my detailed review of The Lodge.
Later, we had happy hour drinks again at 2500 East. Mustang's was supposed to have free line dancing lessons, but for some reason they cancelled them. Disappointing, but the live band was there again and we enjoyed listening to the country music again. We hung around the bar until it was time to go out for Black Friday specials!
Black Friday
We went to Best Buy and Wal-Mart and found great Black Friday deals at both stores. This year featured some of the best Black Friday deals of recent years. Luckily, the lines were not too bad either and we didn't wait more than an hour. When we were done we came back to the casino and stopped at Café Sierra again for a quick snack. Shopping all night really wears you out! This time around they had a fantastic seasonal pumpkin soup. Is there anything more delicious than pumpkin soup?!

The next morning we used the steam room again; perfect, especially with the weather turning cooler. Then, we headed out for more black Friday specials at Meadowood Mall. This is only a one floor mall in Reno; however, the stores are decent enough. We got there sort of late around 10:00am. But, there were still plenty of deals to be found. For lunch, we ate at The Lodge Buffet again. They had a few leftovers from the previous day's Thanksgiving menu, so that was nice. Even better it was also a lot cheaper at only $9.99 a person.
Bingo at The Nugget
We relaxed in the hotel for a bit, and then headed over to John Ascuaga's Nugget to play Bingo. I like playing Bingo here because the session is not overly long like some other casinos. The game is only an hour and it only costs $3 or $7 per game. Update: Please check the website for updated pricing.
El Dorado Showroom
After playing Bingo, we were off to the Eldorado to see a live stage adaptation of "Peter Pan." Plenty of special shows and events are held at all the casinos, especially over the holidays. We were 2 hours early for the 8:00pm show, so we stopped in the poker room for a cash game. I did not feel like playing, so I just watched Mike and enjoyed some free drinks. "Peter Pan" was a huge disappointment to me. I was expecting a similar version to the original with similar songs. But, it was an original adaptation with none of the classic songs. More of a comedy style adaptation. This may appeal to some, but I was not impressed. The play was $35 a person, a complete waste in my book.
Upcoming shows at The El Dorado
A daytrip to gorgeous Lake Tahoe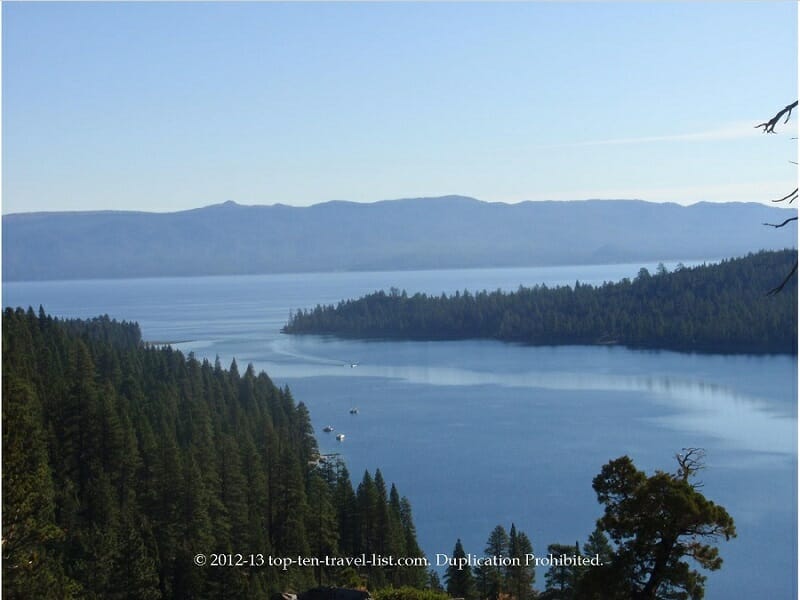 The next morning, we planned on a day trip to Lake Tahoe, located just an hour away from Reno. We ate one of our free breakfast buffets on the way out, and this filled us up for most of the day.
Lake Tahoe is an amazing area with plenty to do; you will never be bored. The scenery itself is spectacular. Please visit my Lake Tahoe Vacation Spotlight post to plan your trip. There are 2 scenic gondola rides in Lake Tahoe. We had already been on the Heavenly Gondola in South Lake Tahoe, so decided to try the in Squaw Valley Cable Car this time.
There was supposed to be ice skating at the top and I was really looking forward to this. However, it was too warm out and the rink was closed. Nevertheless, I enjoyed the scenic ride in the cable car: the views were incredible! It was not as scenic as the Heavenly Gondola, which I recommend over Squaw Valley if you only have time for one. It was also interesting to browse the Olympic memorabilia (Squaw Valley is the site of the 1960 Winter Games).
We walked around The Shops at Squaw Valley, a nice upscale shopping & dining destination complete with outdoor fire pits. Unfortunately, it was too warm out for the fireplaces. A couple came up to us and gave us a free wine tasting that they were unable to use. The people sure are friendly out here! We figured why not try it out!
We received 3 large samples of wine at a place called Uncorked. It was an enjoyable experience. A bit too much for me, but still a unique experience. Next, we made the 30 minute trip to South Lake Tahoe to walk around Heavenly Village. The winter village features restaurants, shops, a gondola ride, and an ice rink.
We just walked around the shops a bit then headed over to the Hard Rock Café inside of Harvey's Casino, just down the street. There are 4 casinos in the area. Great food, great music and a fun atmosphere at the Hard Rock. Love the food (especially the spring rolls and twisted macaroni and cheese). Update: Hard Rock is unfortunately closed.
After a long day, we were ready to go back to the hotel.
Our last buffet (for a while)
The next morning we had our other free breakfast buffet before packing up to leave. This definitely was a good fill up for the way home. I think I have had my fill of buffets for a while! The trip was fabulous except for the mistake of seeing "Peter Pan" and some bad luck with a few activities being closed. I recommend signing up for the Grand Sierra email list and Player's club as they will send you great hotel and dining deals.

Right before leaving, we got to catch a glimpse of all the casinos setting up their holiday displays. They really go all out! Check out this huge gingerbread house on display in front of the Starbucks in the Grand Sierra!
I love visiting Reno over the Thanksgiving holidays. It is the best time of the year as so many activities and events are taking place. We will continue to make Reno our Thanksgiving tradition each year!