50 Fun Things to do in the Tampa Bay Area
38. Sand Key Park
If peace and quiet is what you seek, skip Clearwater Beach and head over to neighboring Sand Key Park. This tranquil beach is almost never too crowded. Not only are the views gorgeous, but there are amble opportunities for collecting seashells. While this means that this beach lacks the trademark "soft white sand" it is a great place to find a coveted sand dollar. Be aware that it is illegal to collect a live sand dollar.
Tip – Pack a picnic lunch. There is a gorgeous picnicking area.
Address: 1060 Gulf Blvd, Clearwater, FL 33767
39. John S. Taylor Park
John S. Taylor Park is a little hidden gem in the Largo region. This quiet park lies far away from the beaches, so you can enjoy a peaceful day of fun-in-the-sun. Highlights include a large disc golf course, picnic shelters, and a multi purpose trail which circles the lake. The trail is 1 mile long so perfect for a nature walk or bike ride/run (circle around a few times for a full workout!). Fortunately, there is plenty of shade here so you can enjoy the park on all but the hottest of days.
Bonus – you can connect to the Pinellas trail here for a longer ride.
Address: 1100 8th Ave SW, Largo, FL 33770
40. Sunken Gardens
This tropical oasis in busy St. Petersburg provides a casual, relaxed setting for those looking to avoid the beach crowds. At this 100 year old natural treasure (the gardens were formed in 1903 when gardener George Turner purchased the land, including a lake 10 feet below sea level), you will find various species of palm trees, relaxing waterfalls, flamingos, beautiful Koi ponds, and even a few exotic birds (pictured above is the Australian Cockatoo). Walking around is like taking a mini tropical vacation. Due to the picturesque setting, the Gardens has become a popular wedding venue. Be sure to look into the calendar of events which includes weekly yoga sessions.
Tip: Be sure to check Groupon for deals. I received a 50% off coupon.
Address: 1825 4th St N, St Petersburg, FL 33704
41. The Harbors Day Spa (formerly Essentials Massage)
Where else can you find a fantastic $30 massage? With a convenient location in Palm Harbor, a relaxing Swedish massage is always there for you after a long day of fun-in-the-sun. Even better, various deals including a fantastic 2 for $50 deal (1 hour relaxation massage and a 1 hour facial) give you plenty of excuses to plan extra me time.
Update: Prices have gone up a bit, but it's still the best place for an affordable massage! Visit Monday or Tuesday for a $45 massage or facial.
Address: Visit the Harbors website to find a location near you.
42. Columbia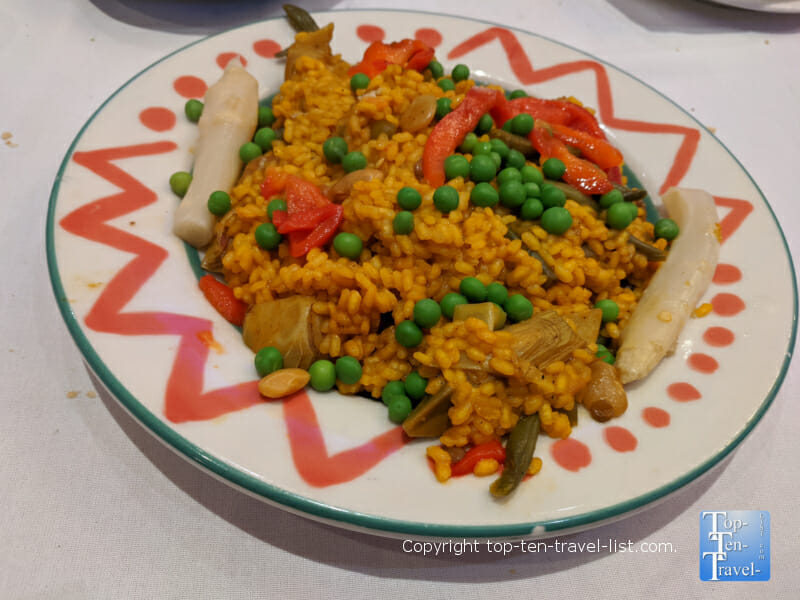 Florida's oldest restaurant is located in historic Y-bor city, a Tampa neighborhood founded in the late 1800s by cigar manufacturers. Columbia restaurant features an extensive menu of Spanish and Cuban specialties, a beautiful dining room, and live flamenco dancers. Don't miss your opportunity to visit the world's largest Spanish restaurant. Do try the Cuban Black Beans and the wonderful Paella (pictured above is a delicious vegetarian version). Bonus – The Sand Key location features a wonderful waterfront deck and has been rated one of the country's most scenic restaurants.
Address: 2117 E 7th Ave, Tampa, FL 33605
43. Treasure Island
Treasure Island is a beautiful sandy wide beach in St. Petersburg. It feels different than many other area beaches due to the wide expanse of sand. You really get some elbow room here! It's happens to be the longest and widest beach in the St. Petersburg/Clearwater area. Plenty of room for everyone to enjoy the much cooler Florida fall weather.
Parasailing, collecting sea shells, sunbathing, and enjoying a beautiful sunset are all popular pastimes at Treasure Island. This beach offers a little bit of everything: cabana rentals, volleyball nets, a snack shop, plenty of sea shells to collect, and a short boardwalk. And, like all great Florida Gulf Coast beaches, beautiful white sand and warm waters.
Address: 11260 Gulf Blvd. St. Petersburg, Florida 33706
44. Lake Seminole Park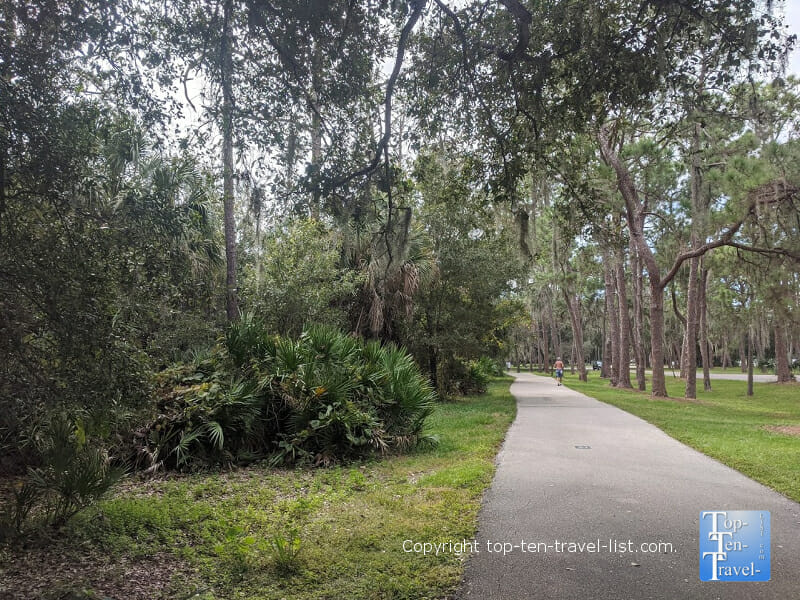 Conveniently located in suburban Largo, Lake Seminole is the park to visit when you want a full day of recreation. This spacious park offers a little bit of everything including a boat ramp, fishing, picnic facilities, playgrounds, softball fields, and volleyball courts. The highlight here is a gorgeous 2 mile multi purpose trail which winds through pine flatwoods. Hands down, this is the best park for a scenic and shady walk or bike ride. The beautiful natural setting here definitely makes this one a Pinellas County winner.
Address: 10015 N Pk Blvd, Seminole, FL 33777