5 Fantastic Must-Do Bike Paths!
Biking is one of my favorite fall, spring, and summertime activities. No matter where you live or vacation to, you are bound to find plenty of opportunities for scenic bike paths. Take a look at 5 of my favorites, and be sure to share some of your own!
Marvin Braude Bike Trail – California
The Marvin Braude Bike Trail, aka the South Bay Bike Trail, is one of the best in the country. This paved 22 mile path runs along the Pacific Ocean for the majority of the mileage. As you can imagine the views are breathtaking! The path is paved, flat, and well marked. Portions of the path are crowded, especially around Hermosa and Redono Beach, however, once you pass Manhattan Beach it narrows down tremendously.
There are so many great places to stop and see while on the path. Highlights along the way include: the Manhattan Beach Pier, Venice Beach, and The Santa Monica Pier. The portion of the path which runs through Marina del Ray is especially scenic, being that it is the world's largest man made marina.
This path is a great way to get out, enjoy the California sunshine, and take in the various beach towns without having to drive through the hectic Southern California traffic. A great path with great beach views, attractions, and people watching. Highly recommended!
Starting Point: Torrance Beach Torrance, CA 90510
Ending Point: Will Rogers State Beach 17000 Pacific Coast Hwy Los Angeles, CA 90272
Boise Greenbelt – Idaho
The Boise Greenbelt is a beautiful 25 mile, mostly path path which runs along the Boise River. The path is flat, which makes it easy to complete the entire trail. Park access is available at many different points during your ride. Highlights along this path include: Boise Zoo, Boise State University, and Ann Morrison Park.
Beautiful scenery awaits you at every turn. If you head out in the morning you might even catch a glimpse of various wildlife, including deer. Julia Davis Park is a great spot for a break. You could also bike over to the downtown area for a bite to eat. Boise has a nice walkable downtown with plenty of dining and shopping destinations. Don't miss out on this beautiful recreational trail on your next visit to Boise!
Starting Point: 700 S Capitol Blvd Boise City, ID 83706
Virginia Beach Boardwalk Bike Path – Virginia Beach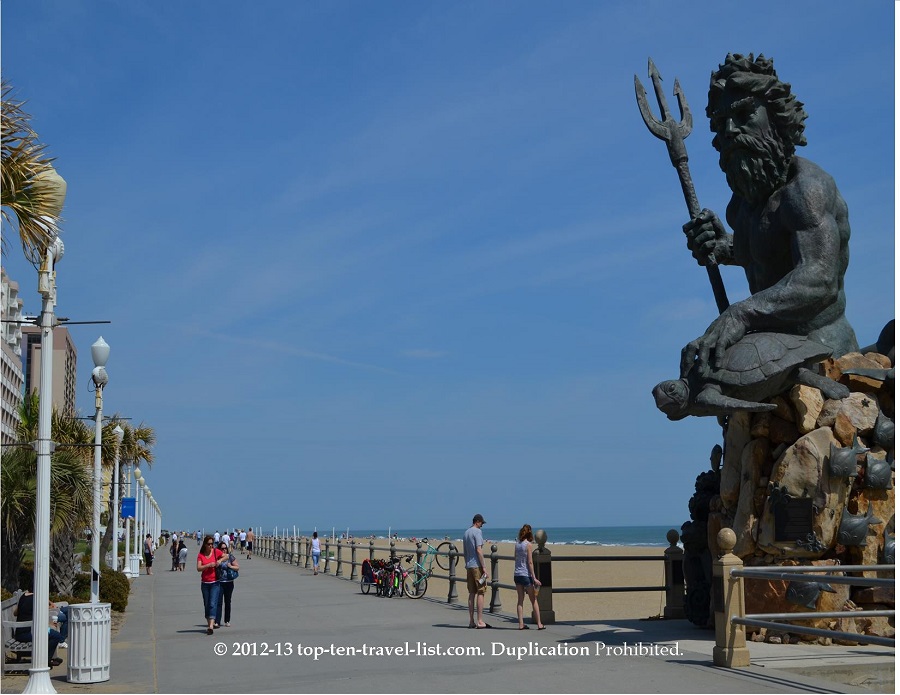 Although only 3 miles long, the Virginia Beach Bike Path is an absolute must do when vacationing to the area. Not only do you get to take in gorgeous views of the ocean, you also get to stroll past the restaurants, hotels, shops, and entertainment located along the boardwalk. This is also home to the Neptune Statue, a 34 foot bronze sculpture, which serves as a great photo spot. There are always events going on especially during the summer months.
The best part of this path is the designated bike trail; you do not have to worry about zigzagging through walkers and skateboarders with this separate trail. This path is the cleanest I have ever seen, and as an added bonus it is lit up at night, which makes the area feel safer at night.
This fun, scenic path is enjoyable for everyone. It is very flat and only 3 miles,which makes it accessible for everyone. There are plenty of options for waterfront dining along the way or after your ride. Virginia Beach is a beautiful area with plenty of attractions, entertainment, and recreation including this spectacular bike path!
Starting Point: Atlantic Ave Virginia Beach, VA 23451
East Bay Bike Path – Rhode Island
I love the East Bay Bike Path in Rhode Island. This is by far the best path I have done so far in the New England area. The 14.5 mile path stretches from Bristol to East Providence. Along the flat, paved path, you get to take in gorgeous views of forests, ponds, a lighthouse, Narragansett Bay, the Providence River, and even the Providence skyline.
The path is shaded and easy to ride because the majority of the terrain is flat. There are 2 large hills near East Providence, however, the rest of the path is very smooth. This path is very desolate most of the time, so you will have no trouble with people on your back. If you are looking for a fun way to explore Rhode Island, complete with gorgeous views, historical attractions, and a great workout, then the East Bay Bike Path is definitely the way to go!
Starting Point: Independence Park – Thames St. Bristol, RI 02809
Huntington Beach Bicycle Trail  – California
The Huntington Beach Bike Path is truly one of the best ways to explore one of the best towns in Orange County. Although there is no designated bike path, the trail is very wide and accommodates runners, walkers, and skateboarders along with bikers. Although this path is only 8 miles, it can be difficult on windy days.
The ocean views along the path are amazing and never ending. It's a great time to watch the surfers, volleyball games, and people watch. After the ride, its always fun to walk along the beach or pier and stop at one of the waterfront restaurants.
Starting Point: Pacific Coast Hwy and Warner Ave Huntington Beach, CA 92649