Best Western Plus Oceanfront in Virginia Beach: An Affordable Getaway on the Atlantic
Best Western Plus Oceanfront (Update: Now Sandcastle Resort) was a perfect choice for our Virginia Beach vacation. It is located right on the boardwalk, and thus, offers fabulous views of the Atlantic Ocean. All rooms in the main building come with individual balconies. Just make sure to book an oceanfront room as the second building is located behind the main with no views! Rates vary by season, with spring rates being much lower. Our room was only $100 – not bad for an oceanfront view!
Gorgeous Views!
There are 8 floors – we had the choice between an upper and lower floor. We went with an upper floor to take in the full views. The views from the 8th floor balcony were stunning! I recommend an upper floor, if available, especially during the summer months as the vibe gets more crowded and noisy.
Direct Access to the Boardwalk
I really liked the fact that we were able to step right outside the door of this hotel and enjoy the boardwalk. It was so convenient! We just grabbed our bikes off the car and hopped right on the bike path. If you haven't ever been to Virginia Beach, the boardwalk is one of the cleanest I have seen. The total distance is 3 miles – so perfect for some light vacation cycling and walking. It also feels extremely safe, even at night.
Best Western Amenities
The hotel itself is pretty basic – nothing too fancy. The lobby is really small. The rooms are a bit small and outdated, but the views more than make up for the lack of fancy decor. There is an indoor pool and fitness center which faces the ocean. We didn't take advantage of the fitness center as we were too busy exercising and exploring outside, but it did look nicer than average. An outdoor pool and hot tub is available at the non-oceanfront building (just a short walk outside). There is a great restaurant on site called Shoreline Grill – great comfort food, affordable prices, and nice views of the water! A seasonal ice cream shop is located on the bottom floor.
Update 2023: Currently, there are 2 restaurants at this resort. Ocean's Ole (a modern Mexican restaurant) and Oceans 14 (a bar which features live entertainment).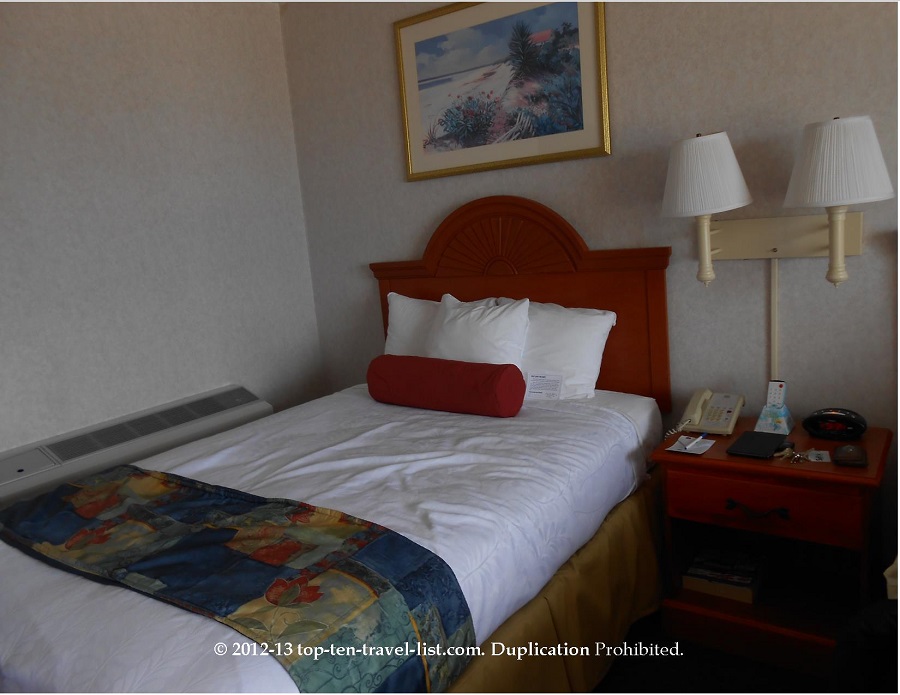 A free breakfast buffet is included each morning in the Shoreline Grill. This breakfast was a lot better than other hotel continentals. There were several hot options available as well as the typical baked goods, which was a pleasant surprise.
I recommend the Best Western Plus Oceanfront if you are looking for a beach experience without blowing your budget. Room rates are affordable and you still get access to the boardwalk and awesome views via your private balcony. The Best Western Plus Oceanfront is a great addition to your Virginia Beach vacation!
Hotel Details
Best Western Plus Oceanfront
2809 Atlantic Avenue
Virginia Beach, Virginia, 23451