A Winter Walk Through Great Neck Wildlife Sanctuary
This weekend, Mike and I decided to brave the cold for a short, brisk hike at Great Neck Wildlife Refuge in Wareham, Massachusetts. The decision to wear hiking boots as opposed to gym shoes came in handy as there was still a bit of leftover snow on the trails. This sanctuary was very peaceful and quiet. We only saw one other person on the trails, although the cold weather could have impacted the crowds.
We came across a fallen tree along the way. Check out that giant trunk!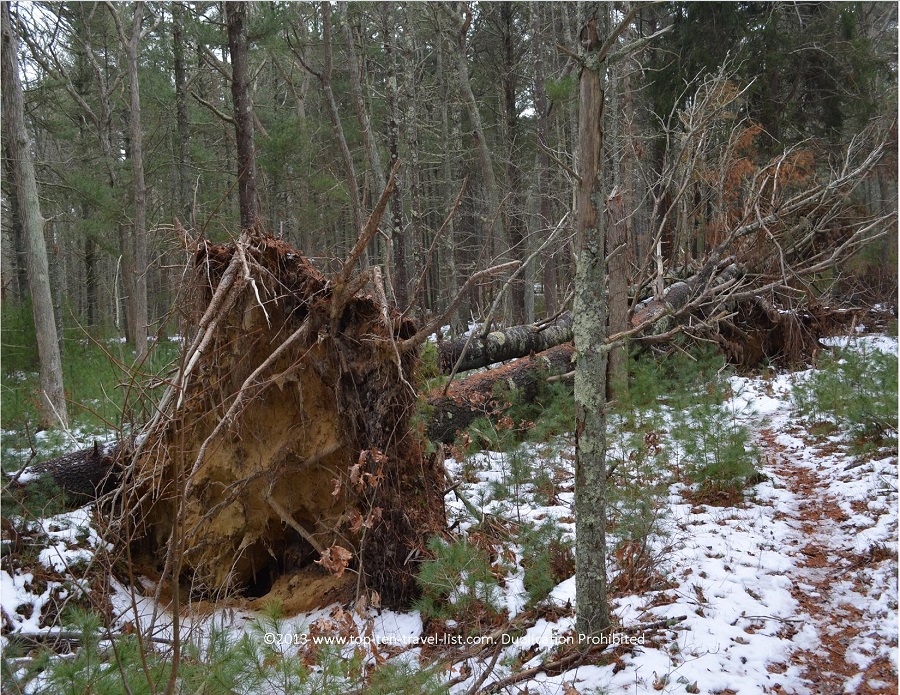 Great Neck has been designated a wildlife habitat for rare species such as great horned owls and wading herons. Unfortunately, we did not encounter any wildlife on this outing. We did however enjoy the beautiful trail and overlook views.
Peaceful Hiking
There are 4 miles of hiking trails available within the refuge. The Heron Point Loop is much more scenic than the Huckleberry Loop if you are limited on time and need to choose one. The walk through the pine forests is beautiful. Walking amongst the young pine trees pictured below was a unique experience.
The highlight of the hike comes at Osprey Overlook. Here, you are treated to fantastic view of the Cape Cod Canal and marsh.
Even though it was a cold day, we enjoyed the peaceful walk through nature, took a few great photos, and got in a little workout. Great Neck is a great side trip on any Plymouth or Cape Cod vacation as it is located just a short drive in either direction.
Great Neck Wildlife Refuge trail map
Location: Great Neck is located on Stockton Shortcut Road in Wareham, Massachusetts. Trails are open from dawn to dusk and admission is always free. Parking is also free.
Visit Mass Audubon for a listing of other wildlife sanctuaries in Massachusetts.