10 Must-Do's in L.A.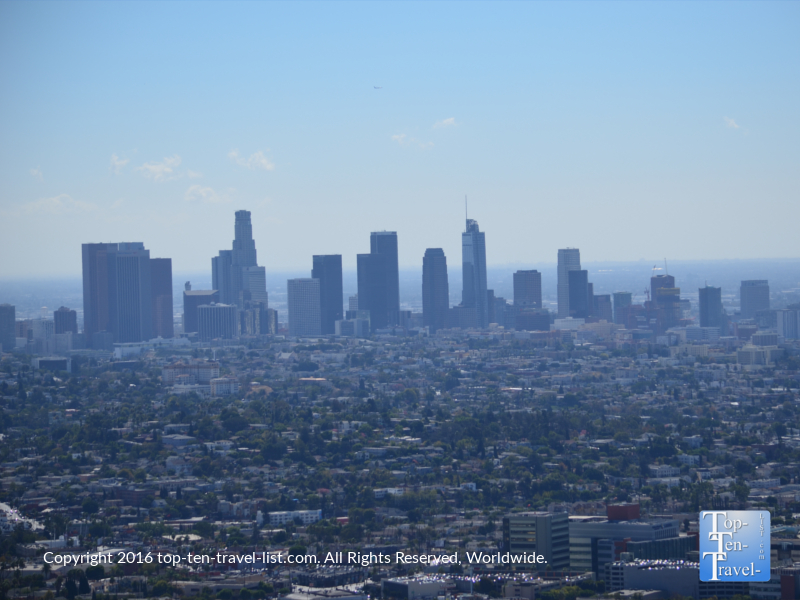 Home to world class beaches, top notch museums, endless recreational opportunities, and of course, Hollywood, L.A. is a destination like no other in the country. Hence, it's no surprise that such a diverse assortment of tourists from around the world flock to the area year after year. Whether you are a movie buff, a beach bum, a hiker, or a history buff, you can find basically anything and everything to do in the Los Angeles area.
It's one of my favorite vacation destinations and one of the most exciting places I've ever had the opportunity to reside in. With so much to see and do in the city, as well as throughout the surrounding beach communities, it can be quite an overwhelming experience planning a fantastic L.A. vacation. Although there is a never ending supply of year-round fun in the sun to be had, some attractions are simply can't miss for first time visitors. Below, I've rounded up my list of my top 10 must-do's in L.A.
1. The Marvin Braude Bicycle Path
Taking a leisurely bike ride along the Marvin Braude Bicycle Path, aka The Strand, is the must-do in L.A. It's basically everything you dreamed LA would be – beautiful never ending views of the Pacific, lively beach towns, surfers and volleyball players galore, endless sunshine and the fresh never ending salty scent of the ocean. All of this beauty lingers on for 22 miles, making for a 44 mile RT trek. Along the way, you pass L.A.'s most iconic beach towns, including Torrance, Redondo, Heromosa, Manhattan, Venice, Santa Monica, and Will Rogers. Unlike some paths which are only scenic in certain portions, this path is absolutely incredible for the entire 20+miles.
The RT 40+ mile distance may seem a bit daunting, although it is completely flat and there are so many landmarks, restaurants, shops, and attractions to explore along the way that it feels more like entertainment rather than a workout. Alternatively, you can just complete one section of the trail (the Santa Monica to Venice section is pretty nice).
Major landmarks along the way include the Santa Monica Pier, the Venice Beach boardwalk, Will Rogers Beach (Baywatch filming location), and the historic Manhattan Beach Pier. One of the main advantages of riding along this trail as opposed to visiting each beach separately (besides getting in a great workout in a beautiful setting) is avoiding the horrendous L.A. traffic (which seems to get worse every year!) as well as pricey parking fees. Not a biker? No problem! Grab your roller skates, jogging shoes, walking shoes, or even a skateboard and enjoy unending views of spectacular Southern California beach landscapes.
Perfect weather most of the year, fabulous views of the Pacific and Santa Monica mountains, and an overall fun & laid-back beachy vibe make this trail unmatched anywhere else. You will never enjoy a path so lively, beautiful, and diverse all at the same time – so take advantage while you are here!
Additional info on the Marvin Braude Bike Path
2. Hiking in the Santa Monica Mountains
One thing you definitely shouldn't leave Los Angeles without doing is taking some time out to explore the gorgeous natural landscapes surrounding the city. Sure, you can take in the gorgeous views while driving the Pacific Coast Highway, however, nothing quite compares to hiking a magnificent trail within the Santa Monica mountains. With all the theme parks, glitz and glamour of Hollywood movie based attractions, and cultural destinations, most tourists come and go without exploring the natural side of L.A. It's no wonder most associate Los Angeles with being dirty, congested, and ugly. Just take some time out to explore a trail or 2 away from the city and you may just appreciate this beautiful area more 😉
The Santa Monica Mountains recreational area is a massive space home to over 500 miles of trails. Scenery ranges from coastal views to waterfalls. And the weather's perfect year-round, so you can check out a trail no matter when you visit. The best part of all is that the majority of the trails are less than a half hour from the city, so you do not need to travel far out to feel like you are leaving the urban jungle.
The Los Leones trail in Topanga State Park is one of my favorites for several reasons. First off, it's just a ten minute drive from the city, yet feels miles and miles away due to the rugged nature and lack of crowds. Second, it's short & easy enough (just a gradual uphill climb) to do anytime of the year, even on those super hot sunny summer days. Third, there are fabulous coastal and skyline views, especially considering the little effort required. The first scenic overlook is just 1.5 miles, or you can continue on another 2 for an even better view of the Pacific. No matter your fitness level, you'll enjoy some terrific views & a refreshing workout on this one.
As the largest urban park in the world, the hiking options within the Santa Monica mountains are endless. Now, if only more locals and tourists would take some time out to enjoy L.A.'s more rugged side!
More info on the Los Leones trail
3. Stargazing at the Griffith Observatory
The Griffith Observatory is another must-do on your trip to L.A. This is one popular place with tourists, and thus, parking can be a real hassle especially on weekends. Regardless of the congestion, a visit to the Griffith is a must as you will find the best views of the Hollywood sign and the most amazing views of the city here. The observatory is built atop Mount Hollywood at 1135 feet and offers some tremendous views of the city, both day and night. With low light pollution, mostly clear skies, and easy access, the Griffith is your best bet for stargazing in the L.A. area.
Plus, there's so more to do than simple taking in the night skies including planetarium shows, monthly stargazing parties, public telescope viewing, and interesting exhibits. It's the perfect date night activity, being that the setting is so romantic. Fortunately Colonel Griffith J. Griffith donated the observatory and surrounding land to the city, making it free to all!
On an interesting side note for the movie buffs out there, the majority of those beautiful romantic L.A. night shots you see in the movies are usually shot at Griffith Park. La La Land (Ryan and Emma's tap dancing scene took place at Cathy's Corner), Jurassic Park (the visitor's center was filmed inside the Griffith), and Yes Man (Zooey's photo/jogging tour took place on the trails in Griffith Park).
More info on the Griffith Observatory
4. Manhattan Beach
Manhattan Beach is one of L.A.'s best beach towns. First of all, it is home to the historic 928 foot long Pier, built in 1920.  The pier is a picture-perfect spot for watching surfers and taking in a gorgeous LA sunset. Other interesting sights include a Volleyball Walk of Fame (the city is home to the AVP Manhattan Beach open volleyball tournament -Olympian Kerri Walsh Jennings is the record holder with 7 wins). Second, the beach provides easy access to the gorgeous Strand path. This section of The Strand is particularly quiet and scenic. And third, the beach is massive, so it never feels overcrowded. Most tourists head straight to Santa Monica or Venice, so Manhattan is able to maintain a more peaceful laid-back ambiance.
The sand is so smooth, you just want to throw off your flip flops and dig your toes in as soon as you arrive. The sand is so smooth that in the 1920's and 1930's it was imported to Hawaii's Waikiki Beach!
And, if you feel like getting a bit more active, there's always a volleyball game going on and the perfect wave to catch. Or take a ride or stroll along the Strand (Manhattan offers a really nice walking/jogging path adjacent to the bike path). Manhattan Beach is just a great way to spend a peaceful afternoon in LA. – basically the classic Southern beach you are picturing when thinking of L.A. with surfers, volleyball players, and of course, beautiful views. When I hear the Mamas and the Papas "California Dreamin"" I automatically picture lazy summer days at Manhattan. Nearby downtown Manhattan Beach offers plenty of dining options to enjoy post beach.
5. Shoreline Village & the Long Beach waterfront
Although Long Beach offers tons of amenities and is located just about a half hour's drive from L.A., it's often overlooked in favor of more popular beach towns. This is a shame as the Shoreline Village section of Long Beach is not only gorgeous, but loaded with all sorts of waterfront restaurants, unique shops, and fun attractions. There is something going on any given day of the week, so it's the perfect year-round destination. One of the highlights here is a gorgeous easy 3 mile multi purpose path that runs adjacent to the beach. This super flat, fast path is perfect for bike riding or jogging. Because it's super easy and short, it's always been one of my favorite trails for a quick workout.
The charming Shoreline Village area includes colorful New England style boardwalk shops, great views of the harbor including the massive Queen Mary, and a beautiful lighthouse which is a hotspot for taking in magnificent views of the city lights at night. A narrated harbor cruise or romantic dinner cruise give you even more opportunities for outdoor fun. Also here is the highly regarded Aquarium of the Pacific. Take a haunted tour aboard the Queen Mary, rated by Time as one of the "10 most haunted places in America." Or relax & feast at the grand Champagne Sunday Brunch.
Overall, Shoreline is a definite must add to your L.A. vacation itinerary due to a winning combination of fabulous views, great waterfront dining, and fun touristy outdoor based attractions – because really there is no reason to be inside when the weather is this beautiful!
More info on Shoreline Village
6. Runyon Canyon
Runyon Canyon is a natural gem located just blocks away from all the touristy attractions in Hollywood. Unfortunately, if you are looking to escape the crowds, you will definitely not find much peace and quiet at Runyon as it is packed most of the time (try to visit early on a weekday!). However, you will be treated to some amazing views of the Hollywood sign, the L.A. skyline, the Griffith, and the beautiful surrounding Santa Monica mountains. As an added bonus, it's one of the top dog friendly LA hiking areas (3 unleashed dogs per owner).
While Rodeo Drive and Beverly Hills are assumed to be celeb hotspots, one is more likely to see a star hiking Runyon Canyon. I guess this is not at all surprising as they need to be in tip top shape all the time and the challenging Runyon trail involves a very steep climb. In fact, I find the hill fantastic for 5k hill training! This hike is a bit challenging, however, the views make it well worth the effort. Looking to take it easy? Opt for a free yoga session – nothing really beats a little relaxing meditation in a gorgeous natural area!
7. Grauman's Chinese Theater & The Walk of Fame
The Walk of Fame is one of those L.A. things you just have to do once. Although one time walking through the crowds and congestion is definitely enough for me! More than 2600 stars line 15 blocks of Hollywood Blvd at one of L.A.'s most iconic attractions. You'll find such a diverse selection of stars here, from classic film stars like Judy Garland, to modern heartthrobs like Ryan Reynolds. It's pretty interesting to stroll around and see who has a star and who doesn't – just be sure to plan your visit early on a weekday to avoid crowds or you will not be seeing much at all!
Other attractions in the area include the Hollywood Wax Museum, Hard Rock Cafe, the Hollywood & Highland shopping center, the El Capitan Theater (a historic theater which screens everything Disney, both new & old), and various tours.
Grauman's Chinese Theater is a bit more interesting as you can check out the hand & footprints and signatures of stars both past and present. You will have a blast attempting to match your hand and foot print to your favorite stars. Graumans opened in 1927 and was the first commercial theater with air conditioning. Be on the lookout for special star ceremonies where you will be able to see your favorite celeb live in person.
More info on the Hollywood Walk of Fame & Grauman's
8. Hiking to the Hollywood sign
Avoid the crowds at the Griffith Observatory overlooks and instead opt to hike one of the on-site trails, which will take you as up close and personal to the sign as you could possibly get. The trails at Griffith Park are absolutely gorgeous, giving you the unique opportunity to take some cool photos which make it appear as if you are standing right beneath the famous sign. Griffith J. Griffiths donated land surrounding the Griffith wanting the observatory to be a place that all could use for free, leading us with the beautiful trails we have today.
There are a number of trails here which offer up close views of the sign, and if you are up for a challenge, several involve a moderate climb which will lead you right behind the massive letters. There are more than 50 miles of trails to explore within Griffith Park, which happens to be one of the largest urban parks in the US. Check out the Griffith trail map to plan your adventure! Did you know that Hollywood was originally called Hollywoodland? Find out the full story and more fun facts about the iconic sign – Hollywood sign history.
9. The Grove & the Original Farmer's Market
The Grove is a fun & beautifully landscaped outdoor shopping area adjacent to the Original Farmer's Market, a historic L.A. gathering area since 1934. What started out as a simple produce market at 3rd and Fairfax has now become a place to sample international cuisine. The Grove is a beautiful area to stroll around, loaded with lush landscaping and relaxing fountains, basically the perfect place to kick back and enjoy the mild Southern California sunshine after a long hike or day at the beach.
In addition to the regular shops, there is plenty of entertainment to be found here including a large theater, several restaurants with nice outdoor patios, and a free trolley which travels between the market and the mall. Be on the lookout for special events throughout the year, particularly the fantastic Christmas festival which includes the lighting of one of the country's biggest Christmas trees, a celeb studded opening ceremony, and nightly snowfall!
10. The Santa Monica Pier
One of the most recognizable sights in L.A. is the iconic Santa Monica Pier. Really, you cannot visit Los Angeles without checking it out at least once. Sure, it isn't the most peaceful beach with the softest sand, however, it's a lively place with tons to do, fun people watching opportunities, and lots of events year-round. The views here are pretty fantastic too with the stunning Santa Monica mountains comprising the background. The pier's rollercoaster is an absolute blast, not to mention one of the most scenic rides you'll ever take as you twist, turn, and drop all while gazing unto the Pacific.
Oh, and be sure to get your pictures next to the official end of Rt 66 sign! As the pier marks the end of the historic Mother Road, you'll find lots of memorabilia and a cool photo opp. And be sure to catch a ride on The Strand as the Santa Monica/Venice portion is one of the liveliest and best portions of the trail for people watching!