Pumpkin in the Pines: Beautiful Views & Fall Fun in Flagstaff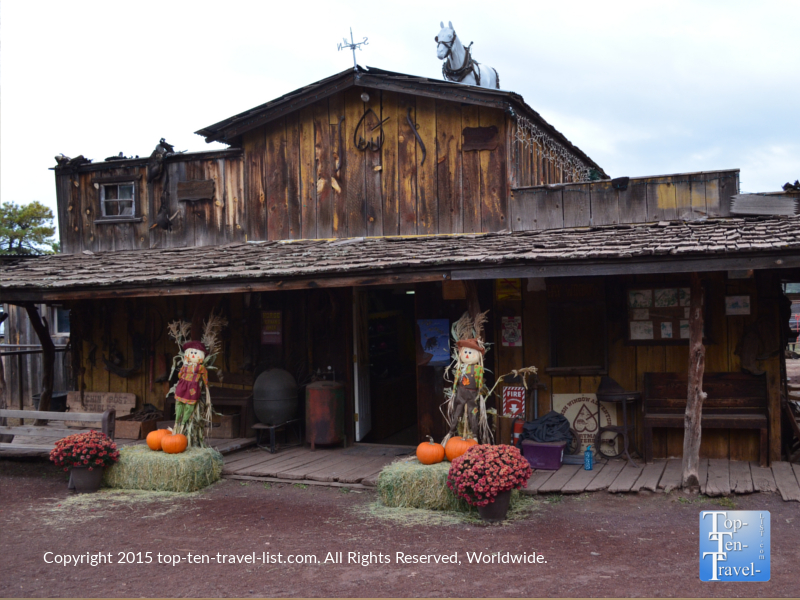 Pumpkin in the Pines is an annual fall/Halloween event put on each year by Hitchin' Post Stables, a horse back riding company located out in the country on Lake Mary Road in Flagstaff. The summer months are a great time to book a guided trail ride through the beautiful Cococino County Forest. The area does not allow motorized vehicles, so you can enjoy a peaceful ride through the wilderness.
Each year a seasonal Pumpkin in the Pines event gives visitors and locals a chance to escape the city congestion and enjoy some rural fun. Horse drawn hay rides, a pumpkin patch, a mini corn maze, and a petting zoo are included in the admission price.
In a town like Flagstaff, that unfortunately offers very few fall and Halloween themed events, Pumpkin in the Pines comes as a nice surprise. The hayride is relaxing (although a bit overpriced) and gives you the opportunity to take in uninterrupted views of the pretty ponderosa pine forests while enjoying the fresh country air.
After your hayride, you can take a stroll around the pumpkin patch and corn maze. Pony rides are also available for a small extra fee. On weekends, a small food menu is available.
The pumpkin patch is probably the best in the area as it feels like a true pick your own patch. This is much more fun that simply purchasing pumpkins at the grocery store or buying those from a pre picked pumpkin patch like those found around the noisy downtown area. The pumpkins are appropriately priced ($1 for a small, $5 for a medium, and $10 for a large). Getting out in the fresh mountain area and picking out your own unique holiday pumpkins is always a fun experience.
The corn maze is very small, suitable for small children. A larger option for adults too would have been nice. A few more activities for the price you pay would have made the event a better value.
The overall decor was appealing with many seasonal displays such as scarecrows, wagons, and other fall decorations. As I have not noticed many decorations anywhere around town, this was a pleasant surprise.
Pumpkins in the Pines runs throughout the month of October. I recommend stopping by for a visit if you find yourself traveling through Flagstaff around this time of year. Southern Arizona residents will especially appreciate the woodsy scenery, especially when combined with cool fall temperatures. Although the hayride is overpriced (you can experience the same views or better on any area hike), it is an option for those looking for a more relaxing experience, in addition to anyone simply seeking a fun seasonal activity.
Directions & Pricing
Hitchin Post Stables is located at: 4848 Lake Mary Rd, Flagstaff, AZ 86001
Hours are: 8am-6pm
Pricing is as follows: M-F: $12, Sat: $16, Sun: $14, Kids Ages 2 and under free.