Boston's is a fun casual restaurant chain which originally started in Canada, and is now starting to expand throughout the US. This Boston's location in Tinley Park is nice because it is in an uncrowded strip mall. It is a clean newer building.

All Boston's locations seem to offer different daily specials. This particular location had 10 different lunch deals priced at $6.99.
Food
Boston serves your typical pub style food. If you are looking to ditch your healthy diet for a night of fun snacks, then Boston is the place to go!

We had the choice between 10 different lunch options. I ordered shrimp diablo pasta and Mike ordered a turkey burger. Both our entrees were great especially for the discounted price. We also ordered the Boston nachos: if you haven't tried them before, then you are in for a real treat as they are one of the best appetizers around!
Service
The waitress was quick and the food came out fast, which was great because we were in a hurry.
Atmosphere
We sat in the bar area. I enjoyed looking at the Chicago sports team memorabilia along the walls. It was nice that the decor was customized to the area. They also have an outdoor patio, which looks like it would be nice in the summer months.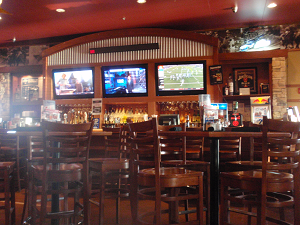 Final Remarks
Friendly service, cleanliness, and decent food would bring me back to this Boston's location.