Higher Grounds Coffee House is one of the numerous coffee shops found along Beaver Street in downtown Flagstaff. It can be hard to choose where to get your morning fix with so many options in a little town.



Although not as trendy as some of the other options in the area, Higher Grounds offers a more relaxed vibe, friendlier service, and a cozy uncrowded space.
Food
The espresso drinks were a bit weak the first time around. I recommend adding an extra Espresso shot to get the full flavor as they do not use quite the right ratio of espresso beans to water. Making this small adjustment, the small Americano with 2 shots of espresso was perfect!



Higher Grounds uses organic coffee which is always a bonus due to the high amount of pesticides found in non organic beans. Most coffee shops don't use organic, so this is definitely a big plus. Food includes a few light pastry items like muffins and rice krispie treats.
Service
Service is friendlier and faster than other coffee shops in Flagstaff. Employees seem genuinely friendly and happy as opposed to being inconvenienced by your arrival.
Atmosphere
The interior of Higher Grounds features a more rustic setting than the other coffee shops in town, which in my opinion, serves the area much better being that Flagstaff is a mountain town.



It never gets too crowded in here, therefore making it a better place to chill out with friends, read a book, or even get some work done. The music is not overpowering and guests are usually pretty quiet. There are several cozy couches if you really want to kick back.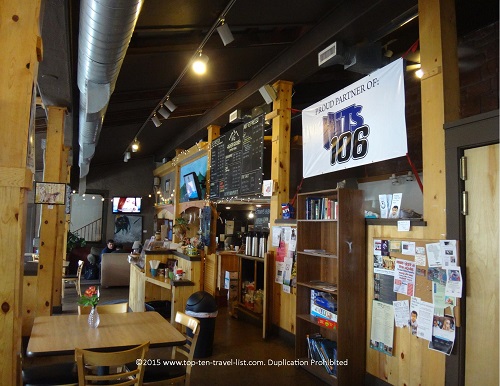 Final Remarks
Higher Grounds is the perfect coffeehouse choice for those looking to avoid the trendy modern atmosphere in favor of a more relaxing coffeehouse experience. If you are seeking a quiet place to sip your drink without hefty crowds and loud music, along with a more cozy mountain setting, than Higher Grounds is the perfect choice for you.