Vacation Spotlight: Orlando, Florida
With over 70 million visitors per year, Orlando claims a spot as one of the top tourist destinations in the country. According to Visit Orlando, in 2017, Orlando became the first tourist destination to surpass 70 million tourists. Warm weather, theme parks, water parks, and fun filled resort hotels draw people from all over the world each year. Home to Walt Disney World, the best theme park in the world, Orlando is the perfect family vacation destination.
The fun doesn't stop at Disney! There are plenty of other fun amusement parks and attractions such as Sea World, Universal Studios, and 2 of the top water parks in the world. Add in fun themed restaurants, wonderful shows, shopping, recreation, and you find yourself surrounded with endless exciting opportunities. Whether you are 7 or 77, you are bound to have a fabulous time. You are never too old to visit Disney – I didn't myself until my upper 20's!
Top theme parks in Orlando
Below, I have highlighted the best theme parks in the Orlando area. Walt Disney World includes 4 parks: Magic Kingdom, Epcot, Animal Kingdom, and Hollywood Studios. Many people are unaware that Universal Studios is a separate park. Although Universal Studios/Islands of Adventure are located in the same area as Disney, they are actually owned by NBC Universal. Regardless, both parks are a must on any visit to Orlando. While different, both parks offer a once in a lifetime experience that can't be duplicated anywhere else in the world.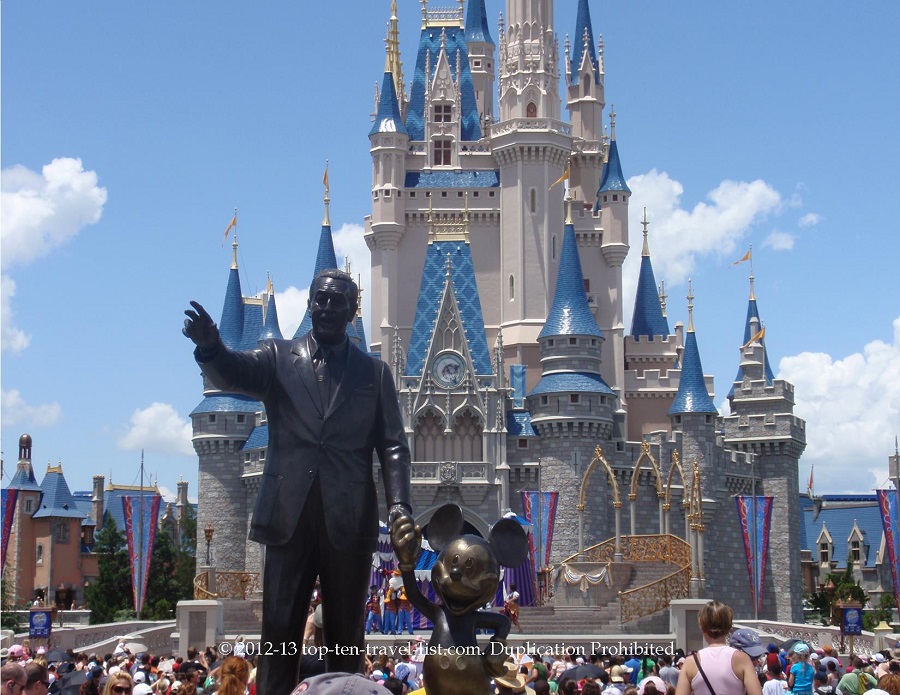 Hollywood Studios – My favorite Disney park is Hollywood Studios, which has a fantastic selection of thrill rides and exciting live shows. Tower of Terror and Aerosmith's Rock N'Roller coaster are 2 of the best rides in all of the Disney parks. The newest park addition: Star Wars: Galaxy's Edge is sure to please fans. I recommend at least 2 days here to experience everything in the park. One day was just not enough time!
Magic Kingdom – You can't visit Disney without at least 2 visits to the Magic Kingdom. All of your favorite Disney classics are transformed into fun rides for the whole family. Highlights include: Pirates of the Caribbean, The Haunted Mansion, It's A Small World, Peter Pan, Thunder Mountain, and Monster Inc. Laugh floor. However, the real magic arrives nightly at the fabulous firework show and parade featuring all your beloved Disney characters.
Epcot – Epcot is like taking a trip around the world, minus the expensive airline tickets. The famous World Showcase features 11 pavilions, each representing a different country. In terms of rides, Soarin' and Spaceship Earth are both very interesting. What separates Epcot apart from the other theme parks is the combination of education and fun found in every ride and attraction.
Animal Kingdom – The highlight of this Disney park is an entertaining safari ride. Expedition Everest, a unique roller coaster features fantastic animatronics, a great twist, and fantastic views of the park. Kail River Rapids is another must – the perfect thrilling family raft ride to enjoy on those hot, humid summer days.
Universal Studios/Islands of Adventure – Universal Studios is almost as fun as Disney. The variety of movie themed, interactive, thrill, and water rides lead to hours and hours of fun. Although you could attempt to squeeze in all your fun in a day, I would recommend purchasing the 2 day pass. Islands of Adventure has so many fantastic rides, however, you will be limited on time as the lines are long (make sure to purchase a fast pass). Do yourself a favor and plan for at least one day at Universal Studios and one at Islands of Adventure. The Wizarding World of Harry Potter alone warrants a one day visit.
Best theme park rides
1. Tower of Terror (Hollywood Studios)
2. The Simpsons Ride (Universal Studios)
3. Dudley Do Right's Ripsaw Falls (Islands of Adventure)
4. The Mummy Roller Coaster (Universal Studios)
5. Aerosmith Rock N' Roller Coaster – Hollywood Studios
6. The Great Movie Ride (Hollywood Studios)
Update: This great ride closed in 2017.
7. The Incredible Hulk Coaster (Islands of Adventure)
8. Expedition Everest (Animal Kingdom)
9. Jurassic Park River Adventure (Islands of Adventure)
10. Pirates of the Caribbean (Magic Kingdom)
*While all the rides mentioned above are fantastic, I have visited Universal, Islands, and Disney many times since first writing this post. I still highly recommend all the above rides, although you will want to check out my updated Best rides in Orlando, Favorite Disney rides and attractions, and Best rides at Universal posts. The Hulk, Pirates, and Expedition Everest are still the best-of-the-best!
Best shows & entertainment
1. Wishes Nighttime Spectacular Fireworks Show (Magic Kingdom)
2. Lights, Motor, Action! Extreme Stunt Show (Hollywood Studios)
Update: This fabulous show closed in 2016 to make room for the new Star Wars attraction.
3. The American Idol Experience (Hollywood Studios)
Update: Sadly, American Idol Live also eventually ended. As a fan who grew up watching this show, I was highly dissapointed!
4. Mickey's PhilharMagic 3D show (Magic Kingdom)

5. Main Street Electrical Parade (Magic Kingdom)
6. Animal Kingdom safari (Animal Kingdom)
7. The Hall of Presidents (Magic Kingdom)

8. Monsters Inc. Laugh Floor (Magic Kingdom)

9. Spaceship Earth (Epcot)

10. Citizens of Main Street (Magic Kingdom)
Sadly, many great shows have been cancelled over the years. As of 2022, I would add the amazing Horror Make Up Show and The Blues Brothers Show to the list. Both these lively interactive shows are found at Universal.
The best show of all is perhaps Mickey's Not So Scary Halloween event. While this special event requires an advance ticket, you will enjoy many amenities including after hours admission to the park, Halloween themed treats, shows, fireworks, and even rides, as well as trick or treat stations. This is by far the absolute best time to visit the Magic Kingdom. If you are at all a fan of Halloween, definitely put this one on your bucket list.
Best lodging option – Windsor Hills Resort Condo Rental
Skip all the pricey resorts and come home to a quiet condo rental. If you are like us, you will be spending all day at the parks and will not have much use for the extras at the Disney resorts. Windsor Resorts offers affordable rentals with plenty of useful amenities. The 3 bedroom condo rentals include a full size kitchen, washer and dryer, king sized beds in the master bathroom, free Wi-Fi, and free Netflix movies.
In addition, you will have access to plenty of outdoor recreation, including: a pool with water slide, a hot tub, tennis and basketball courts, and a sand volleyball court. You will only be a 5 minute drive from the Disney parks and 15-20 minutes from Universal and Sea World. Rates start at just $100-135, based on time of year and holiday season. No matter what month you decide to visit, you will be getting a fantastic deal over other Orlando hotels and resorts!
I really enjoyed my stay at Windsor Hills. I will definitely book with them again for any future Orlando vacation. For more information, visit the Windsor Hills Condo Rentals website.
Disney resorts
Disney is home to over 20 spectacular resorts, each with their own unique theme. If you have the funds to splurge, do so! While super pricey, these luxurious resorts offer a number of amenities including complimentary transportation to the parks, amazing on-site restaurants, fabulous pools, complimentary merchandise delivery from the parks to your hotel, incredible decor, and over-the-top holiday decor. The best include: Animal Kingdom Lodge, Wilderness Lodge, and the Grand Floridian.
Best theme restaurant – Hard Rock Cafe
Hard Rock Cafe is my favorite US themed restaurant. I love the music, memorabilia, and touristy atmosphere. Hard Rock Orlando is situated amidst numerous bars, clubs, restaurants, and shops in Universal's entertainment hub, CityWalk. This cafe is one of the biggest and most exciting. It is a great choice for families due to the eclectic menu, which includes everything from salads to burgers to pasta. I highly recommend the Twisted Mac and Cheese. Dining at Hard Rock will enable you to keep the fun going long after your day out at Universal Studios! View the Hard Rock Orlando Menu.
More great themed dining experiences in Orlando
Saving money on your Orlando vacation
Take a look at my handy chart below filled with some helpful tips on how you can save on your next Disney trip. Also be sure to check out my Saving Money on Your Walt Disney World Vacation post for additional tips and tricks.
Visit the Walt Disney World website for ticketing information and hours of operation for each park. Visit the Universal Studios website for ticketing information and hours of operation.