Founders Inn and Spa – Virginia Beach, Virginia
The Founders Inn and Spa is a 3 and a half star resort and spa located in Virginia Beach, Virginia. Founders Inn is the perfect choice for those seeking a relaxing getaway. This resort offers fantastic rates and packages, especially during the off seasons.
We booked 3 nights for $150 under a buy 2 nights get 1 free special. Even though the resort is located in Virginia Beach, it is not within close proximity to the boardwalk or beaches (about 20 minutes away). However, it is the perfect choice for those seeking a quiet escape far away from the beach traffic and congestion.
The gorgeous gardens
The highlight of this resort is the beautifully landscaped gardens. Located adjacent to Regent University, the grounds feature scenic manicured English gardens. There is a small lake and jogging trail, tennis courts, and a seasonal pool. The grounds are lit up at night, allowing for a romantic night stroll around the lake. I thought the setting was a bit strange being located on a University and the resort does somewhat resemble a college campus. However, the serenity and beautiful gardens are definitely a bonus for the nature lover.
Dining Options
There are 2 restaurants on site – Swan Terrace and The Hunt Club. Swan Terrace features outdoor dining on their patio. Swan Terrace offers a breakfast and lunch buffet. We tried out the breakfast buffet twice. The dining room is situated in an elegant setting and the servers are very professional, although we felt that the breakfast buffet was a bit overpriced at $14 per person. The Hunt Club features American dishes and seafood. This restaurant was decent, although extremely pricey.
Hotel Rooms & Amenities
The rooms were much more basic than I was anticipating. After walking into the elegant lobby, I was expecting more. For one, I thought that the rooms would have a balcony overlooking the grounds. The decor is pretty simple and there weren't many room amenities besides a basic coffee maker, fridge, and flat screen TV. The pool and hot tub area could also be improved (decor was dull and hot tub was very small).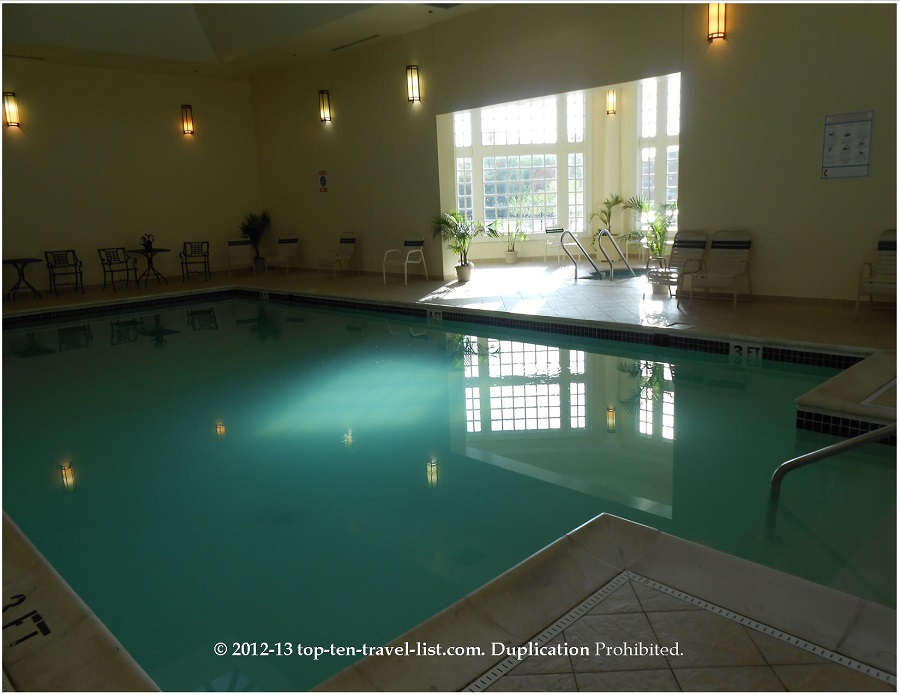 Flowering Almond Spa
The biggest downside to this resort was the Flowering Almond Spa. I expected the amenities to be much nicer for a spa resort. Also, when we got to the resort they did not have any availability for spa appointments until the day we checked out. It was a bit of an inconvenience and took away from our vacation experience to have to wait to the last day for spa treatments.
I ordered a 3 hour half day spa package – but unfortunately my treatment only lasted 2 hours and 20 minutes. Also, my manicure was messed up as result of a new employee. After talking to the friendly spa manager, I was comped for the manicure and was offered a gift card to come back. Nice staff, but they should really make sure that they have experienced staff working at a resort!
Overall, our experience at this resort was okay, but not extraordinary as I had hoped. For under $500 we enjoyed 3 nights, a half day spa treatment, and several breakfast and dinners on-site. Service was always friendly and professional. The beautiful grounds and spring weather made for the perfect relaxing atmosphere. I would say this resort is catered more towards an older crowd – quiet, restaurants close early, not much to do on site besides the restaurants. However, it can also be the perfect option for those looking for a quiet Virginia getaway.
How far away is the beach?
The major downfall for me was the spa and distance to the beach. Unfortunately, you do not realize how far the beach is until you make the 20 minute drive though heavy traffic! I would only stay here again if I was looking for a vacation completely off the beach – it just isn't worth driving back and forth.
If you do decide to plan a daytrip to the beach, definitely take a bike ride along the gorgeous boardwalk. The path is just 3 miles long, and thus, perfect for a leisurely vacation ride. Then again, if you do not want to waste money on a bike rental, you can always walk and enjoy the marvelous scenery for free!
Hotel Address/Booking Details
Founders Inn and Spa
5641 Indian River Rd
Virginia Beach, VA 23464