3 Days in Providence, Rhode Island
2:00pm – Enjoy a delicious Italian lunch at Pizzico Ristorante. This charming local Italian restaurant offers both traditional and unique cuisine in a classy New York style casual upscale setting. Try the pumpkin ravioli – it's delicious!
4:00pm – Take an afternoon stroll around historic Benefit Street, home to the 4th oldest library in the US and the John Brown House Museum. This mile long walk will take you through some of the most impressive Colonial architecture in the city. You can also walk a few additional blocks to tour the beautiful Brown University campus. While in the area, be sure to check out the Rhode Island School of Design's Art Museum.
7:00pm – It's time to enjoy another fantastic Italian dinner! There are so many great choices, you might as well take advantage while you can. Spirito's, located on Broadway St., is the perfect place for a romantic night out, due to the beautiful setting in an old Victorian house. Both traditional favorites and Spirito's specialties are offered.
9:00pm – Providence does not disappoint in the nightlife department. Whether you are looking for a pub, wine bar, or nightclub, you are bound to find a wide range of all 3 in this vibrant city. Bodega Malasana is a fantastic option for a wine bar. Doherty's East Ave. Irish Pub is a great choice for a casual night out on the town.
Day 3
7:00am – Take a scenic ride along the 13.5 long East Bay bike path, one of the best rail trails in the country! This former railroad route is now home to a fantastic path, filled with tremendous views of the coast, forests, the Providence skyline, and even a lighthouse. Your ride will start in East Providence and end at Independence Park in Bristol. Take the opportunity to experience all the scenery in Providence and neighboring Bristol County.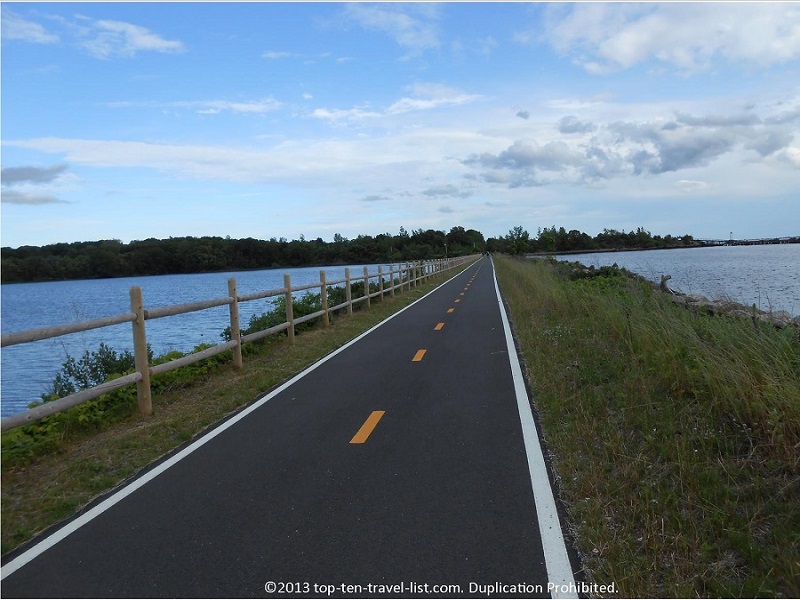 11:00am – After your ride, enjoy a nice leisurely lunch at Cafe Nordstrom, located inside Providence Place Mall. Located on the upper level, this cozy cafe offer tremendous views of the city and surrounding New England landscapes. Food is delicious, fresh, and the perfect choice after a morning of exercise.