13 Can't Miss Rides & Attractions at Universal Studios Orlando
11. Hollywood Rip Ride Rockit
Hollywood Rip Ride RockIt is one of the most exciting rides at Universal. Each rider gets to pick a song from a selection of choices in several different music genres that only you can hear in your seat. The extremely fast coaster travels 65mph and goes up over 17 stories. The scariest aspect of the ride is that you sit straight up to get to the top. Not only is Rip Ride RockIt the tallest coaster in Orlando, it also is the first roller coaster in the world to use a non-inverting loop.
A crazy fast ride with many twists and turns and fantastic music to go along with the experience. A must for any lover of thrill rides!
12. Hogwarts Express (Universal Studios & Islands of Adventure)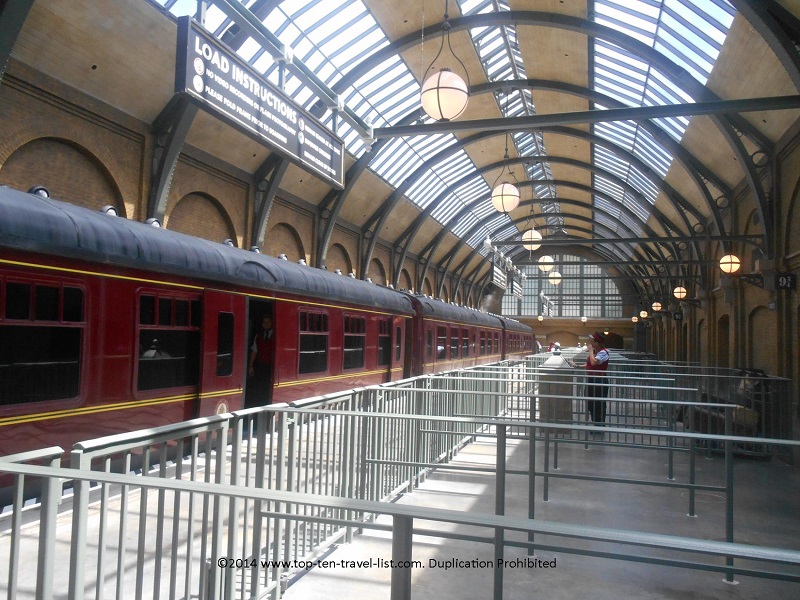 The Hogwarts Express is the newest form of transportation between Universal's parks. It's nice because you no longer have to walk the far distance between the 2 parks. Harry Potter fans will appreciate the festive ride between parks, including appearances by movie characters and fun special effects. The views of the British countryside from the train's digital windows are peaceful and realistic, making you believe you are really traveling to London.
Grab you chocolate frog at Honeydukes and board at either of the 2 stations: Hogsmeade at Islands of Adventure or King's Cross station at Universal Studios. Be sure to take advantage of the fantastic photo opportunities: take your picture by the Hogwarts Express, the Knight Bus, and Platform 9 3/4.
13. Revenge of the Mummy (Universal Studios)
The Mummy is a fun, special effects loaded roller-coaster based on the popular movie franchise which begun in the late 90's. As you travel through the dark, you will encounter some scary surprises courtesy of awesome special effects (beetles, mummies, and fireballs). Great ride for everyone in the family as there are no inversions.
It's less intense than the roller-coasters at Islands of Adventure, however, with the added advantage of extra detail, effects, and the uniqueness and excitement of traveling through the dark.  In addition, there is a great Mummy themed gift shop to browse for gifts for yourself or anyone else who likes the movies. Guests can also purchase a picture of themselves on the ride!
Ride Tips
*Download Universal's free Wait Times App. This allows you to check various wait times throughout the day.
*The Harry Potter rides typically have the longest wait times. Certain on site Universal hotels come with free early admission to The Wizarding World of Harry Potter (Hard Rock Hotel and Royal Pacific for example).
*The new Diagon Alley shops are very crowded as expected. Hogsmeade is also packed, especially during the afternoon hours (as you can see from the pictures above). The hour early admission is your best bet to check out the shops without insane crowds. Or, leave your shopping until the last hour or 2 when the park begins to clear out.
*Water rides are pretty empty in the early morning hours. Lines will fill up during the hot portion of the afternoon.
*If visiting both parks in the same day, split up the day evenly between both parks. Don't switch back and forth between both parks as this will easily eat up too much time, especially with the wait for the Hogwarts Express. Visiting Islands of Adventure first then Universal Studios is a great idea as you will have time to dry off from the water rides. Also, you can visit the Diagon Alley shops in the evening when the crowds begin to die down.
*Those with motion sickness, avoid the following rides: Harry Potter and the Forbidden Journey, Dragon Challenge, The Simpsons Ride, and Spiderman.
*Rides to skip: Twister, Dr. Doom's Fearfall, Terminator 2 3D. There are many better rides to explore.
*Plan your vacation during September, the least busy time at the park. You will get on more rides, although the weather will be hot and rainy.
*If you have extra time, be sure to make room for some great shows like Beetlejuice Graveyard Revue, the Horror Makeup Show, and Fear Factor Live.
*Purchase the Express Pass if you have only one day at the park. You will never have time to get on every ride and see every attraction without it. Certain hotels offer free passes with your stay (Hard Rock Hotel, Royal Pacific).
*Don't eat right before going on motion simulator rides like The Simpsons and Spiderman.
*Those willing to ride alone can jump ahead to the single riders lane. This is an easy way to bypass the lines if you are willing to ride alone!
*On site hotels offer free package delivery to your room. This means you do not have to carry your shop purchases around with you all day!
*Bring your own lunch so you do not have to waste time waiting in restaurants long (many are long waits especially in the Wizarding World of Harry Potter).
*Try to visit at least one of the most popular rides early in the morning to minimize the wait. Rip Rock It, the Harry Potter rides, Despicable Me, and The Simpsons typically have the longest wait times.
*Plan water rides for the hottest portion of the day to cool yourself down and give yourself time to dry off before the sun goes down.
*Take advantage of the shorter early morning and late evening wait times. Get to the park as early as possible and stay until closing. You can get on many rides during these less crowded periods.
A few more general tips for a smooth day!
*Bring with a backpack with snacks and water. You will save yourself some valuable time. Most rides have free lockers available, so there is no need to worry about where you will put it during rides!
*Wear a Camelbak water backpack. This is helpful when visiting on really hot days as you do not need to constantly stop for water at stands.
*Make a reservation for lunch at Mythos, located inside Islands of Adventure, and frequently rated the best theme park restaurant. The unique cave setting, great food, and cool views of the park make it a meal you won't forget!
*Stay at an on-site hotel for the convenience. It's much more expensive, however, the benefits outweigh the extra costs: early admission to Harry Potter, free and quick transportation to the parks, the ability to have your shop purchases sent to the hotel, extra amenities, pools, on-site restaurants, etc. all make it worthwhile.
*Save CityWalk restaurants until nighttime. Don't waste your day at the park walking all the way over to CityWalk as this could easily eat up hours of your precious time. Plan for a meal later at night and stick to a convenient theme park restaurant during the day.
*Check for special ticket deals on Universal's website. Also, buy tickets in advance for cheaper rates.
*Don't plan your vacation around busy holiday weeks.
*Avoid middle of the summer visits. It's just way too hot and humid to enjoy the day. Even the spring season is pretty unbearable!
*Wear gym shoes! You will be doing miles and miles of walking. I brought with a pedometer during my recent visit and we walked between 12-15 miles each day!
*Wear workout clothes or any other type of apparel that dries easily. Although the water rides are great during the hot afternoon hours, it can get really cold walking around the air conditioned shops later if your clothes are still damp!
*Contact lens wearer: bring with your glasses in your backpack. You never know if your eyes will start to bother you later in the day, or possibly get lost on one of the water rides.
*Save some time and eat breakfast at your hotel or bring with a quick snack to save you some time.
*One of the best places I've found for Universal deals including ticket discounts is Best of Orlando
What are some of your favorite rides and attractions at Universal Studios and Islands of Adventure? Which rides would you skip?