New England in Arizona: A Fall Hike Along the Colorful West Fork Trail
The region's most popular leaf peeping destination
Unfortunately, the West Fork has become very popular in recent years. So popular in fact, that there is often a long wait just to get into the parking lot! You will see many people parking up to a 1/2 mile away and walking along the road to avoid the lengthy car wait.  Nature lovers, photographers, hikers, Phoenix locals looking to escape the heat, Flagstaff residents seeking non-aspen fall foliage, tourists on fall vacations…they can all be found on this trail for the entire month of October -and sometimes even into November.
It's not the best fall color hike in Arizona, however, it is one of the best overall hikes. Although the breathtaking red rock trails in Sedona are absolutely stunning, they can get a bit monotone after a while, especially for year-round residents. The West Fork trail is like a little nature oasis in the middle of the desert, offering scenery not found elsewhere in the area.
Best time to plan your hike
Despite the hefty crowds, it's still a nice nature experience. Once you get a bit further out into the trail, the traffic really starts to thin out. I recommend getting out there during the week or super early on the weekends to avoid the crowds a bit (before 8am). While the West Fork is not the best option for those seeking solitude, it is a nice choice for anyone out West tiring of the yellow aspen fall foliage scenery.
How long will the hike take?
The entire hike round-trip is about 7 miles. Although the hike is one of the easiest in the area with pretty much completely flat terrain, it can take a long time with all the creek crossings. Plan on about 3-4 hours to complete the entire trek. And despite the easy terrain, you will likely end up with sore muscles as your body is using lots of little muscles that do not get used as often!
Tips for a great hike!
*Plan on a weekday hike to beat the crowds. If hiking on the weekend, you will want to get here as early as possible to avoid a lengthy wait – before 8am would be ideal.
*Wear a camelbak or bring multiple water bottles- you will need lots of water if you intend on hiking the entire trail. Sedona's climate is very dry, so you need to drink more than usual. Plus, you are at a higher elevation – over 5000 feet.
*Plan plenty of time to complete your intended distance. This trail takes at least 3 hours to complete in it's entirety – so be sure to get out there early enough. Plan on a set distance before you set out. It may seem easy going out, but remember you have to come back!
*Always dress in layers. Also remember that this trail barely sees any sunlight, and thus, feels much cooler than most Sedona hikes. Always have a long sleeve on hand, especially during the cooler fall season. Some years, it can be really, really cold. The 2015 season saw early snow!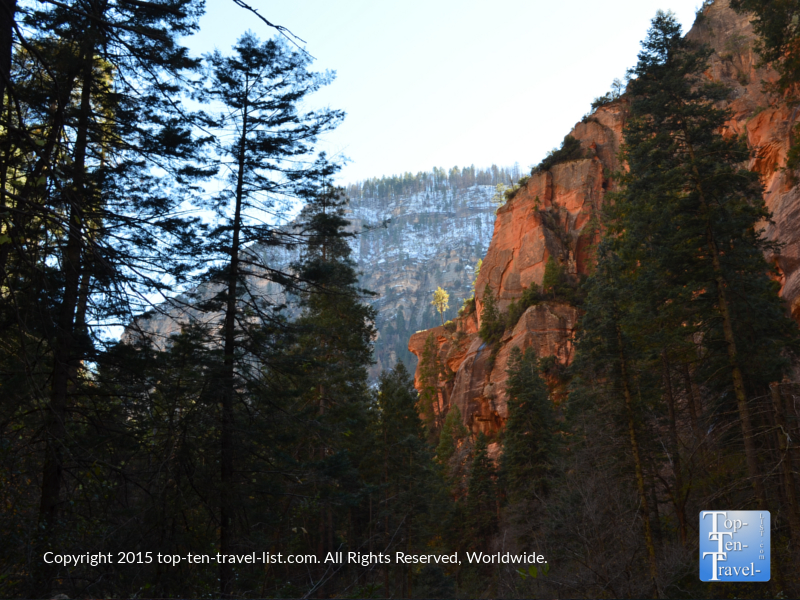 *Wear capri workout pants or shorts. Long pants that are hanging down may cause you to slip on a rock at one of the stream crossings.
*A hiking stick comes in handy for extra balance at the stream crossings. Rocks and logs are there to help you cross the streams, however, a stick is great for providing extra balance in the more tricky sections. Take your time and use your stick!
*Bring with several snacks. This is a long hike and you will will need some extra energy especially for the return route. It would be a shame to have to leave earlier than expected due to a lack of energy. Sandwiches, chips, fruit, granola bars, or energy bars are a few of my recommended choices.
*Your feet will get wet when crossing the streams. If this is going to bother you, then I recommend waterproof hiking shoes. Having a pair of sandals waiting in the car is a smart idea.
Dining pre and post hike
*A great breakfast choice before the hike is Indian Gardens, located just a few miles down the road. This local gem opens super early, makes the best espresso drinks in Northern Arizona, and offers a great menu focusing on local ingredients.
*A few great casual lunch choices post-hike include Miley's Cafe, the Hideaway House, and Red Rock Cafe. All of these casual restaurants offer great food and are casual enough to come in post-hike wearing your hiking/workout clothes.
Address & Parking Info
To get to the West Fork Trailhead, take 89a (17.5 miles south from Flagstaff or 9.5 miles north from Sedona) until you reach milepost 384-385. Parking is $10 per vehicle. Or $2 per walk in/bike. The Red Rock and National Park pass are not accepted here. Have cash on hand as debit/credit is not accepted.