A Cloudy Spring Day on 3 of Rhode Island's Gorgeous Beaches
Rhode Island is home to some of the most beautiful beaches in New England. Although spring isn't the ideal time to visit due to the cold winds and chilly temperatures, the season does bring forth a few benefits, namely gorgeous photography opportunities, no parking fees, and no crowds!
This weekend, Mike and I visited 3 beautiful Rhode Island beaches: Gooseberry Beach in Newport, Scarborough State Beach in Narragansett, and Teddy's Beach in Portsmouth. The dark cloudy skies and desolate surroundings left us in awe of the natural beauty. Although freezing cold, we were glad to have the opportunity to visit these beaches minus the crazy summer crowds. Take a look below at some of the gorgeous views we captured at each beach.
Gooseberry Beach
Gooseberry is one of the numerous beaches found along Newport's scenic 10 mile Ocean Drive. The beach is primarily used for swimming during the summer months.  The sand here is probably the softest I have encountered at any New England beach. Somehow, this beautiful beach is even more enchanting on an overcast day. On a cold April day, there was no one in sight. Gooseberry feels like a private beach, however, it is open to the public for a $30 parking fee. Note: you can park off season on the side streets for free.
Address: 130 Ocean Ave, Newport, RI 02840
Parking Fee: $30
Scarborough State Beach
Scarborough is the top beach to visit during the summer months in Rhode Island. Narragansett is a popular summer destination due to the many beautiful beaches and recreational activities found in the area. Scarborough State Beach is very popular with both tourists and locals due to the smooth sand, nice waves, and well-maintained grounds. However, the vibe can be a bit too noisy during peak season.
Whereas, if you visit during the off-season you are treated to a stunningly beautiful beach all to yourself. The weather may be cold, however, the views are incredible (especially with no one in the background). Half of the beach has incredibly soft, smooth sand and the other half is a bit more rocky and photogenic. The shoreline is the perfect distance for a nice long stroll or jog, especially on a mild spring or fall day. Enjoy the peace and quiet of the off-season with the attractive benefits of fewer crowds and uninterrupted photo opportunities.
Address: 970 Ocean Rd. Narragansettt, RI 02882
Parking fee: Fees vary based on residency and time of year and range from $7-10. Cash only.
Teddy's Beach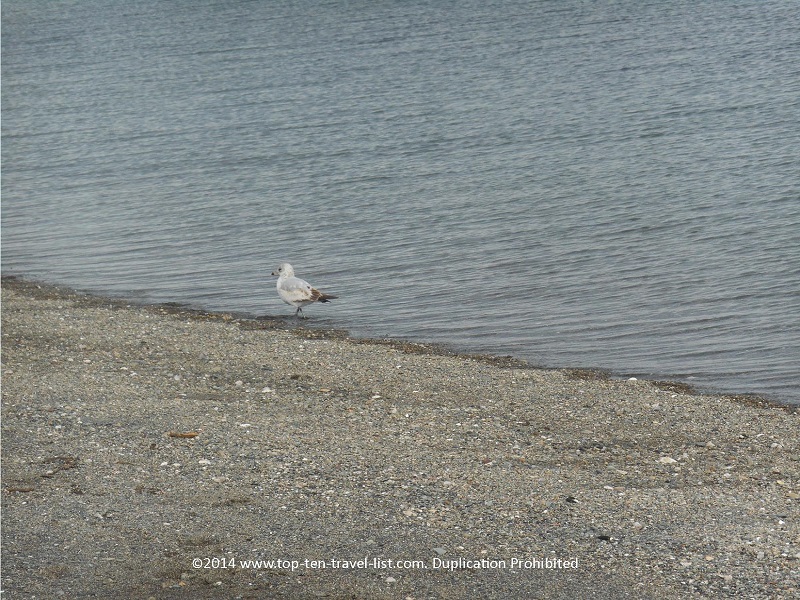 Unlike the other 2 beaches we visited, Portsmouth's Teddy's Beach does not feature smooth sand and ideal swimming conditions. However, it does offer something unique of its' own: plenty of SeaGlass. Beach glass are small pieces of frosted gem-like glass pieces, derived from trashed bottles that have been tumbled smooth over the course of time. We found all different types and colors of glass here, including a few cobalt blue and lavender pieces (very rare). We had a great time strolling the beach searching for these beautiful frosted gems.
SeaGlass collectors will find plenty of craft and even a few jewelry grade pieces to add to their collection! As a bonus, the beach was very clean and quiet. Views were gorgeous, especially right before a storm.
Address: Park Ave & Point Rd, Portsmouth, RI 02871. Street parking available.
Have you ever visited any of these Rhode Island beaches? What are your favorite beaches in the state?