19 Must-Do's at Universal Studios Orlando
10. Groove to your favorite song on Hollywood Rip Rock RideIt Coaster
Hollywood Rip Rock RideIt, a relatively newish coaster at Universal (opened in late '09) is one of the most thrilling rides in all of Orlando. Prior to getting in your seat, you will be able to choose amongst dozens of different songs (with everything from country, to rap, to pop selections available) from different genres to accompany you on an intense ride. With speeds up to 67 mph, a scary 167 foot vertical lift, and the world's first non inverted loop, this is Universal's most thrilling ride.
The really neat aspect of this ride is that you can purchase a music video as your entire ride is recorded! It's a heart pounding adventure on one of Orlando's tallest coasters, although definitely not one for the faint of heart!
11. Treat yourself to a wonderful sit down dinner after a long day at the parks!
Universal CityWalk is a convenient and fun place to enjoy a fabulous relaxing dinner after being on your feet all day. One of my personal favorites is Vivo Italian.
This modern Italian restaurant has a great ambiance complete with an exposed kitchen and a really unique seating area. The tasty menu includes handmade fresh pasta daily. Not to mention the convenient location right at CityWalk so you do not have to research any restaurants online. Or worse, resort to a common chain. Try the Chicken Fettuccine Alfredo! Bonus – Prices are totally affordable despite the touristy location!
12. Treat yourself to a day of pampering at the spa
After all that walking (you will easily rack up at least 10 miles in a few days according to my GPS watch), your feet will really be aching. So will the rest of your body, especially if you are wearing a heavy backpack all day. Treat your achy body and exhausted mind to a day of relaxation at the spa. Orlando is known for having some pretty fancy spas, which is not at all surprising considering it is a top destination for honeymoons and other romantic celebratory occasions.
The beautiful Loews Portofino Bay Hotel's Mandara Spa is a relaxing place for a recovery day of pampering. Plenty of all day packages available so you can escape the heat for a bit. Highlights include luxe amenities and gorgeous facilities. For a budget friendly alternative, look into an affordable chain like Massage Envy or Elements.
13. Indulge in comfort food paradise at Hard Rock Cafe
Hard Rock Cafe is one of the best chain restaurants in the country. The food here is actually pretty tasty and you really cannot beat the attractive rock n' roll atmosphere. A rockin' soundtrack and unique vintage memorabilia make visiting Hard Rock a fun night out, rather than simply a meal. After a long day at the parks, it's nice to just indulge in some bad- for-you comfort foods.
You did tons of exercise all day & you are on vacation and you deserve it-why not?! Some of my faves include the potato skins, Santa Fe spring rolls, and flatbreads. Or go for the Jumbo Platter and test out all the best apps! And you must try their delicious cheesy, slightly spicy Twisted Mac and Cheese! On the other hand, if you are trying to keep it healthy, their gigantic veggie filled salads are the best!
14. Take a ride aboard the Hogwarts Express
The Hogwarts Express, a perfect replica from the Harry Potter movies, is a convenient means of transportation between both parks. Back in the day, visitors had to waste much precious time walking from one park to the other. Today, you can skip the tiresome walk in favor of this festive train ride. Board at either the Hogwarts Express at either the King's Cross Diagon Alley station at Universal or Hogsmeade at Islands of Adventure.
The ride features a bunch of nice special effects (the dementors are amazing!) and you can even purchase snacks to bring along for the journey (pumpkin juice or chocolate frog anyone?!) Remember you will need to purchase park-to-park tickets to enjoy the train ride (which you should do anyways as both Universal parks are amazing!).
15. Don't forget about all the oldies!
Even though they are a bit dated, classic rides like E.T., The Mummy, and Men in Black Alien Attack are well worth at least a one time go around. E.T. is one of my favorites and I've never waited more than 20 minutes! Be sure to download the handy Wait Times App (it's free) to save yourself some unnecessary hassle and time.
Men in Black is an awesome spinning arcade style ride where you shoot at targets. Our entire party often chooses this ride as one of our repeat rides. The Mummy is an incredible fast indoor coaster loaded with special effects. The classic non simulator rides are still the best!
16. Take advantage of the endless Harry Potter photo opportunities
Numerous picture-perfect Harry Potter photo opportunities await you throughout both parks – The Knight Bus, Platform 9 3/4, Diagon Alley, Weasley's Wizard Wheezies, the telephone booth at King's Cross, and the list goes on. So many memorable sights from the film are lurking throughout both Universal and Islands of Adventure.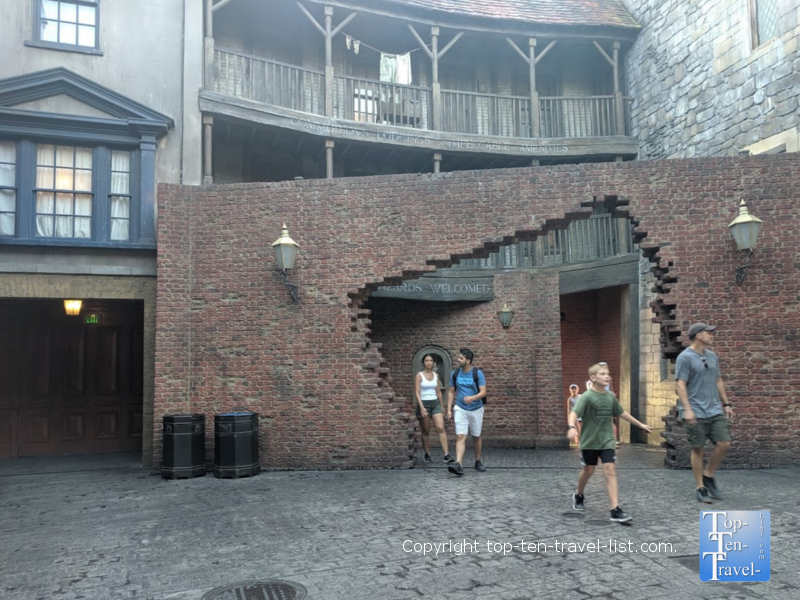 The early admission is a must if you really want to explore both parks minus the super hefty congestion that builds up later in the day. Be sure to pack your camera and take all sorts of crazy photos that you can reminiscence about years later.
Check out how empty Diagon Alley is during early admission hours! This is a great time for Harry Potter fanatics to go picture crazy!
17. Stay at an on-site hotel
Sure the on-site Universal hotels are a bit pricier, however, you might as well splurge as you are already spending loads of money on theme park tickets and airfare anyways. These hotels come with a number of perks that make them worthy of the up charge including fantastic pools, great restaurants, close proximity to the parks, and early admission to the Wizarding World of Harry Potter. This hour early admission alone makes paying a bit extra a worthwhile investment!
Cabana Bay is a fantastic budget friendly hotel. Lots of great amenities -a free shuttle to the parks, an amazing tropical pool and lazy river, an on-site Starbucks, a bowling alley and arcade, and early admission to HP.
18. Take your pic with a character
Unlike Disney where character picture waiting lines can be longer than the rides themselves, it's easy & fast to get a pic at Universal. The wait is usually no more than 10 minutes or so. The Simpsons, Scooby Doo, and Hello Kitty are just a few of the sprightly characters you will see throughout the parks. Check out the full list of Universal characters making appearances daily!
19. Plan a day away from the parks
There is much to do and see in Orlando asides from world class theme parks. In fact, it is quite easy to spend an entire week here without stepping foot onto the grounds of either Disney and Universal. Exploring non theme park attractions not only allows you to see another side of Orlando which most tourists miss out on, but also gives you a much needed break from the crowds and commotion. Check out my 17 favorite non-theme park attractions in Orlando.
Also be sure to check out my other Universal articles including 25 Ways to Save Money on your Universal vacation and 18 tips for a smooth Universal trip.