Attraction of the Week: The Borgata in Atlantic City
Atlantic City is often referred to as the Vegas of the East Coast. While it may lack some of the glamour, amenities, uniqueness, and non-gaming related attractions of Sin City, it's your best bet for casino action in the Northeast. Being located within an easy drive of many major cities, Atlantic City is a budget-friendly alternative when you do not want to shell out big bucks to fly to Vegas.
Most AC resorts do not offer the pizazz and unique amenities found in Vegas, however, there are a few standout options. The best resort, The Borgata, is a beautiful 4 star property located away from the hustle and bustle of the boardwalk. This property opened in 2013, making it the first new casino in 13 years. Compared to the older 70's style properties, The Borgata features an appealing contemporary design.
The refined elegance of the resort really gives it the edge over others in the area. One thing I really loved where the beautiful Chihuly glass art sculptures throughout the casino. A beautiful space, unfortunately, the strong presence of smoking everywhere dampers the experience a bit. When I first visited this casino about ten years ago, the smoke wasn't nearly as bad. Unfortunately, today it is every present.
Amenities at the Borgata
While most AC hotels offer little amenities compared to Vegas, The Borgata offers a nice variety of restaurants, a number of shops, 2 fantastic pools, a top rated spa, several bars, live entertainment throughout the year, and a trendy nightclub. Also, they offer a free shuttle (weekends only) to Brigantine Beach. Let's take a look at a few of the highlights at this property.
The Borgata Pool
The indoor pool is a beautiful area to relax, swim laps, or kick back in the hot tub. Hours are a bit limited (7am-7pm), however, they do offer a nice adult's only (7-9am) time period where you can relax minus noisy kids. The pool is open to hotel guests and anyone with a spa reservation. The Water Club is also open to Borgata guests. An infinity edge pool, a lap pool, and 2 Jacuzzis are surrounded by lush tropical plants and palm trees. This pool area is only open to guests 21 and up which is a big plus.
Spa Toccare – Elegant 54,000 square foot spa in the beautiful Bellagio Tower. Treatment includes access to whirlpools, saunas, and steam rooms.
The Pump Room – Spacious gym which overlooks the pool area.
Outdoor pool – Beautiful Roman themed pool. Enjoy cocktails and light snacks as you lounge poolside.
Nightlife & Entertainment
Several casual bars and a nightclub give you plenty of options to enjoy a few drinks. For anyone not interested in gambling, Long Bar, Gypsy Bar, and B Bar all offer a trendy ambiance where you can socialize and enjoy the lively setting. Reservations and tickets are required for Premier Nightclub (open 10pm-4am). Also be sure to check out if any special events will be going on during your visit. The 30,000 square foot Event Center has hosted some big names over the years.
Dining at the Borgata
The best part about staying at a casino resort is having a wide range of delicious restaurants and treat shops to choose amongst. It's so easy to overeat when surrounded by so many tempting choices, and so convenient to just hop down on the elevator. At the Borgata, you will find no shortage of enticing options.
The Metropolitan – This casual American restaurant offers a diverse menu of classic and contemporary favorites. The "outdoor" seating area is a great place to people watch all the casino action. The upscale setting makes it a perfect place for a coffee or wine date.
Borgata Buffet – Really, you can't visit a casino without indulging in a buffet at least once. Borgata's upscale buffet is about as close to a Vegas style buffet which you will find in Atlantic City. A bit pricey, however, the selection is amazing. Everything on the buffet line is clean, well-maintained, and the overall ambiance is aesthetically pleasing for a buffet. Lunch is the best – lots of healthy choices including a salad bar.
Bread and Butter – When the buffet is closed for breakfast (on Tuesdays), your next best bet is to enjoy a housemade pastry and cup of Lavazza coffee (everywhere in the casino serves the premier Italian roaster). Offering chocolate croissants, bagels, Danish, you really cannot go wrong here. The setting is casual upscale, so again a nice choice for a morning date.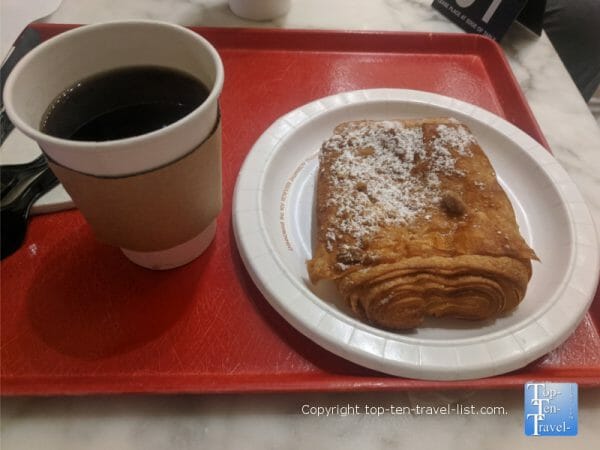 N.O.W. – Noodles of the World is a trendy modern Asian Fusion restaurant located on the casino floor. If you are craving Thai, Japanese, Chinese, or Korean food, this is the place to get your fix. Great fried rice and lo mein. Try the Mochi for dessert!
The Marketplace – Casual food court offering everything from pizza, to Philly cheesesteaks, to Mexican food. Great acai bowls and smoothies at The Green Bar.
Borgata Baking Co. – Serves Lavazza coffee and espresso drinks plus pastries. Tempting selections include macaroons, cupcakes, gelato, and tiramisu.
Other popular restaurants on-site include:
Angeline – An award winning Italian restaurant by chef Michael Symon
B- Prime – A modern steakhouse
Izakaya – A sleek modern Japanese restaurant
Lodging
The basic rooms are comfortable, modern, and simplistic. The room is spacious at 460 square feet. Views from the floor-to-ceiling windows consist of marsh or city views. The highlight here is a very large marble bathroom with a beautiful shower.
Casino gaming
Sign up for a MGM Rewards card to earn points before playing. The casino floor is small but includes all the standard table games and slots. A fair number of 1, 2, and 5 cents slots if you are trying to keep your gambling to a minimum. The highlight here is the beautiful Poker Room. Do check with the Poker Room for tournament info.
Pros and Cons of staying at The Borgata
Pros:
The casino and resort are very clean and upkept.
Buffet is the best in Atlantic City.
The vibe is a bit more upscale than other resorts in the area.
Great place for singles and couples, not so much for families
Room deals often offered during the week and off season
Parking is only $5 for the entire stay.
Great coffee – all restaurants serve Lavazza.
Quick drive to the Jersey Shore for an easy day trip.
Spacious rooms with beautiful marble shower and floor-to-ceiling windows.
Beautiful pool area and nice spacious hot tubs
Cons:
Horrible smoking scent throughout the entire property. Very poor ventilation. One of the worse casinos I've visited for smoking – even the non smoking areas and some restaurants reek like smoke.
Restaurants often closed mid-week. Check the website for more info.
Room furniture is a bit outdated and stained.
Far from the beach and boardwalk.
A lack of fun/themed restaurants. A bit boring with mostly steakhouses as the main dining choice outside of the buffet.
Not much of a party/vacationy ambiance if that is what you are seeking.
For more info, including a full list of amenities, packages, and booking details, please visit The Borgata website.