A Fantastic, Snowy Winter Getaway in the White Mountains of New Hampshire
The White Mountains of New Hampshire are breathtakingly beautiful during any season, even moreso during the snowy winter months. The opportunities to engage in fun winter activities like sledding, snowshoeing, sleigh rides, skating, and skiing are endless. Due to the close proximity to cities like Portland, Boston and Providence, the White Mountain region is an easy, relaxing weekend getaway option for New England city dwellers. Even if it is a slow season (snow-wise) in your city, you can enjoy your winter fun here in the White Mountains.
An award winning B&B
We did a little research online for the top rated New England inns and found out about the Bear Mountain Lodge, a highly regarded bed and breakfast in Bethlehem. This quaint isolated inn has won numerous awards over the years. Frommer's rated Bear Mountain Lodge as one of the top 10 romantic inns of New England. In addition, BedandBreakfast.com has rated the inn as one of the Top 10 B&Bs in New England for both 2009-2010 and 2010-2011.
Bear Mountain Lodge is located in Bethlehem, a small village in the White Mountains that is surrounded by beautiful national forests. Because of its' proximity to major cities (80 miles from Portland, Maine and 138 miles from Boston) and potential for winter snow (over 60 inches on average from December-February), it is the perfect winter weekend getaway.
Bear Mountain Lodge
Bear Mountain Lodge is located amidst beautiful natural surroundings. The great room features floor-to-ceiling windows featuring panoramic views of the surrounding mountains and forests.  I could sit there all day! We had a fun time playing Checkers and Scrabble, all while taking in the amazing winter scenery. A beautiful wrap around deck located right off from the great room is perfect for enjoying the beautiful summer and spring seasons.  It would be an ideal spot for reading or enjoying a coffee during the warmer months.
Check out these beautiful snowy mountain views from the lodge balcony!
Rustic Charm
The lodge is festively decorated in a woodsy rustic theme. Everywhere you look, you will see amazing lodge style architecture, as well as charming rustic touches. The consistency of decor throughout the cabin is a major plus. I love the cozy atmosphere of the lobby – a wood stove, comfortable couches for relaxing, relaxing music, and magnificent views. Nothing says a winter getaway in New England quite like a stay at beautiful Bear Mountain Lodge.
Our room was decorated beautifully in an attractive moose theme. It was a bit small, however, we enjoyed the beautiful scenery of the surrounding mountains.
A great view of the mountains from our bedroom. What a nice view to wake up to!
The first floor features 4 basic rooms which come with all your standard amenities. The rooms on the second floor cost a bit more but offer advanced amenities such as a steam shower, fireplace and/or jacuzzi.
Inn Amenities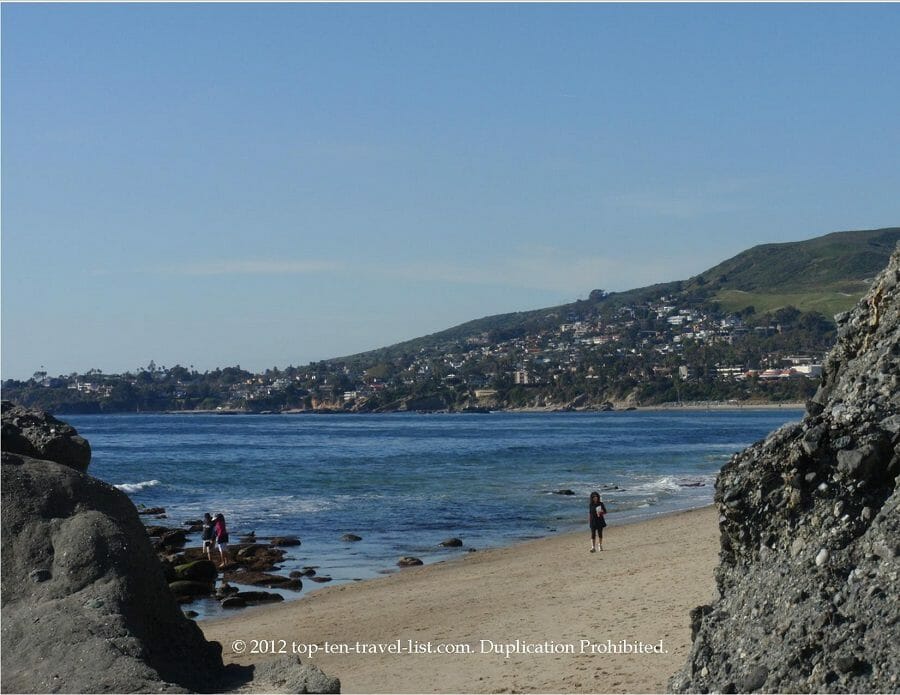 The inn is a bit pricey, but well worth the cost just for the views alone. The innkeepers are not overly friendly (and definitely give preferential treatment to some guests over others), yet are willing to assist you with area recommendations for dinner or activities. There are plenty of amenities at the lodge itself including a pool table, year-round hot tub, and 24 hour drinks including hot coffee and tea (Keurig machine), as well as beer and wine. If your brave enough to bear the cold, you can enjoy a relaxing soak in the outdoor hot tub as you watch the snow fall down. What a perfect romantic setting!
A plate of afternoon brownies with a cup of hot cocoa or tea is the perfect treat waiting for you after a morning of snowshoeing. The cute little mountain themed breakfast/relaxing area offers the perfect wintry setting. What a treat after being out in the cold snow!
Complimentary Homemade Breakfast
The breakfast in the morning was the only let down of our stay. To be honest, I expected it to be much better. Breakfast consisted of a tiny fruit cup followed by stuffed crepes with blueberry sauce and a side of sausage.  Talk to the innkeepers in advance if you have specific allergies or food requests. We made the mistake of forgetting to inform them of our specific requests, and thus, were left with a meager breakfast to start the day. The crepes were delicious although I would have preferred eggs, toast or even potatoes in place of the sausage.
The inn is immaculately clean (all guests must take their shoes off at the door). The innkeepers are always around to answer questions and engage in chit chat (they were there to greet us when we arrived and offered to help us carry our luggage). Be aware that this bed and breakfast is aimed a bit towards an older population.
Snowshoe Trails
Be sure to take advantage of the onsite snowshoe trails and complimentary snowshoes. We have always wanted to go snowshoeing, but somehow never got around to it. Having access to on-site trails without the hassle of driving through the snow was very convenient. I'd rather spend my time enjoying myself outside then driving around through the snow to the activities. We had an absolute blast! If you have never tried snowshoeing, you must check it out while the equipment is easily available. The next morning there was an additional 4 inches of snow on the ground, which made our adventure even more exciting and challenging!
Check out this idyllic setting for snowshoeing (or any other winter activities). In addition to on-site trails, you can snowshoe the various trails found within the national parks.

A quiet adult's getaway
If you are seeking a quiet weekend getaway in the White Mountains, then Bear Mountain would be your ideal escape. It's definitely not a kid friendly property, as the vibe/amenities are more suited for couples and older adults. Quiet hours for the pool table/bar room end at around 9:30pm and the lights in the main room are shut off around 10:00pm (this is perfect for those seeking some quality R&R). If you are looking for a more upbeat party atmosphere, you should look elsewhere. However, if you are looking for a quiet rustic themed lodge offering fabulous scenery, great amenities, and convenient access to winter activities then you are in for a real treat.
Special package deals are available. Please check the website for additional details. In addition, you can sign up for special winter activities such as a guided night snowshoe hike with innkeeper Michael.
Address
Bear Mountain Lodge
Address: 3249 Main St, Bethlehem, NH 03574
What to do Nearby
The Colonial Theater, a historic Main Street theater built in 1915, features both live shows and movies.
Cold Mountain Cafe is a charming little cafe featuring a great menu and great location in downtown Bethlehem.
Downtown Littleton is another quaint downtown with plenty of unique shops and restaurants to visit.
Bretton Woods Nordic Center at Mount Washington Resort is one of the best places in the country to cross country ski, especially if you are a beginner. The pristine setting through the forests and streams of the White Mountain National Forest can't be topped.
Cannon Mountain is the area's premier resort for alpine skiing, featuring the largest vertical drop in New Hampshire.
The recreation park in Bethlehem is home to a free, lighted outdoor ice skating rink.
Take the scenic journey along the Mount Washington Cog Railway. The 3 hour ride travels to Mt. Washington, the highest peak in the Northeast.
Reserve your spot for a guided snowmobile tour at Northern Extremes in Bretton Woods.
Enjoy a sleigh ride at The Fraconia Inn.