Bella Luna Restaurant: Great pizza in Boston!
This weekend, Mike and I visited a restaurant in Jamaica Plain called Bella Luna Milky Way. Jamaica Plain is a historic neighborhood in Boston, located about 15 minutes from downtown.
We stopped here after a visit to Franklin Park Zoo as they are located within a few miles of each other. We originally planned on dining in downtown Boston, however, with the heavy traffic decided to try a local restaurant closer to the zoo!
We ordered 2 appetizers: deviled eggs and sweet potato fries. If you have never tried sweet potato fries before – order them! They are so addicting!
I was a big fan of the pizza here, and I normally do not order pizza. I chose the create your own option (onion and roasted garlic). Loved the tomato sauce they used! Those will allergies will also be pleased with the gluten-free crust option.
Mike ordered the "Out of this world bean burger," an appetizing combo of black beans, quinoa, red onions, lentil, cheese, carrots, and red peppers seasoned with garlic. He has never tried a vegetarian burger before, but really enjoyed the texture/flavor.
The full menu offers plenty of options for vegetarians and vegans. Salads, appetizers, sandwiches, and pasta choices can be found on the dinner menu.
The best part of Bella Luna is the spunky atmosphere inside. Each table has hand painted plates. The unique lighting, brick walls, and red seating add some flair to the indoor dining room that you do not see that often.  Being located in an old brewery gives the restaurant some cool industrial touches as exposed steel and high ceilings.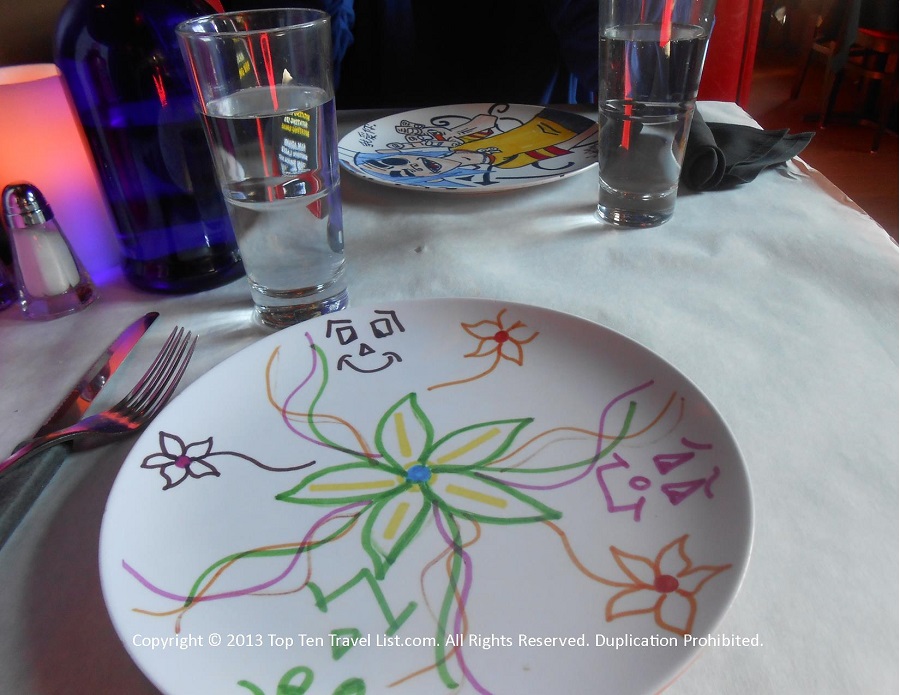 Bella Luna has a large bar and an ongoing calendar of events. You will find many different special events such as trivia nights, dance parties, and special DJ appearances. Check the Bella Luna calendar for the full lineup each month.
Address: 284 Armory Road Jamaica Plain, MA 02130
Hours: Sunday-Thursday: 5:00pm-10:00pm. Friday: 5:00pm-11:00pm. Saturday: 12:00pm-11:00pm.