The Best Holiday Activities in Chicago
Chicago is one of the best cities to visit around the holidays. I often find myself venturing back to the area as there is so much to do in terms of holiday entertainment and attractions. Plus, the wintry weather really adds to the holiday ambiance! Nothing really compares to bundling up with a hot cocoa in hand, snowflakes falling all around you, as you take in the festive lights of the season.
There are endless ways to keep yourself busy during the holidays. A few of my must do's each holiday season include heading downtown to see the Christmas tree and browsing for unique ornaments at Christkindlmarket in Daley Plaza, holiday shopping on Michigan Ave., seeing the Macy's holiday window displays, heading over to Lincoln Park Zoo's ZooLights event, and ice skating at Millennium Park.
The first Christmas tree was lit in 1913 on Christmas Eve in Grant Park. Today, the tree stands tall in Daley Plaza. At 60+ feet, it is one of the tallest in the country. And the beautiful architecture surrounding the tree creates a holiday setting like no other in the country! Seeing the tree has become a yearly tradition for both locals and recurrent tourists.
Ice skating rink at Millennium Park is one of my favorite winter/holiday activities in the city! Look at the gorgeous city views in the background! Holiday music and lights, as well as the chance of snow, creates the most magical Christmas in the City ambiance!
Macy's on State Street holiday window displays are always a must-do during the holiday season. They are conveniently located just a short walk from the Christmas Tree in Daley Plaza. Seeing the creative window has been a defining holiday experience in the city since way back in the 60's, when Macy's was Marshall Fields. Although the windows are not nearly as whimsical as they once were, fans of the beloved Marshall Fields holiday window tradition continue to make the trek downtown for this nostalgic holiday activity. Also be sure to dine inside the gorgeous Walnut Room, a 7th floor restaurant in Macy's known for its' giant 45 foot tall tree and beautiful Christmas decor. Just another holiday tradition in the Windy City not to miss out on!

I like to stop and take a break from shopping in the blustery cold with a nice hot cocoa! Not surprisingly, there are tons of different places to check out. A lot of tourists love the Hershey's & Ghiradelli shops as they have cute decor and tons of cute little trinkets and gifts. Check out the Chicago Tribune's list of the 12 best hot chocolates in the city!
Water Tower Place, along the Magnificent Mile, is a always a fun spot for holiday shopping. Plus, there's 7 floors to explore so you can literally walk around here basically all afternoon! A fun little escape from the cold for a bit!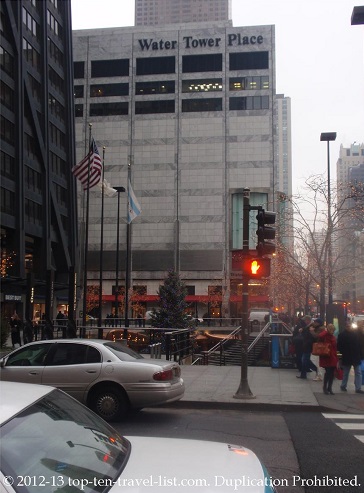 The Art Institute is great to visit anytime of the year! Chicago's art museum is home to one of the most impressive collections in the country. Founded in 1879, it's one of the country's oldest and largest art museums. How cute is this lion dressed with a holiday wreath?! And if you are looking for more holiday museum fun check out the Christmas Around the World display at the Museum of Science and Industry.
Lincoln Park Zoo, located just north of downtown, has a fabulous holiday light display! Definitely the best zoo light display I have ever seen! Afterwards, warm up with a delicious drink at Mindy's Hot Chocolate!
Where to find these holiday hotspots
Chicago Christmas Tree and Christkindlmarket
Daley Plaza
50 W Washington St
Chicago, IL 60602
McCormick Tribune Ice Rink (Millennium Park)
55 N Michigan Ave
Chicago, IL 60602
Macy's Holiday window displays
111 N State St
Chicago, IL 60602
Hard Rock Cafe
63 W Ontario St
Chicago, IL 60654
Hershey's
822 N Michigan Ave
Chicago, IL 60611
Water Tower Place
835 N Michigan Ave
Chicago, IL 60611
The Art Institute of Chicago
111 South Michigan Avenue
Chicago, Illinois, 60603
Museum of Science and Industry
5700 S Lake Shore Dr
Chicago, IL 60637
Lincoln Park Zoo
2001 N Clark St
Chicago, IL 60614
Mindy's Hot Chocolate
1747 N Damen Ave
Chicago, IL 60647
Most of these places are within walking distance. Check out the public transportation link below for directions on taking the train to Lincoln Park Zoo any other areas throughout the city.
The "L" Public Transportation in Chicago