A Christmas Story: Touring the Cleveland House
Ralphie's shed in the backyard
A glimpse of the driveway and back of the house
Our friendly tour guide gave us plenty of fun interesting facts about the filming process. Here are a few interesting tidbits:
*The year the movie was filmed was one of the few years in which Cleveland did not receive any snow. All the snow you see in the movie is fake, compliments of a snow blower.
*Some parts of the film were shot in the house, while the rest were shot in a sound stage. Watch the movie closely: when the curtains are closed, a set is being used, when open, the actual house is being used.
*The man who owned the home did not want it used for filming. However, he quickly changed his mind when offered $20,000.
*Years later, the house was turned into a duplex. It was sold on eBay for $150,000 and remodeled to the original setup used in the movie.
*The director of the film, Bob Clark (who also directed Porky's) refused to do a sequel to Porky's until he was given money to do "A Christmas Story."
*Melinda Dillon (Ralphie's mom) was offered a role without submitting a resume because the director loved her performance in "Close Encounters."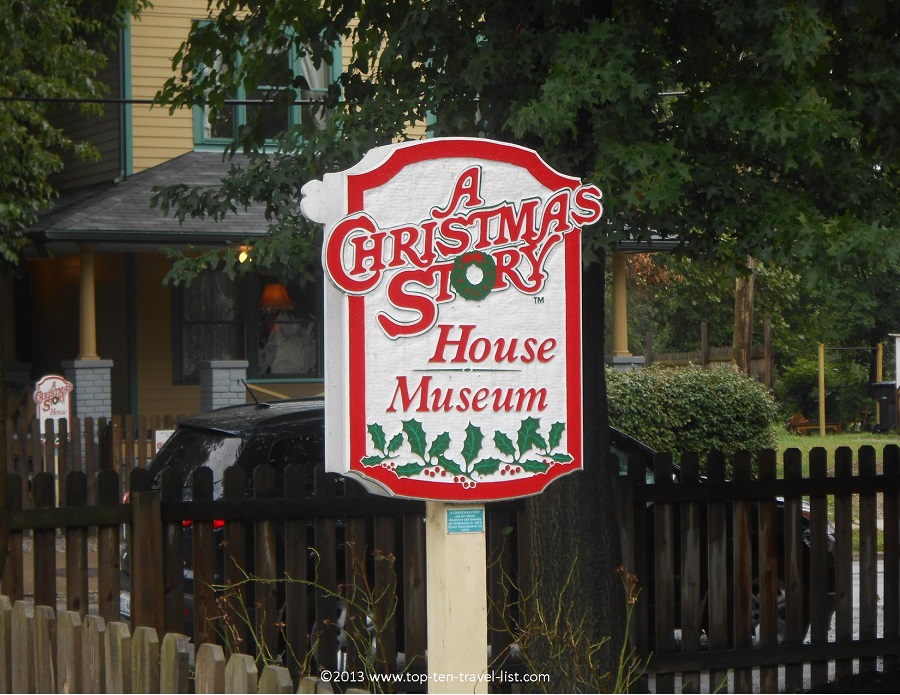 After your tour, make sure to visit "A Christmas Story" museum. Here you will find many of the original clothing and artifacts from the movie. Check out a few of the photos I took below of some of the best movie props. I was surprised that the famous bunny suit wasn't on display!
A few of Randy's actual outfits on display
The original castings for the fake teeth scene in the classroom
Photos of Peter Billingsley on set & a letter sent to a fan
Various movie stills and memorabilia
French movie poster "It is better to give than receive"
A beautiful Thomas Kinkade painting
The front desk features a beautiful display of light up houses, set up like the town in the movie (you can buy several of the light up houses in the gift shop)
"A Christmas Story" Gift Shop
The gift shop features plenty of novelty movie themed items such as mugs, glasses, T-shirts, cookie cutters, board games, magnets, and more! You will also find a few "Christmas Vacation" souvenirs. A great shopping stop for fans of either movie! We picked up a few fun souvenirs as holiday gifts.
This year marks the 30th Anniversary  of the film, making this holiday season the perfect time to venture out to Cleveland for a festive house tour, the chance to see actual movie props, and the opportunity to purchase unique gifts. Check out the website for information regarding special 30th Anniversary events.
"A Christmas Story" House Address: 3159 W. 11th Street Cleveland, OH 44109
Admission Prices: $10 Adults, $8 Seniors, Aged 7-12 $6, 6 and under are Free
Tour Dates & Hours: Monday-Saturday tours run every half hour from 10:15am-4:30pm. On Sundays, tours start at 12:15pm.