Robinson Nature Preserve: A Tranquil Florida Escape
If you are looking for something different to do on Florida's Gulf Coast besides beaches, boat tours, and water-sports, then you may want to check out one of the numerous beautiful parks and preserves found scattered throughout the area. All too often, both tourists and locals skip the beautiful, quaint Florida parks, which offer a wonderful glimpse into the native plants and wildlife found in the region, in favor of theme parks and other pricey tourist activities.
Visiting a beautiful natural area like Bradenton's Robinson Nature Preserve is not only a free experience, but also one where you will have an opportunity to get in a healthy workout, take great photography of Tampa Bay, and enjoy observing all different types of wildlife.
A bird watching oasis
Birdwatching is very popular at the preserve. We saw many birds, including a Bald Eagle, unfortunately we did not get in the camera out in time. We did end up seeing the nest later on during our return hike. Take a look below.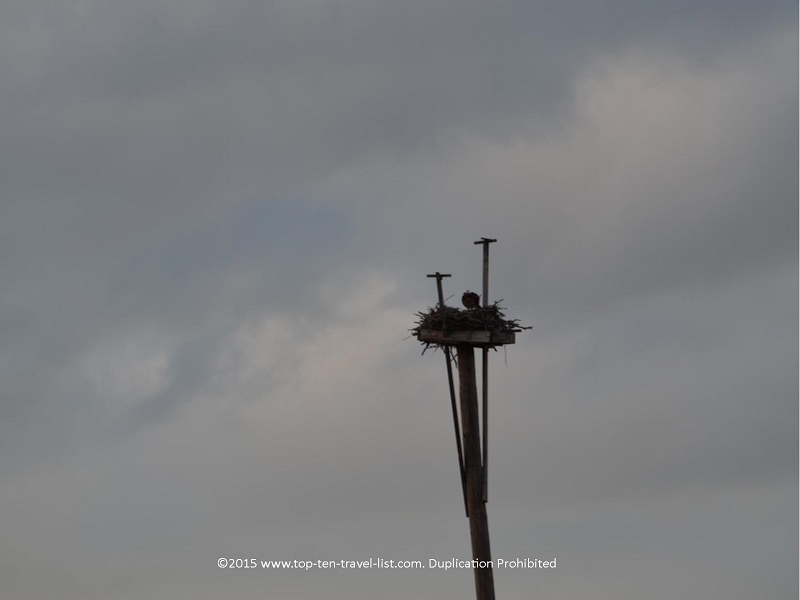 A quiet oasis away from the tourists
Robinson is one of the nicest parks in the Tampa Bay region. Unlike many parks in Florida it is located in a quiet residential area, far away from any highway noise and congestion. Walking around on a cool, cloudy day, I almost felt as if I was not in Florida (as a native of the Midwest, this is a good thing!). The serene views of Tampa Bay, absence of crowds, and ability to connect with nature in such a quiet setting was a great opportunity, one that unfortunately does not come along all too often in this part of Florida.
The observation tower
The major highlight of a visit to the preserve is enjoying the magnificent views of Tampa via a 40 foot observation tower. From here, you can see all the way to Tampa's Sunshine Skyway Bridge. The beautiful trees surrounding the preserve make for some pretty nice photo opportunities.
Why you should visit Robinson Nature Preserve
Robinson is a welcome escape for Pinellas and Hillsborough County residents seeking an escape from the crowds, strips malls, and traffic that encompass the area. For anyone looking for a quiet little park, this Bradenton preserve is well worth the drive. The beautiful mangrove forests and salt marshes provide a picturesque setting for any outdoor activity, whether it being walking a nature trail or kayaking.
I urge all locals to get out there once in a while and explore the natural side of Florida. Too often we get caught up in the daily grind and forget about the hidden pockets of beauty found all around us. Tourists as well can easily incorporate a trip to Robinson into any vacation itinerary. Even if you only have time for the 1/2 mile walk to the tower and back, a quick visit is worth it for the views alone. In addition to the tower trail, a 2 mile fitness walk and several loops around the water are available.
In my opinion, a walk around this tranquil preserve is time more well spent than any made made tourist attraction or overcrowded, hot beach. So grab your gym shoes and enjoy a little bit of true Florida beauty (before it's all gone!).
Things to Know
*The trails do not offer much shade. Wear sunblock and a hat. Avoid hot summer afternoons. A fall or winter visit is preferable as the temperatures will be much cooler.
*Try to plan your visit in the morning hours in order to avoid the harsh afternoon heat. Even if the actual temperature is not that hot, the blaring sun can feel much hotter in Florida. To me, 60 degrees feels like at least 80! Preferably, try to schedule your visit on a cloudy day.
*Bring a full water bottle. Walking in the intense heat with high humidity and no shade really makes you work up a sweat.
*Wear comfortable gym shoes, not sandals.
*Kayak and paddleboard rentals available. Advance registration required.
*Consider bringing with a bicycle. Biking through the trails allows you to see much more, in a shorter time period. It's just as great a workout as walking, only less time consuming.
*Leased pets are okay.
*Give yourself plenty of time. Park hours vary throughout the year. Check the posted sign for daily closing times and adjust your mileage accordingly.
Location: 1704 99th Street Northwest, Bradenton, FL 34209. Parking is free.