12 Restaurants to Check Out in Flagstaff, Arizona
10. Wildflower Bread Company
Like Mix, Wildflower is another great choice for health conscious diners seeking a casual, healthy meal. Wildflower's menu and layout are almost identical to popular chain Panera Bread. Like Panera, Wildflower offers an assortment of fresh baked breads, soups, salads, and tempting array of pastries. The "Wildflower Two," similar to Panera's "You Pick Two" is a pretty great little deal where you get a soup, salad (or sandwich) and bread for just 12 bucks. Wildflower is an Arizona chain with 12 locations spread throughout the state. As it is very popular with both locals and tourists, you can expect a line if you visit during the midday rush!
11. Horsemen's Lodge
Horsemen's Lodge is a rustic steakhouse with a laid-back cowboy ambiance. It's located a bit outside of the town, which is actually great as it helps to keep the congestion down. It's one of the best choices for breakfast as the food is great and the pricing very affordable. Horsemen's is conveniently located on the way to the Grand Canyon, so if you are heading out that way for the day, it really is your best bet. For breakfast, try the Cinnamon Roll French Toast! Dinner is also a great time to visit as they often host live music and Southwestern style comedy. The food is pretty delicious and the bottomless soup and salad bar is a nice complimentary treat!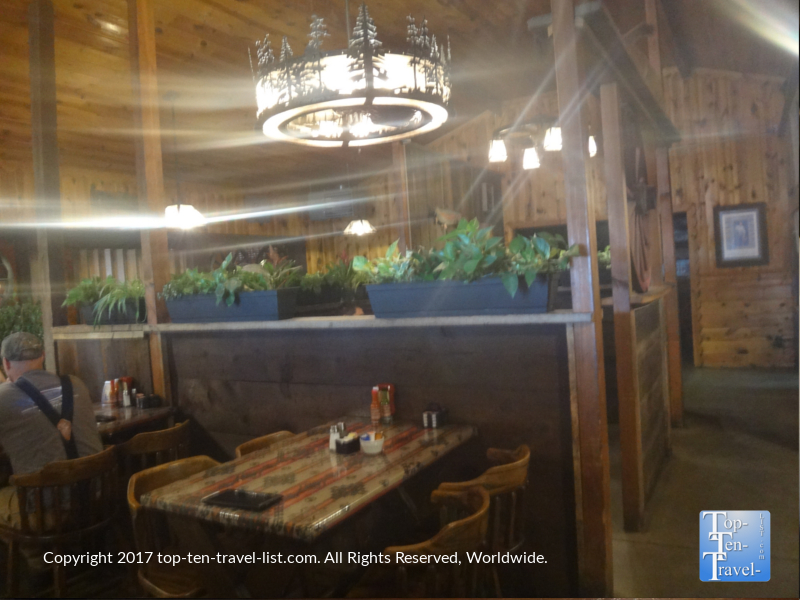 Update: Horsemen's is now closed. Check out other great breakfast choices in Flagstaff.
12. The Toasted Owl
The Toasted Owl is a quirky little breakfast and lunch cafe located in Flagstaff's downtown neighborhood. This local gem stands out amongst the other diners in town due to the diverse menu (lots of GF and vegan choices), cute decor (owls everywhere) and friendly diner style service. While the ambiance is cute inside, The Toasted Owl also offers one of the bigger outdoor patios in town (perfect on summer mornings). Unlike Southern Arizona, Flagstaff summer temperatures are mild – perfect for patio dining! Try the Almond Cakes, Avocado Toast, or the make-your-own breakfast tacos. They also serve some delicious house coffee, so need for an extra stop at Starbucks!