Vacation Spotlight: A trip to New York's Catskill Mountains
Emerson Resort: The Lodge Luxury Cabin Rentals
Mike booked us a luxury suite at The Lodge. We both enjoyed the log cabin atmosphere and felt that a rustic theme fit perfectly with the serenity and beauty of the area. Sitting outside the patio listening to the creek was perfect. Looking around the entire Emerson property, it seems that the Black Bear Lodge cabin has better views of the creek than the Inn rooms.
The Black Bear Cabin at The Lodge
Surrounded by the woods, The Lodge is the perfect choice for nature lovers. The back of the building faces Esopus Creek. Our 2 story cabin themed rental, featured a deck with amazing views of the creek (make sure to specify that you want creek views when making a reservation) This was the perfect setting; exactly what we were looking for: quiet, relaxation, and scenic views.
The large deck of our cabin rental
Views of Esopus Creek from the deck
In the morning we took a stroll down the path to take additional pictures of the creek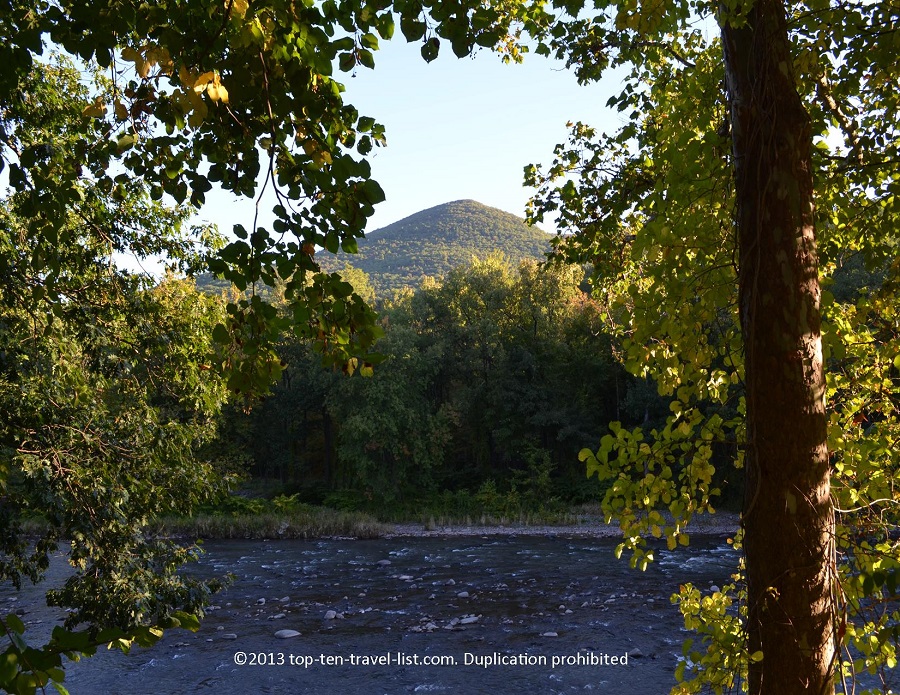 The beautifully decorated cabin featured great amenities such as a gas fireplace, and 2 bathrooms including one with an oversized jacuzzi tub. We were very pleased with the entire place. We especially loved the design – all log cabin themed from the lamps to the bedsheets to the room decor.
A quick photo tour of the cabin…