Hillsborough River State Park: A Bit of Florida Wilderness Just Outside of Tampa
Hillsborough River State Park is one of Florida's oldest parks with an opening date back in 1938. Over 7 miles of hiking trails and a 2 mile walking/biking loop around the park allow you to lose yourself in this beautiful setting. It's such a beautiful place that you will forget you are anywhere near a city. So many peaceful views here of wetlands, forests, and wildlife. It's the best park I have visited in the Tampa area thus far. Very quiet and away from all the congestion. You can easily spend the whole day here exploring the various hikes.
Hillsborough River State Park is the place to visit if you are looking for a weekend escape from the shopping/restaurant crowds.
Some of the habitats found within the park include: pine flatwoods, hardwood hammocks, floodplain swamps, grass ponds, and cypress swamps. The variety of landscapes gives you numerous opportunities for spotting various different types of wildlife. And of course, the views are wonderful. The trails here feel much more natural than other parks in the area, especially due to the serene river views.
Hiking Trails
River Rapids Trail – 1.2 miles
Baynard Trail – 1.1 miles
Wetlands Restoration Trail – 1.6 miles
Florida Trail – 3.2 miles
Fort King Trail – 6.7 miles
The Rapids Trail gives you the chance to view the beautiful river up close. You will be able to hear the sounds and see the sights of a Class II Rapids. We even saw a gator at one point during the hike. I am sure we will see many more during a return winter visit.
We saw various forms of small wildlife including birds and the turtle pictured below that is basking in the sun. The trail consists of an easy, shady walk through beautiful hardwood hammocks. It's only a little over a mile and very flat with no hills, making it accessible for almost everyone. Beautiful views combined with plentiful wildlife and light, refreshing exercise await you on the Rapids Trail.
The Wetlands Restoration Trail is available for both hiking and biking. This is the only trail which allows bikes. It's great for those who enjoy mountain biking, however, others should be aware that it's a tough ride with lots of long grass to trek through. Views are serene and peaceful, although shade is a bit limited. Do this trail first when temps are cooler if planning to complete multiple trails.
The Baynard Trail is another fantastic short, relaxing nature walk. It takes you over a historic suspension bridge, complete with nice views of the river.
Trails are quiet, clean, and very scenic. Just a warning – the bugs here are very bad. Be sure to cover up all the way or use bug spray. I came home with 10+ mosquito bites.
The 2 mile loop around the park is absolutely beautiful. A few trips around on your bike is a must. It's a flat, smooth, easy relaxing ride. If you do not have your own bike you can rent one. A surrey rental is a unique way to explore the park.The 4 wheel surrey resembles an early automobile and is an interesting way to tour the park with your whole family. Rentals are $30 per hour ($20 for 2 person surreys). Regular bike rentals are $10 per hour or $20 for half the day.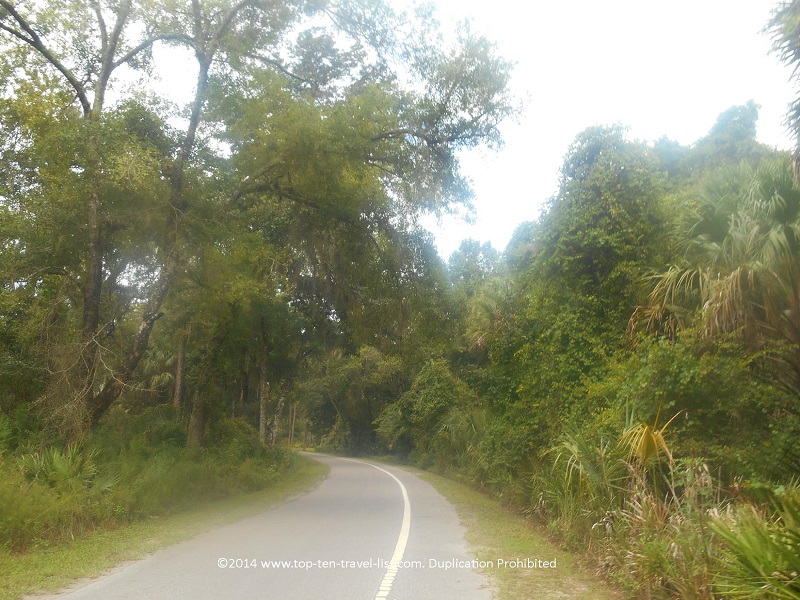 Bring your own picnic lunch or stop by the cafe. There are plenty of shaded picnic areas to enjoy the day.
Other activities within the park include: kayak and canoe rentals (kayaks are $15 per hour, canoes start at $25 for 2 hours), a community pool, camping, fishing, and a small interpretive center. In addition, tram tours are offered at 6 and 7:30pm on Friday nights.
A day at Hillsborough River State Park provides a much needed break from the urban surroundings. It really gives you a feeling of being out in the wilderness. This is much different than anything else in the area. You will leave feeling rejuvenated, relaxed, and fit.
Tips
*Bring with plenty of water, preferably a camel backpack. It gets much hotter hiking in the hot Florida temps!
*Wear bug spray or fully cover yourself. The mosquitoes are really bad, especially once you start sweating.
*Pack a picnic lunch to enjoy after your workout.
*Bring with a camera in case you come across a gator or any other form of wildlife.
*Wear hiking shoes. Some areas of the trails can be muddy or slippery, especially The Wetlands Trail.
*Arrive early in the day for fewer crowds and cooler temperatures.
*Bring a lock for your bike and park it at each of the trails instead of driving to each trail separately. The loop around the park will take you to the start of each trailhead.
*Wear light, loose colored clothing.
*Wear a hat and sunblock to protect yourself from the sun.
*If biking, get a proper tune up before heading out (check tire pressure, brakes, etc.)
*Plan at least half a day for the 6+ mile Fort King Trail. Arrive early in the morning to give yourself enough time. It will take much longer due to the intense Florida heat and humidity.
Location & Parking Info
Address: Hillsborough River State Park is located at: 15402 US 301 in Thontosassa, Florida 33592.
Parking is $6 per vehicle.