14 Fun Things to do this Holiday Season in Northern Arizona
13. Holiday Lights Parade in Flagstaff & Prescott
Both Prescott and Flagstaff offer a festive holiday light parade each season as a fun, free event for the community. These holiday parades are not like your typical parade, but rather an extra festive version where all the floats and vehicles are completely decked out in all sorts of lights and decor. What a great way to get into the holiday spirit! Both these events are very popular, and thus parking downtown tends to fill up fast, so grab an early bite to eat to ensure your spot! In my opinion, Prescott's parade is a bit more extravagant and lively, so if you can only fit one into your itinerary, then Prescott is definitely the way to go!
Location: Prescott's parade takes place downtown (120 S. Cortez Street, Prescott, AZ 86303) as does Flagstaff's
Dates: Flagstaff's parade takes place this year on December 12th from 6-9pm. Prescott's takes place on November 28th, from 6-8pm. Don't worry if you missed this year's parade: there is always next year. Check back on each city's Chamber of Commerce website for next year's dates.
Admission: It's free!
14. Free Holiday Film Series at The Orpheum in Downtown Flagstaff
This year, the historic Orpheum Theater in downtown Flagstaff is screening a different holiday classic each Saturday morning in December from 10am-Noon. Visits with Santa, along with hot cocoa and cookies, will take place immediately after the film. Although it is nice to offer a free event like this to the community, they just did not put enough effort and organization into making it a nice seasonal event. Hopefully they will put a bit more effort and thought into it in upcoming years.
For some odd reason they had no heat on inside, and after standing outside in the freezing cold for 10 minutes to get inside, guests were forced to wear hat and gloves inside too! A bit ridiculous if you ask me! I can only hope they offer a cozier, more festive setting for what could be a much better organized event next year. For the time being, it's up to you to decide if you would rather spend 5 bucks at Harkins to see a movie with better seating (and heat!) or see a free film at Orpheum in a less cozy setting. This year's lineup of movies include Home Alone, How the Grinch Stole Christmas, The Polar Express, and Elf. Be prepared to arrive early as seats fill up fast!
Location: 15 W Aspen Ave, Flagstaff, AZ 86001
Dates: Saturday mornings (10am-noon) in December
Admission: It's free!
A few more festive events to consider…
Viola's Flower Garden – Around Christmas time, you can enjoy the rustic experience of picking out a real Christmas tree. Viola's just opened a new location on 89a, away from the cluster in town, making it the perfect choice for an old-fashioned Christmas tree shopping experience.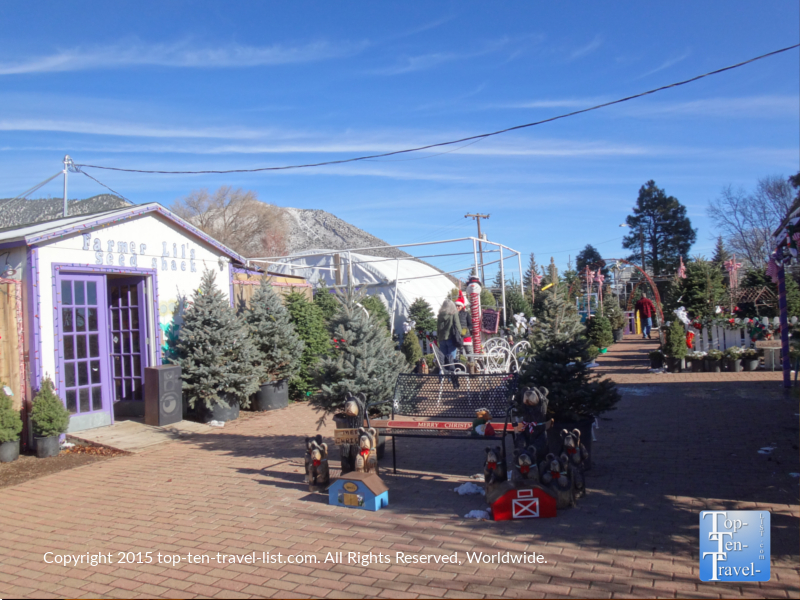 The North Pole Experience – Departing at the Little America Flagstaff and continuing on a ride to the North Pole to visit Santa's workshop, the North Pole Experience is one of the area's most popular holiday events. Work side by side with the elfs at the workshop, attend Elf university, and take a break for a cookie in Santa's bakery. Not worth it in my honest opinion for the hefty price tag, however, if you are looking for more holiday fun, it's up to you.
The Polar Express – Williams is most well-known for being home to the Grand Canyon Railway, a convenient, albeit very pricey, means of transportation to the Grand Canyon. During the winter season, it transform into The Polar Express, based on the classic children's story (and later popular holiday film). As you board the festive train, you are served hot chocolate and cookies before taking off to The North Pole to meet Santa. And of course, The Polar Express will be read along the journey. Space is limited, so book in advance. Although very popular, the ride has mixed reviews, so journey at your own risk!
Holiday plays and concerts – You will find various plays and concerts throughout the season, from budget friendly options such as school and church concerts, to more extravagant productions like the Flagstaff Symphony Orchestra's Nutcracker and Christmas in the Mountains by the Master Chorale of Flagstaff. Check local newspapers for more events throughout the season. For the 2016 season, A Christmas Carol will be playing at Theatrikos in Flagstaff.
Riordan Mansion Holiday tours – The rustic Flagstaff mansion, which has 40 rooms and 13,000 square feet of space, sits on 5 acres near Northern Arizona University. It was built in 1904 , designed by the same architect who planned El Tovar at the Grand Canyon. The Riordan Mansion is actually 2 identical homes connected by a living room. The mansion is decorated for the holiday season in festive, old-fashioned decor, including a grand tree with old-fashioned ornaments, garland, and wreaths.
Synchronized home show – This popular Flagstaff synchronized light and music show runs each night, with a medley of unique holiday songs in sync with over 6000 lights. I wasn't a fan of the style of music they used, nor their overall design, however, it's something extra to do (for free) if you happen to be in the area. And it's nice to know that they donate all their profits to charity. To get there, put the following address into your GPS: 6376 E Abineau Canyon in Flagstaff (and tune into 107.1FM).
Festival of Lights at Tlaquepaque – This one day event, held on December 12 this year from 3-8pm in Sedona's Tlaquepagque village, includes the lighting of 6000 luminaries. Aside from the lighting ceremony, Tlaquepaque is a great place to stroll around and dine during the holiday season. The festive setting, including pretty lights and carolers, make it a great spot to take a relaxing holiday break.
Red Rock Fantasy – This light festival in the beautiful Village of Tlaquepaque includes a free trolley on Friday and Saturday nights. A special holiday sweet stroll is held around mid December.
Special holiday drinks- Treat yourself to a specialty holiday espresso drink. Great options include the Peppermint Mocha at Brandy's Restaurant, The Jack Frost Mocha at Cedar House Coffee House, and the Peppermint Mocha at Starbucks. These festive drinks are sure to get you into the holiday spirit!
What are some of your favorite holiday events in Northern Arizona?